Moto X publicly dogfooded by Google's Schmidt as leaks increase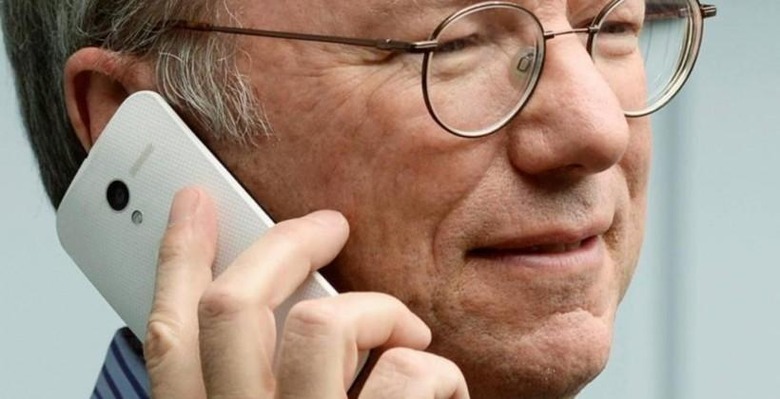 Rumors of Motorola's upcoming smartphone are heating up. Currently known as the Moto X, the device has been the victim of numerous leaks and speculation over the last several weeks, and today we're seeing yet another addition. Google Chairman Eric Schmidt was spotted using a mysterious device that we can only suspect to be the Google-owned Moto X device.
At the annual Allen & Co. business conference yesterday, Schmidt was seen using a mysterious device that looks a lot like Motorola's Moto X handset, based on the handful of image leaks that we've seen so far. The photos of Schmidt using the phone are highly detailed, allowing us a good look at the device that he doesn't appear to be keeping on the down-low.
The model that Schmidt is using appears to have a slightly glossy rear white shell with a curved shape. The camera module and LED flash are placed prominently in the center of the device toward the top, with what looks to be the speaker directly next to the camera. We also see that the headphone jack is dead center on the top edge of the device, rather than on one side or the other.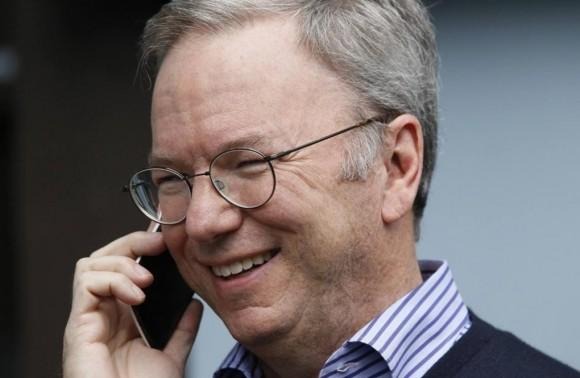 As for the front of the device, it appears to be a solid slate of all black, but we can't get a good look, seeing as how Schmidt's ear is enveloping most of the phone. The volume rocker and the power button appear to be situated on the right edge of the device with thin chrome buttons. The edges of the phone look really thin, while the center is a bit thicker with its curved look, which is a rather unique shape for a smartphone these days.
The photos of Schmidt using this phone match up almost perfectly with the latest image leak of the device that shows a black matte model. It has the same curved rear shell with the camera module mounted in the same location, as well as the centered headphone jack on the top edge. One thing's for sure: this phone exists, but the only question is what will it be called officially? And when is it arriving?
SOURCE: Reuters