New Pokemon Go update : Sightings brings back footprints... sort of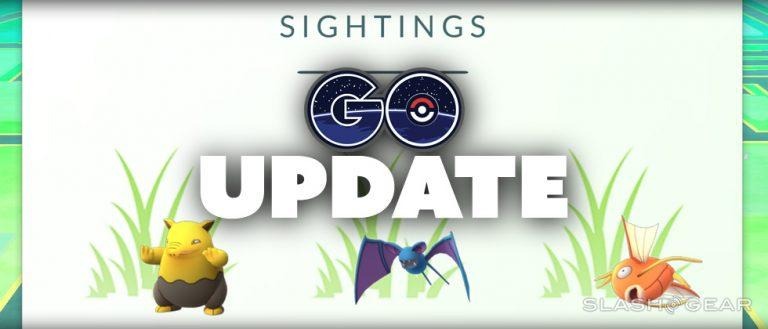 This morning Niantic released an update to Pokemon GO which changed several very important elements in the game. This update was for both Android and iOS for iPhone and iPad, and users should expect to see footprints returning to the game soon. Not the same footprints as they saw when the game was launched – not a number of steps according to how close to or far away from a Pokemon the user was. This new update for Pokemon GO has two sections – Sightings and Nearby.
This update brings users the ability to change their name one time. Make it count. It also fixes a number of bugs – like bringing back the ability to hit bonus XP whilst attempting to catch Pokemon. Curve ball, Nice, and Great!
The newest update to Pokemon GO also does things like warn a user that they shouldn't be driving and playing. This driving blocker is very similar to what we spoke about in our first big review of the game: reasons why Pokemon GO is the best game EVER.
The most important update to this game is the modifications made to the "Nearby" panel of Pokemon. Monsters in this panel were originally listed with between one and three footprints. Depending on the number of footprints, the user would know how close to said Pokemon they were. Now that's changed.
The update before this most recent update got rid of the footprints altogether. Now the footprints are back – in marker form.
.@PokemonGoApp / @PokeVisionGo / @YangCLiu HERE IS A VIDEO FOR THOSE ASKING. pic.twitter.com/wivcskufdV

— Jackson Palmer (@ummjackson) August 9, 2016
Above you'll see a demo video showing how this system works.
What are these Circles all about?
1. "Sightings" Pokemon are within your circle on the map – inside 20 or 30 feet (or so).
2. Tapping a Nearby Pokemon shows the Pokestop it is near.
3. Tapping the button below said Pokestop image shows the Pokestop on a map.
4. Each Pokestop that's been marked in this way has a tiny "steps" marker on it.
What's this Grass mean?
1. "Nearby" Pokemon are listed near Pokestops.
2. Every Pokemon in the Sightings area is listed seemingly at random – no order according to distance, that is.
If you receive the update and find that you do not have this newest tracking panel, it may be because this section of the update is restricted (or was for a brief time) to users in the San Francisco, California area – or those that've spun PokeStops in San Francisco at one time or another.
We'll be keeping you informed on this and future updates to Pokemon GO well through the future, too. Have a peek at our Twitter portal @TeamPokemonGO to catch all the business asap!