New Mac, iPad, and more spotted ahead of WWDC 2017 reveal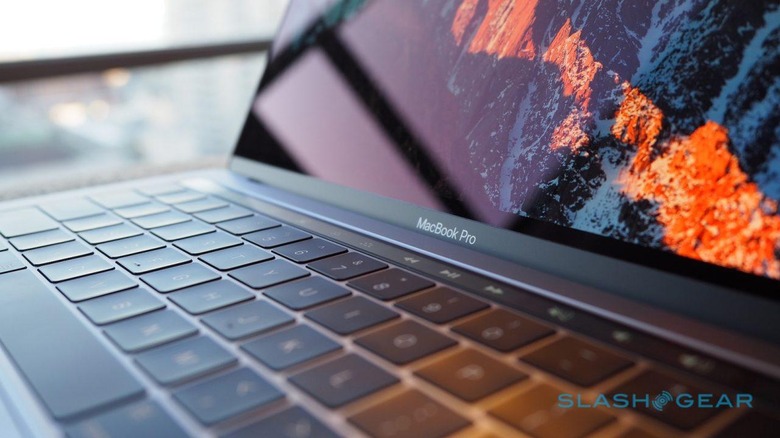 Apple's WWDC 2017 is just around the corner, but signs of new MacBook Pro models along with updated iPads and accessories have already been spotted. The Cupertino company's annual developer conference has, for the past few years at least, been devoid of hardware announcements. That looks set to change, and in a big way, for 2017.
Indeed, if the rumors are true Apple is planning a significant refresh across both its macOS and iOS lines. Arguably most exciting has been the promise of a number of fresh MacBook Pro laptops, using the same industrial design – and the controversial Touch Bar – of the current model, but upgrading the processor inside. That would give Apple an opportunity to switch to Intel's latest 7th generation Kaby Lake chips.
Now, evidence of just that has turned up. French site Consomac spotted five new Apple models, running macOS Sierra, in a Russian-language regulatory filing. The data, added recently to the Eurasian Economic Commission's database for any products that pack encryption or cryptographic capabilities, doesn't specify exactly model details.
However, the A1289, A1347, A1418, A1419, and A1481 model numbers are believed to refer to new 13- and 15-inch MacBook Pro, four in total, with the fifth being a new 12-inch MacBook, MacRumors suggests. The "personal computers" aren't the only filing, mind.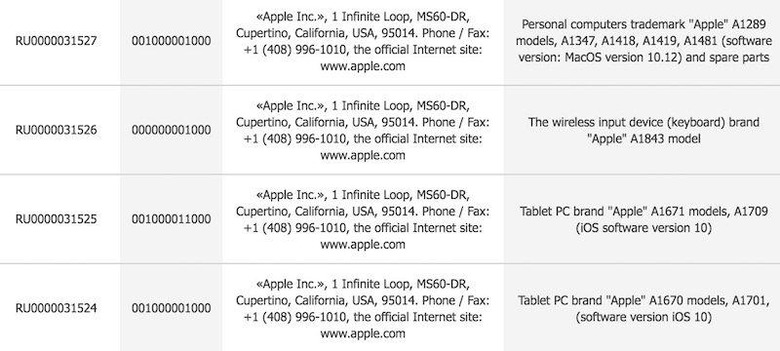 In fact, there are several others. For instance, there's are four "tablet PC" references, A1671, A1709, A1670, and A1701, in the database. That, it's believed would refer to four new iPad Pro models. A "wireless input device (keyboard)", according to Google Translate's read of the page, would be model number A1843, meanwhile.
Although it's uncertain at this point, one possibility is that such a keyboard would add a Touch Bar and Touch ID sensor, and be intended for use with Apple's desktop computers. That itself has been the subject of some rumors, while the biometric fingerprint sensor would presumably warrant the peripheral's inclusion in the database.
Not mentioned in the filing, though separately rumored, is Apple's Siri speaker. Yet to be publicly named, the smart home device is expected to embody the personal assistant found currently on the iPhone, iPad, and Mac, along with acting as a HomeKit hub for smart home control. Reports today suggested production of the smart speaker has already begun, though even if Apple unveils it at WWDC next week it's unlikely to ship until later in 2017.