NEC pledge WiMAX support to Moblin-based PNDs and mobile devices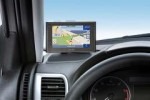 NEC have announced that they will be supporting Moblin-based mobile devices and in-car PNDs with WiMAX functionality.  The company already develops WiMAX mobile broadband modules and has recently unveiled a battery-powered WiMAX router; this new announcement will see Intel's open-source Moblin OS get native support for the high-speed wireless technology.
NEC will be demonstrating their new WiMAX Moblin software at "Wireless Japan 2009", a three day exhibition kicking off tomorrow.  Back in June, when Intel revealed five Moorestown based MIDs, two of that number prioritized GPS navigation; with integrated WiMAX, such devices could include far greater internet-based information about destinations, PNDs, and other news, together with VoIP communication.
Notebook computers and other mobile devices will also see support from NEC's involvement, with Intel expecting integrated WiMAX modules to spread.  Intel recently announced a deal with Nokia which will see Moblin supported by the Finnish company's HSPA/3G wireless products.