Intel & Nokia announce Moblin & Maemo collaboration; HSPA licensing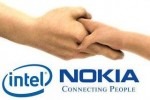 Details on the Nokia/Intel collaboration are out, and unless the duo are planning a big surprise for their imminent conference call it's not quite the announcement we were hoping for.  That means no Intel-based Nokia MID or netbook, but a "long-term relationship" to develop new mobile device architectures with integrated Nokia HSPA/3G connectivity.  The pairing will also coordinate their Moblin and Maemo Linux platforms, with common technologies and cross-OS applications.
Intel's licensing of Nokia HSPA modems will join the chip company's existing WiMAX and WiFi wireless systems; Intel have already confirmed that they will be transitioning their Centrino brand to more specifically refer to wireless connectivity systems.  Of particular interest is Nokia's low-power wireless technology, which has obvious implications for Intel's vision of ULV MID, netbooks and smartphones.
While this may not be the announcement that many were hoping for – a shiny new Nokia MID had been breathlessly mentioned, or perhaps the N900 Internet Tablet - it could have longer-term implications for mobile devices.  Both companies have invested heavily in their respective operating systems, and cross-platform collaboration could be the kick that each needs to edge ahead of Windows XP's dominance in the entry-level ultraportable space.  We're keeping our fingers crossed for a surprise hardware unveil during the press conference, but even without it this could be a significant boost to the open-source and ultramobile communities.
Press Release:
Intel and Nokia Announce Strategic Relationship to Shape Next Era of Mobile Computing Innovation

SANTA CLARA, CALIF., and ESPOO, FINLAND, June 23, 2009 – Further uniting the Internet with mobile phones and computers, Intel Corporation and Nokia today announced a long-term relationship to develop a new class of Intel® Architecture-based mobile computing device and chipset architectures which will combine the performance of powerful computers with high-bandwidth mobile broadband communications and ubiquitous Internet connectivity.

To realize this shared vision, both companies are expanding their longstanding relationship to define a new mobile platform beyond today's smartphones, notebooks and netbooks, enabling the development of a variety of innovative hardware, software and mobile Internet services.

Taking advantage of each company's expertise as leaders in their respective fields, these future standards-based devices will marry the best features and capabilities of the computing and communications worlds and will transform the user experience, bringing incredible mobile applications and always on, always connected wireless Internet access in a user-friendly pocketable form factor.

The Intel and Nokia effort includes collaboration in several open source mobile Linux software projects. Intel will also acquire a Nokia HSPA/3G modem IP license for use in future products.

The companies expect many innovations to result from this collaboration over time.

"This Intel and Nokia collaboration unites and focuses many of the brightest computing and communications minds in the world, and will ultimately deliver open and standards-based technologies, which history shows drive rapid innovation, adoption and consumer choice," said Anand Chandrasekher, Intel Corporation senior vice president and general manager, Ultra Mobility Group. "With the convergence of the Internet and mobility as the team's only barrier, I can only imagine the innovation that will come out of our unique relationship with Nokia. The possibilities are endless."

"Today's announcement represents a significant commitment to work together on the future of mobile computing, and we plan to turn our joint research into action," said Kai Öistämö, Executive Vice President, Devices, Nokia. "We will explore new ideas in designs, materials and displays that will go far beyond devices and services on the market today. This collaboration will be compelling not only for our companies, but also for our industries, our partners and, of course, for consumers."

Open Source Software Collaboration

The effort also includes technology development and cooperation in several open source software initiatives in order to develop common technologies for use in the Moblin and Maemo platform projects, which will deliver Linux-based operating systems for these future mobile computing devices.

The companies are coordinating their Open Source technology selection and development investments, including alignment on a range of key Open Source technologies for Mobile Computing such as: oFono*, ConnMan*, Mozilla*, X.Org*, BlueZ*, D-BUS*, Tracker*, GStreamer*, PulseAudio*. Collectively, these technologies will provide an open source standards-based means to deliver a wealth of mobile Internet and communication experiences, with rich graphics and multimedia capabilities.

Hosted by the Linux Foundation, Moblin is an optimized open source Linux operating system project that delivers visually rich Internet media experiences on Intel® Atom™ processor-based devices including MIDs, netbooks, nettops, in-vehicle infotainment (IVI), and embedded systems. For more information see www.moblin.org.

Maemo is a Linux operating system, mostly based on open source code and powers mobile computers such as the Nokia N810 Internet Tablet. The Maemo platform has been developed by Nokia in collaboration with many open source projects. For more information see www.maemo.org.

Enabling common technologies across the Moblin and Maemo software environments will help foster the development of compatible applications for these devices – building on the huge number of off-the-shelf PC compatible applications. The open source projects will be governed using the best practices of the open source development model.

Intel to License Nokia's HSPA/3G Modem Technologies

Building on today's announcement, Intel and Nokia have signed an agreement that will enable Intel to license Nokia's HSPA/3G modem technologies with the aim of developing advanced mobile computing solutions that deliver a powerful and flexible computing experience – combining the best-in-class 3GPP modem technology with the high performance and low power consumption of future Intel Architecture-based platforms.

Intel supports multiple mobile broadband standards on its platforms to address the needs of service providers worldwide, and to provide people with an always-connected experience.

The Nokia modem license complements Intel's broadband wireless technologies and will enable the company to extend chipset solutions incorporating Nokia's modem technologies across its mobility offerings in the future.

Nokia is continuing to develop its leading modem technology, which includes protocol software and related digital design for the full suite of 3GPP standards through WCDMA/GSM and its evolution, and then licenses the technology to chipset manufacturers to develop and produce chipsets for device manufacturers.

Nokia's licensable modem technology is the trusted connectivity choice, providing credible and reliable options for the industry based on Nokia wireless modems' embedded history and experience. The Intel license of Nokia's modem technologies is another step in executing Nokia's chipset strategy to create multiple, competitive chipset choices to the industry.