Intel "important announcement" to be Nokia MID?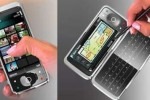 Intel are about to announce a deal whereby they will supply Nokia with mobile processors, according to an anonymous Bloomberg tipster.  The deal is expected to be revealed today in a conference call with Anand Chandrasekher, senior VP of Intel's ultra-mobility group; Intel themselves have only confirmed that they have an "important announcement" to make.
What's unclear at present is the nature of the chips Intel will be supplying Nokia.  The company's CEO has previously said that they've considered a move into the notebook or netbook segment, though failed to specify whether such a device would take the form of a traditional, 3G-connected laptop, or something more unusual such as a MID or UMPC.
It seems likely, then, that Nokia are looking to use Intel's Moorestown platform, expected to arrive in 2010, or – further in the future – their Medfield platform for smartphones that's penciled in for 2011.  Analysts are tentatively positive about the potential for a deal, though still vaguely dubious as to whether a Nokia product using the Intel chips will actually arrive:
"It's a big announcement, they're a key guy. The only question now is whether they will actually come out with a product" Jim McGregor, analyst, In-Stat
[via IntoMobile]