Intel Medfield smartphones tipped for 2011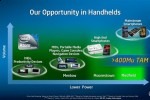 A recent Intel presentation has tipped the company's upcoming Medfield processor as destined for smartphones, rather than merely as the Atom replacement for netbooks and MIDs that the CPU has so far been assumed.  Intel expect "mainstream smartphones" using the 32nm Medfield in 2011, with the processor's smaller board size and reduced standby power both making it suitable for compact devices.
In the meantime, Intel's Moorestown platform will deliver hardware video encoding and decoding, together with HD playback, and be targeted at MIDs and UMPCs as well as netbooks.  Although not as frugal in standby as Medfield, the 45nm Moorestown will show up to a 50x reduction in idle power from Menlow.
We won't see smartphones attempted until 2011 at the earliest though.  The full presentation can be downloaded from UMPC Portal, and seems to be from this month.