MSI Wind Box DC100, X-Slim X340 & Wind Top all-in-ones get hands-on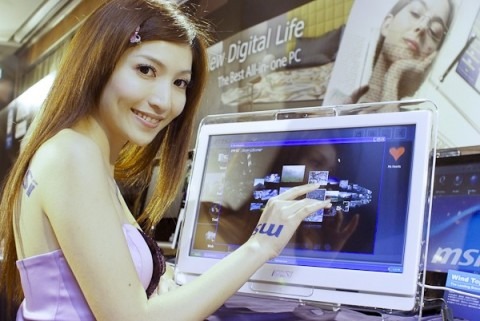 At the same time as launching the X-Slim X340 and X600, MSI were also flaunting their MSI Wind Box DC100 nettop, and the Wind Top AE1900, AE2010 and AE2200 touchscreen all-in-ones. Engadget Chinese grabbed some hands-on time with all four, together with the X340, and have come away considerably impressed. ASUS may have got there first with the Eee Box nettop and Eee Top all-in-one, while Apple certainly sired the X-Slim's design DNA with the MacBook Air, but there's still plenty of attraction in MSI's range.Full gallery after the cut
The MSI Wind Box DC100 holds no surprises under the hood, with an Atom N270 1.6GHz processor, 1GB of RAM and a 160GB hard-drive, but it's the size of that hood which makes it so impressive.  Meanwhile according to Engadget Chinese MSI are looking at putting an Atom 330 dual-core CPU in there instead of the N270, which should make better use of the nettop's DVI output.
As for the MSI Wind Top AE1900, AE2010 and AE2200 all-in-ones, which run the gauntlet from 19-inches through 20-inches and topping out at 22-inches, MSI only had final specs for the mid-range model.  The MSI Wind Top AE2010 has an AMD 780G chipset with Athlon 1.5GHz processor, 2GB of DDR2 RAM, a DVD burner and a 1600 x 1900 resolution touchscreen display.  However we're assuming the AE1900 will have similar specs to the already seen MSI Wind Top AP1900.
Finally, they spent some brief time with the MSI X-Slim X340, which swaps the X320's netbook credentials for some more serious ULV Penryn action and an HDMI output courtesy of the GMA4500 graphics.  It tips the scales at just 2.8 pounds with the 4-cell battery, and the 13.4-inch LCD runs at 1366 x 768 resolution.  According to the news yesterday, it's expected to retail under $1,000.