MSI Wind NetOn AP1900 all-in-one nettop with DVD burner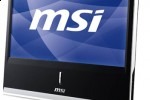 MSI have officially announced their all-in-one nettop.  The MSI Wind NetOn AP1900, which was first spotted back in November, has an 18.5-inch WSXGA 16:9 display, Intel Atom N270 1.6GHz processor, up to 2GB of DDR2 memory and both a 160GB SATA hard-drive and DVD burner.  According to MSI, at full operating load the 35mm wide NetOn AP1900 requires just 35W, saving around 86-percent on a traditional PC.
Connectivity includes gigabit ethernet, WiFi b/g, three USB 2.0 ports, a D-Sub video output and a 4-in-1 memory card reader.  There's also audio in/out and a 1.3-megapixel webcam, together with stereo speakers.  Graphics are courtesy of Intel's GMA950 chipset, with up to 228MB shared memory.
The MSI Wind NetOn AP1900 measures 550 x 420 x 35mm and has both an adjustable stand and a VESA mount on the back, so it can be hung on your wall.  No word on pricing or availability, but we'd expect to see it relatively soon; back in November it was predicted to cost around $500 upward.
Press Release:
MSI Wind NetOn AP1900,Not Just a Monitor, PC Inside It !

MSI today announces Wind NetOn AP1900 in AIO family. The AP1900 is the world's very first personal computer that achieved the perfect balance through brilliant calculation of delicate design, energy-saving, instant internet access, and teleconferencing functions to both save work space and make better work efficiency.

AP1900 is the world's slimmest AIO PC design, and its finest with only 35mm in width. So, it can minimize space usage while broadening the visual capacity like other LCD monitors. The Black Bars on the top and the bottom of the screen can also be avoided. In the other hand, AP1900 provides a 160 degrees wide visual experience.

In Comparison to the traditional PC, the AP1900 is equipped with the Intel® Atom™ processor. It has all the outstanding features as the regular PC, added with energy-saving and noise-reduction functions. Furthermore, a variety of internet capabilities and 802.11 b/g wireless bandwidth (optional) for the ultimate freedom in the virtual universe.

The World's Slimmest All In One PC Design

- As Slim as 35 mm!

AP1900 is the world's slimmest AIO PC design, and its finest with only 35mm in width. So, it can minimize space usage while broadening the visual capacity like other LCD monitors.

- Elegant design, Shine UV Glossy Coating

The rear side of AP1900 has selected the shin UV glossy coating for brightness and an elegant appearance. It looks absolutely perfect from every angle.

Other than just looking great, it is also designed to evaporate heat, allowing more convection of the cool and heated airflow to improve the functions of all of the CPU components.

- Flexible Display Angles and VESA Standard Wall Mount

The AP1900 can be adjusted back and forth from 5° to 15° depending on the need, making work more effortless and efficient. VESA standard wall mount allows for secure mounting almost anywhere to maximize space on your desk, work area, conference rooms, or wherever you may be.

The 19" 16:9 Wide Screen

- 16:9 Wide Screen Ratio

The16:9 Golden Theater-Class ratios add 14% more viewing area compared to regular 16:10 screens. The Black Bars on the top and the bottom of the screen can also be avoided. It is perfect for displaying HD images from every angle possible, enjoying a high quality viewing session without restraint. In the other hand, AP1900 provides a 160 degrees wide visual experience.

- 5ms Response Time

The AP1900's 5ms response time gives the performance needed for any display application. Even fast-moving dynamic video is rendered with smooth, fluid motion and no ghosting or other artifacts for a beautifully realistic viewing experience.

- High Brightness and Contrast Ratio

The AP1900 also processes the 1000:1 contrast ratio and 250 cd/㎡brightness, it can display finest detailed and colorful images even viewing darker or more complicated pictures. Fuller in colors while processing digital photos, graphics, and other materials.

High Performance, Energy-Saving and Low Noise

- The Latest Intel® Atom™ Processor

The new Intel® Atom™ Processor is especially designed for designed for miniature and energy-saving units; it is the essential core of the light and thin computers. There are up to 47 million transistors on a chip that is smaller than 25 (mm)², making it the smallest and the lowest energy used Intel processor ever (operation maintained between 1 to 2.5 watts).

Furthermore, the Intel® Atom™ Processor is more than capable of supporting all of the outstanding features, including the 802.11 b/g wireless internet access (optional), so you may completely capture the variety of functions of the internet, moving freely through the virtual world with efficiency and convenience.

- Energy-Saving

The AP1900 only needs 35 watts of power while fully operating, which saves up to 86%* of power compared to other traditional PC, achieving the perfect balance between efficiency and power usage.

* Results may vary under conditions and settings

- Low Noise

There is no need to worry about the fan noises of the traditional PC! The AP1900 selected the latest cooling technology; the noise level will never exceed 26 decibels, which is equivalent to the surroundings of a library, establishing the most comfortable working environment. Also, the AP1900 has met the highest qualifications including the Energy Star Standards, and the reorganization of the EPEAT for environmentally friendly products. The AP1900 is the perfect combination of modern energy-saving and environmental protection.

The Exciting Thrills of Instant Conferencing

The embedded high pixel webcam with dual track quality microphone, along with 2 sets of 3 watts realistic speakers all incorporate in one complete body design, saving space at your work station while expressing a sense of slickness and technology. It's capable of broadcasting live at anytime, saving every moment of the progression, not missing a single frame. The photo quality is sharp and brilliant in colors, both indoors and out, making instant conferencing a lot more fun.

The Most Complete Expanded Interface

The AP1900 also provides complete interfaces, including the all-in-one card reader function, able to read all of the general standards of memory cards, making it easy to save files into the notebook computer. Also adaptable to most 3C products in the market such as: PDA/digital camera/digital video camera/digital MP3 players, the USB 2.0 port is also part of the AP1900. A Multi-DVD burner is also ready to play and DVD discs or saving important document at your demand.