MSI X-Slim X600: 15.6-inch MacBook Air lookalike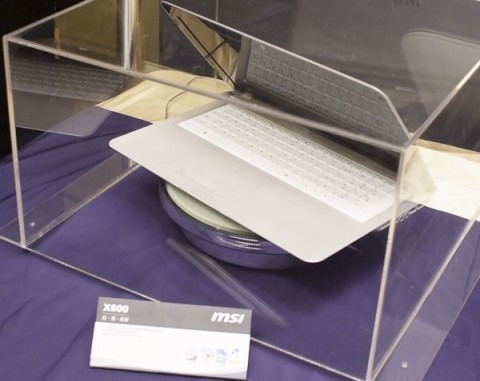 From one Air-a-like to another; MSI have announced the next in their X-Slim series of ultraportable notebooks.  The MSI X-Slim X600 is the 15.6-inch big brother to the X-Slim X360 which we saw back at CES 2009 in January, complete with Intel's Centrino 2 platform, 16:9 widescreen display and a weight of around 2kg.
Ports include three USB 2.0, one eSATA, VGA and HDMI outputs and wired ethernet.  There's also audio in/out and a memory card slot; no confirmation on wireless connectivity, but we're assuming Bluetooth 2.0 and WiFi b/g at the very least.  There's also a smaller, updated version of the X320, the X-Slim X340, which will apparently have roughly the same ports but a smaller display.
The MSI X-Slim X600 will get its full launch at Cebit 2009.  No word on pricing or availability as yet, but MSI have apparently suggested that the X340 will retail for between $699 and $999.