MSI U120, U110 & U115 Confirmed For January, Plus 13-Inch Ultraportable U300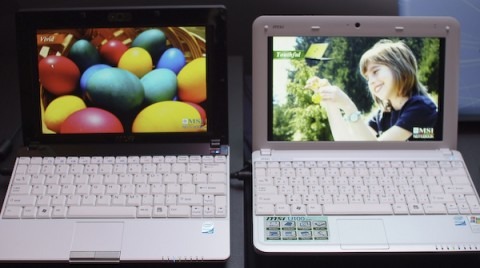 MSI are preparing a touchscreen version of their Wind netbook, testing the waters at CES 2009 in January.  The new device – which will go head to head with ASUS' planned touchscreen ultraportables – will be one of a range of new models the company plans for the new year, including the January arrival of the U120, U110 and U115.  All three will co-exist with the current Wind U100, and be joined by a 13-inch notebook the company believes will "really surprise" would-be buyers.
While much is known about the U120, having been unboxed and tested already, the U110 and U115 are a little more mysterious.  MSI's Director of U.S. Sales, Andy Tung, has confirmed that the two netbooks will run the newest Intel Atom Z530 platform, which has provisions for both hard-drives and SSDs; the former can be turned off to save power, with Tung suggesting up to 10hr battery life for the U115 with the 6-cell battery.  Otherwise, both machines will have 1GB of RAM (2GB max), 10-inch LED backlit displays, WiFi b/g/n, a choice of 1.3-megapixel or 2-megapixel webcam, and either a 3-cell or 6-cell battery.  Only the U115 will support the dual storage setup: the U110 will have either a 160GB or 250GB hard-drive, the U115 can pair either of those with 16, 32 or 64GB of SSD capacity.
Pricing for the U115 is yet to be officially confirmed, but it's expected to be below $699.  The U120, meanwhile, will be priced roughly the same as the U100 (though the WiMAX version will be more), and have pretty much the same specifications.  According to Tung, the new netbooks will be accompanied by a low-power-processor 13-inch notebook, not officially a Wind model, called the U300; that could use anything from the Intel Atom Z530 chipset to something from NVIDIA or AMD.  Price is unknown but expected to be relatively low for the segment; however we do know it will have aluminium construction.