MSI Wind U110 and U115 netbooks added to line up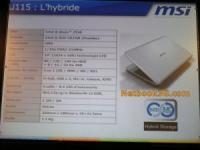 Just last week we heard about the upcoming MSI Wind U120, which will be making its grand debut at CES 2009. But now it looks as if two more netbooks will be added to MSI's U Series including the MSI U110 and the MSI U115.
The MSI U115 is really quite different. It features a SSD and a hard drive. So, the OS would then be installed on the SSD, but all of your data and information would be stored on a larger hard drive. This makes sense insofar as it will keep the price down and allow you room to save data, but doesn't it seem a bit counterproductive to save your data on the drive that can be scratched or ruined?
You will have several options with the U115, including a 8GB SSD/80GB HDD, a 16GB SSD/120GB HDD or a 32GB SSD/160GB HDD. The MSI Wind U110 does not have the SSD configurations. However, both models feature Atom processors and have 10-inch screens.