MSI to launch touchscreen Windows 7 Pine Trail netbooks in December?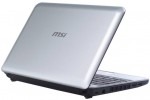 It seems like ages since we last had a good Intel Pine Trail rumor, so here's one with not only a company name but a date to go with it.  According to DigiTimes' ever-clandestine "industry sources" MSI has decided to be the first OEM to launch a Pine Trail-M netbook, with December 2009 their settled window.
That's a little odd, since other insiders that DigiTimes have talked to previously have tipped Pine Trail-M as being delayed from October 2009 to some point in Q1 2010.  Still, it does at least tally with Intel's own protestations that the platform – which will see the graphics core and memory controller moved into the processor chipset – is still on course for a 2009 arrival.
MSI's intention, it's claimed, is to avoid having to compete with its rivals over pricing, instead focusing on the touchscreen and Windows 7 functionality that its Pine Trail-M netbooks are expected to offer.  Hot on its heals will be ASUS and Acer.