MSI GTX 780 eyes-on: R9 270X Hawk, 280X Gaming, 290X Lightning appear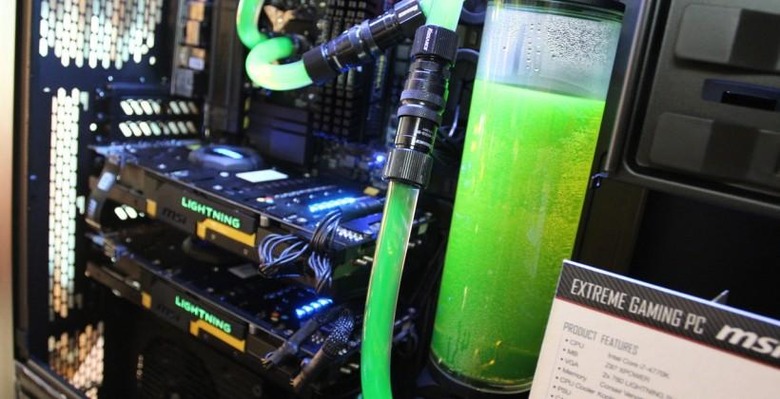 There's a new set of graphics cards being shown off this week at CES 2014 by the folks at MSI, starting with the GTX 780 Lightening, a beast with three fans. You've got "triple force architecture", working with twin BIOS, a set of components that bring a hardcore design to light, and a GPU reactor. This machine is so rugged and ready for the biggest machines that it's rolling with military Class 4 components.
Along the side you'll see the standard set of power pins with a few extra for good measure – if you're into overclocking you'll be able to power up, but if you've got a standard set of pins, that'll work just fine as well, right out of the box. This machine works with NVIDIA GeForce GTX 780 architecture at its base, coming with 3072MB, 384bits GDDR5 memory, and it connects with a host of display ports for good measure – DisplayPort, HDMI, DL-DVI-I, and DL-DVI-D.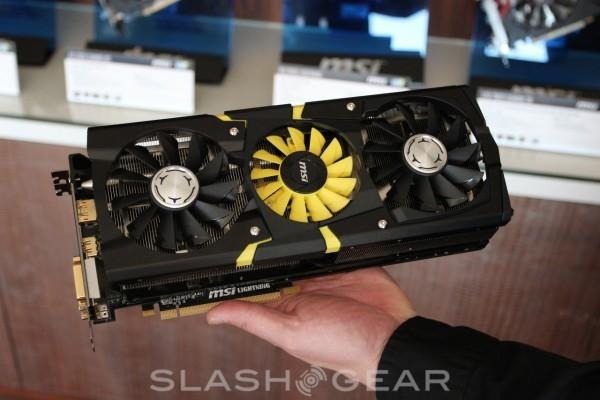 Also appearing this week is MSI's new collection of graphics cards for a wide variety of high-powered PC builds. In the R9 270X Hawk you'll find active phase switching, TWIN BIOS, and 3x3 OC kits. This machine works with the same Military Class 4 components, and works with an AMD Radeon R9 270X GPU as its base architecture. This card is small enough to work with some small form factor builds, and contains DisplayPort, HDMI, DL-DVI-I, and DL-DVI-D as well. This unit also works with advanced Twin Frozr IV technology to keep cool.
The R9280X Gaming 6G looks similar to this dual-fan machine, but it's working with one step higher a set of bits-and-pieces. Here you're working with AMD Radeon R9 280X GPU architecture, HDMI, DL-DVI-I, and mini-DisplayPort x2 – strange, yes? You've also got Gaming APP for easy tune and easy play, and an advanced thermal design for quiet, cool play. This build includes airflow control technology and works with dual 10cm fans on a Twin Frozr IV.
With the MSI R9 290X we've got some specifications, but no imagery – and we weren't allowed to snag a peek at MSI's CES presentation, either! It's "coming soon", they say, with a build that's not unlike what we're seeing with the GTX 780 Lightning design. This R9 290X Lightning works with AMD Radeon R9 290X GPU architecture, 4096MB 512bits GDDR5 memory, and a set of display ports as follows: DisplayPort, HDMI, and DL-DVI-D x2. This bit of architecture will also be presented with Military Class 4 components – rough and tough!