Motorola Tao leaks again: Switched on & looking slick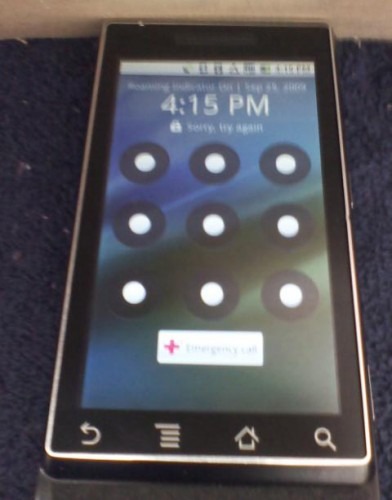 After yesterday's extreme Motorola Tao close-ups, now comes a slightly more useful image of the phone that confirms the form-factor we've seen leaked previously.  While there are no shots of the keyboard extended, this new picture does at least show the touch-sensitive buttons and metal screen bezel.
Other details include 16GB of onboard storage together with a microSDHC card for adding up to 32GB more.  There's also the usual 3G EVDO Rev.A and WiFi, and the suite of Google applications such as Maps, Gmail and Latitude.
As for availability, that's tipped at December.  Some time off, yes, but considering Verizon and Motorola appear to be waiting for Android 2.0 with 1.6 still not yet on general release, that sort of delay has to be expected.
[via Boy Genius Report]