Motorola Shules (aka Sholes) Verizon Android smartphone caught in live pic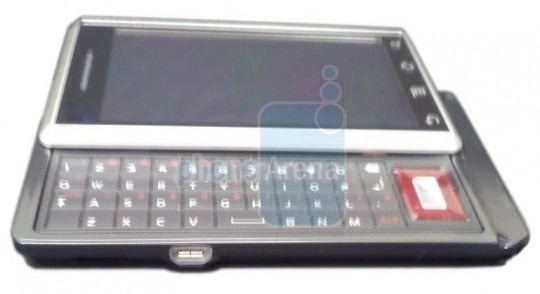 It's blurry and it's at a not-especially-flattering angle, but it's the first live shot of Verizon's upcoming Motorola Shules Android phone (also, confusingly, known as the Motorola Sholes) so beggars can't be choosers.  The sliding touchscreen handset is believed to use a 3.7-inch 480 x 854 display, include a 5-megapixel autofocus camera with flash, and arrive in the US come October.
There's also a microSDHC slot content with up to 16GB cards (and with an 8GB card tipped to be in the box), plus 512MB of internal storage, 256MB of RAM and GPS.  Connectivity includes WiFi, Bluetooth and USB, as well as EVDO Rev.A.
The only significant differences between the renders and this purported live shot is the red D-pad and the row of touch-sensitive buttons next to the display.  As for the supposed launch date, that would fit in – in fact be early for – Motorola's own publicly-stated "by the Q4 holidays" release timetable.