Motorola DROID 4 dual-core LTE QWERTY slider revealed semi-officially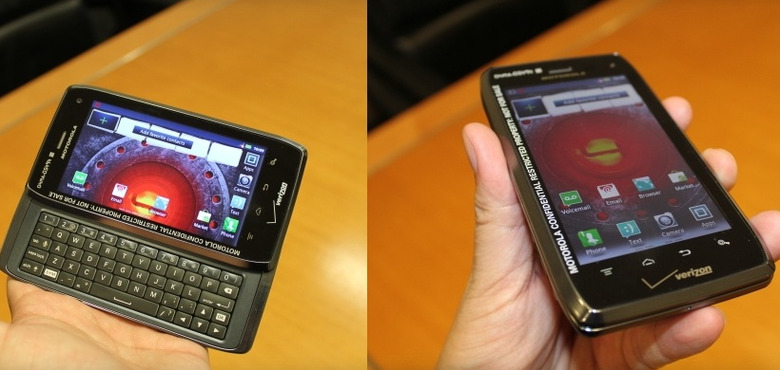 When it comes to the DROID line as carried by Verizon, there's no knowing which manufacturer is going to get to have their hardware graced with the name, but usually it's Motorola – and here in the DROID 4, the trend continues. What you're going to get in this several-times half-leaked device is a slide-out QWERTY keyboard, the newest version of Motorola's custom user interface over Android 2.3 Gingerbread, and a dual-core processor clocked at 1.2GHz. This device is of course also running on Verizon's 4G LTE network.
You may remember from earlier this morning a release of some information on a couple of Motorola tablets by the name of XyBoard – wild in both name an shape. Well that wasn't all CNET saw, folks, there's another device from that same release, and it goes by the name of DROID 4. Get your pants out of a bind, folks, this is the first dual-core QWERTY on LTE, and it's got those nice Motorola corners!
Once you've slide the keyboard in and out a few thousand times, you'll also notice that you've got an 8 megapixel camera on the back capable of 1080p video recording, a front-facing camera for video chat, and enough room inside to store at least a few full-length movies and a couple apps too at 16GB internal memory. You'll be working with 1GB of RAM, a 4-inch qHD display, and a brand new chassis fitting right in with the rest of the newest Motorola smartphone and tablet line. It's all in the corners I tell you!
SO for those of you that need a QWERTY keyboard, this is more than likely going to be your best choice if you're also a lover of the LTE network Verizon provides. We've got a review of an alternate device along those lines by the name of Samsung Stratosphere, but you'd be well to note that while that device only has a single-core processor, the DROID 4 has at least twice the power with its own dual-core. The choice is clear, make it now! Or forever learn how to stop using the QWERTY keyboards because they are so, so aesthetically displeasing it makes me have a mental breakdown.