Motorola ATRIX 2 Review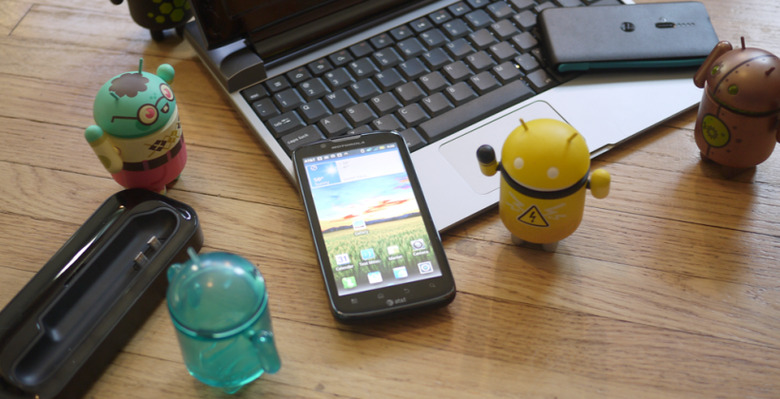 Back when the world hadn't yet tasted more than a single core in a smartphone here in the USA, there was the ATRIX 4G, and now that the large part of a year has passed and dual-core processors are the norm, the ATRIX 2 pops up with a few improved specs and a whole new body – is it time to upgrade? We've got more than a few questions (and a few answers, too!) about the ATRIX 2 including why it exists and how it'll stand up against the rest of the very well-suited superphone environment again here in the USA. Did Motorola create another ATRIX just for the fun of it, or is this truly the next-level device ATRIX lovers of the past have been waiting for?
Hardware
This device follows closely the design evolution happening inside the Motorola family, looking rather similar to what we've seen in the Photon and the ELECTRIFY, both recently released with dual-core processors as well. What's strange about this device as far as evolution goes, on the other hand, is the fact that its processor changes from the NVIDIA Tegra 2 (as in the ATRIX 4G, the original,) to an OMAP4 dual-core processor from Texas Instruments with the same clock: 1GHz. What this means for the lay person is that the processing power hasn't been improved, the motor in this vehicle essentially only being changed over to a different manufacturer.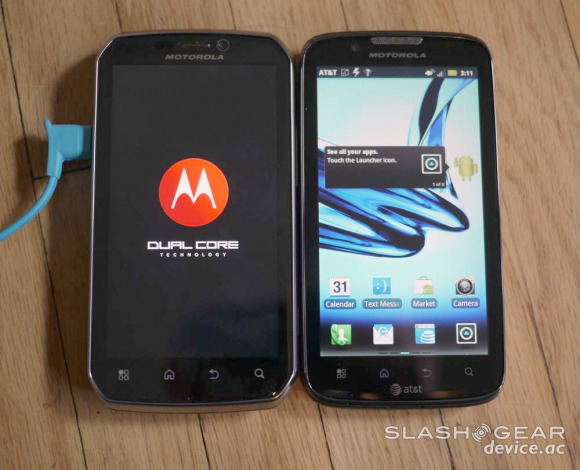 ELECTRIFY on the right, ATRIX 2 on the left
So what we're thinking here is that Motorola is working with several different chipmakers to make sure they've got them all in the family. A strong mobile device manufacturer always holds the ability to work with many different partners, and never lets it go. With the ATRIX 2 instead we've got a brand new version of Motorola's user interface on top of Android 2.3 Gingerbread, a new physical form factor, and a host of new accessories for you to work with. Have a look at our unboxing of the accessories here to have a peek at what we're working with:
[vms 62e3c9934f45c3e144d4]
Motorola ATRIX 2 Accessories and Webtop hands-on
Then head over to our [full Lapdock 100 review] to check out how that bit works with the smartphone we're looking at here, and continue on here in the review to see the rest. After the Lapdock, consider here the car dock and the HD Multimedia Dock as well as the Universal Portable Power Pack.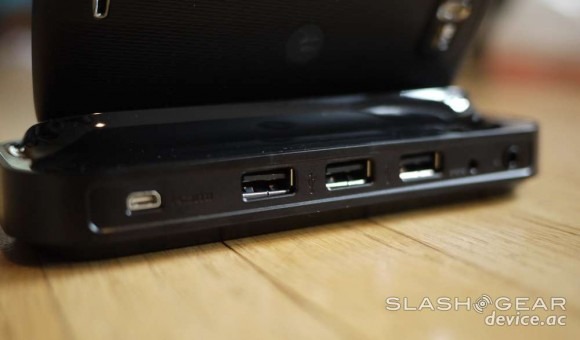 The HD Multimedia Dock – also just called HD Dock in some places, is custom formed for the ATRIX 2. Where I'm sure you'd be able to jam your ATRIX 2 in your original ATRIX HD dock, here its ever-so-slightly updated to fit this device specifically UPDATE: actually the ports are opposite, so the original ATRIX will certainly not fit. It's got a power port for a cord that plugs into your wall (without which you cannot use the dock), three full-sized USB ports (for keyboards and mice and I'm sure video game controllers once Ice Cream Sandwich rolls around), and microHDMI. Since you've already got a microHDMI port on your ATRIX 2 right out of the box, plugging in here will offer 2 possible plusses: accessing Webtop with a mouse and/or keyboard, and having the device stand up so you can use it as a clock – or of course tap away at your Netflix queue in slightly more of a classy way than just doing so with the smartphone sitting flat on your table next to your TV.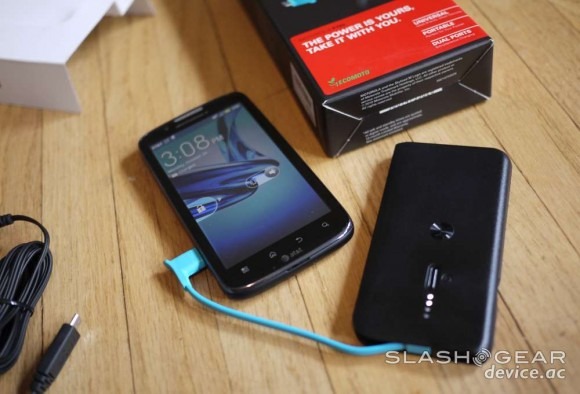 The Universal Portable Power Pack is a device you may have seen before in different forms, this one is essentially a 1420 mAh battery that, when plugged into your ATRIX 2's microUSB, pumps your battery back up to nearly full. There's also a full-sized USB for if you want to charge up a second device at the same time (separate microUSB cord required). One button, lights indicating how much power is left, and a lovely bright green cord to make sure you don't lose the device in your backpack.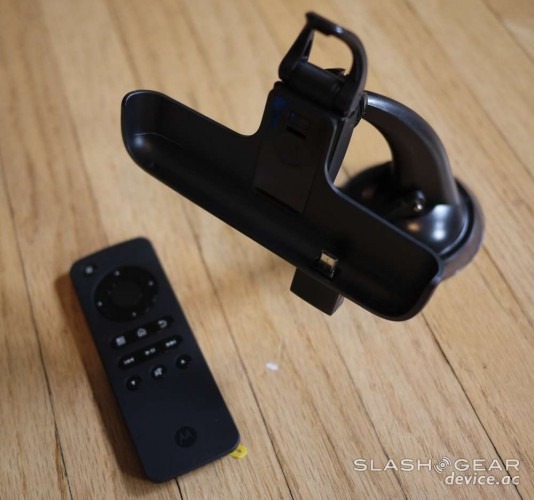 The car dock allows access to a super simplified interface that has four shortcuts on each of three homescreens. Recent calls, favorites, voicemail, dialpad, Navigation, voice search, Bluetooth, music, internet radio, podcast, and a couple extra spaces to add shortcuts of your own. This dock appears to be made to work with more than just the ATRIX 2, but this is the handset that fits best. Heed the warnings and make sure not to use this in Minnesota, because docks such as these are illegal, for real! Have fun outside the midwest.
Software
[vms bc19ab77642849e02b89]
Motorola ATRIX 2 hands-on
Inside the ATRIX 2 you've got the newest look at Android 2.3 Gingerbread that Motorola has whipped up for this and the rest of its recent smartphones. You've got plenty of customization including your regular everyday wallpapers and five full homescreens where both your application shortcuts and widgets, a few of which Motorola has offered up here as resizable, similar to what we've seen on Honeycomb in its newest updates and the future release of Android 4.0 Ice Cream Sandwich.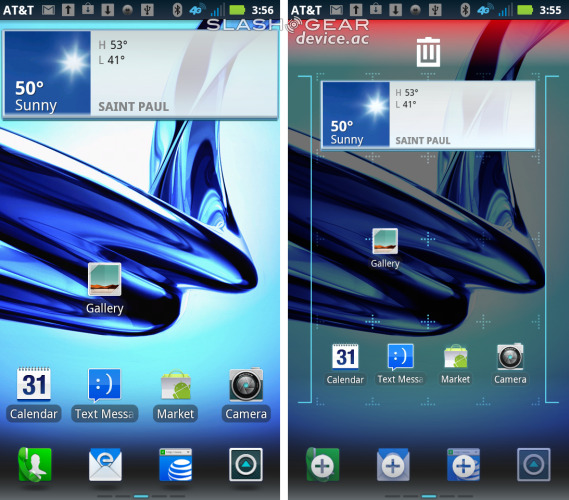 Inside your apps drawer you've got the ability to see only recent apps, downloaded, AT&T provided, or all. You'll also notice the lovely 3D horizontal appearance of the apps, this also unique to Motorola devices. Unlike some iterations of Android, you can also view your apps drawer in landscape mode, a feature you'll definitely appreciate when you're working with your mobile view via HDMI to an HD television.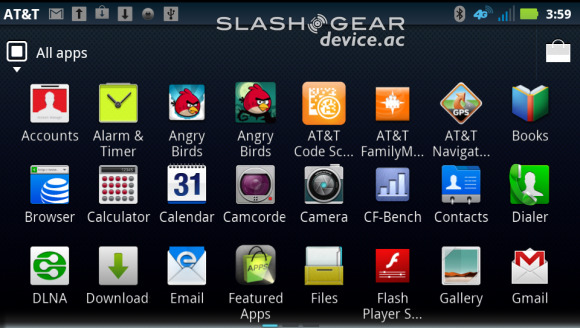 The only thing that I'm sure the developer community will be rebelling against here on the software end is the fact that the bootloader is locked. Though we've recently spoken with Motorola in-person about the matter in regards to the RAZR, it looks like their hands are still tied somewhere along the line, more than likely at the carrier end of things. This means you wont be able to put any custom ROMs on the device – at least for now.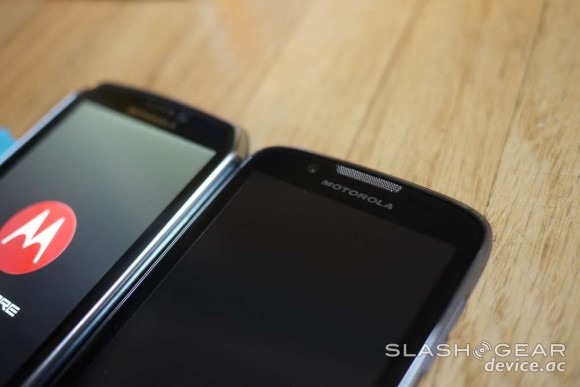 From there it's an extremely similar experience to what you've seen in the DROID 3 and the ELECTRIFY and the Photon, save for the software, of course. For those of you concerned with numbers, have a peek at a couple of benchmarks performed on the device here: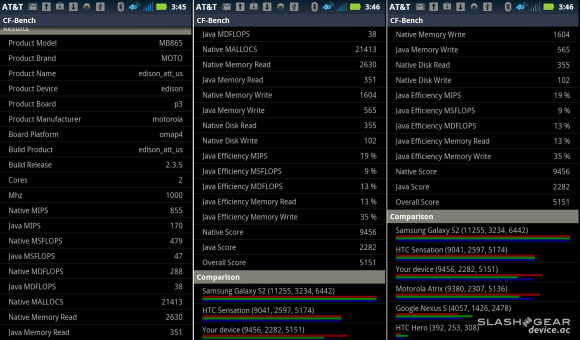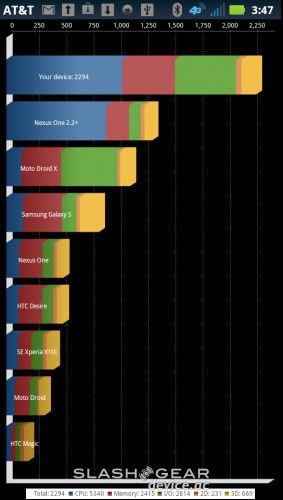 Camera
The camera has the same unique interface we've been seeing in the most recent Motorola devices listed above, but unlike what we've seen with the BIONIC, whose camera is for some reason notoriously not so great, the ATRIX 2's shooter seems pretty good. Have a look at a single photo here, several more in the gallery below, and a video demo, all recorded or snapped at full HD. That means 8 megapixel photos and 1080p video, mind you.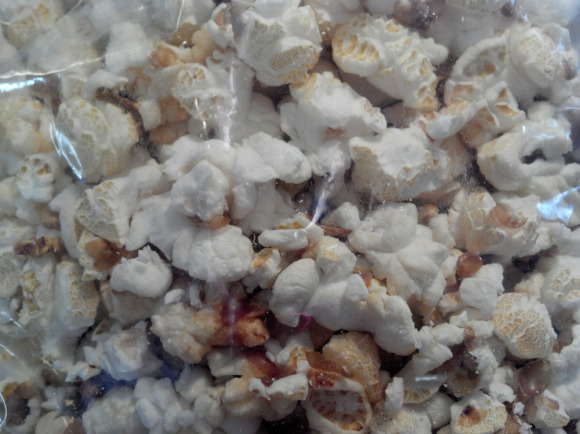 Battery
The battery here is a 1785 mAh, this from what we've seen on the device meaning you'll be getting at least 6-8 hours in full use, with standby time equalling over a full 24 hours. What's interesting here though is that should you grab the Lapdock 100 when you purchase the ATRIX 2 as we've got here, you'll have another day's worth of work ahead of you. Though when we watched videos on the Lapdock without the device being plugged into the wall for power, we're looking at again more like 10 hours total. Enough for a whole Star Wars trilogy – neat!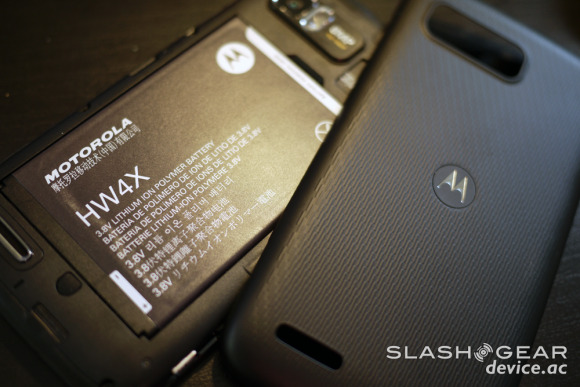 Wrap-Up
The ATRIX 2 is an improvement over the original ATRIX if only for its slightly more advanced user interface. Where the first ATRIX used what was still then called Motoblur, here we've got what's generally considered a much more reasonable approach to Android. The form factor feels much more substantial (and it should since the display is larger — though again with the same amount of pixels,) and the curve around the edge of the glass makes the whole device feel rather high class and nice to use. The camera takes some nice photos and video as you can see above and below, and plugging into any number of docks, each of them official from Motorola, will expand your experience beyond that of a normal smartphone.
But it all takes some getting used to. Like when you first started tapping away at a smartphone back all those months ago, here with Webtop you'll have to re-check your brain to make the best use of it. Motorola here has created something no other manufacturer really has in a multi-mode device that can work in your car, in the coffee shop, and in the home on the HDTV, and playback of video in each of these environments (though you shouldn't be watching video in the car, mind you,) is pretty great.
Pick up the ATRIX 2 if your contract is up for the ATRIX 4G (original) or wait for the Motorola DROID RAZR on Verizon. Both devices will have a very similar software experience, and if you're looking to get into the Webtop world, both work with the same docks (for the most part.) Thus it's up to your preference in carrier really, and note that the Photon and the ELECTRIFY are right up here in the same boat as well.
And once again don't forget to check out our Lapdock 100 review as used with the ATRIX 2 specifically as well as our [Motorola Portal] for news and reviews of all your favorite Motorola devices.