Moto X User-Customized Motorola Smartphone Teased Patriotically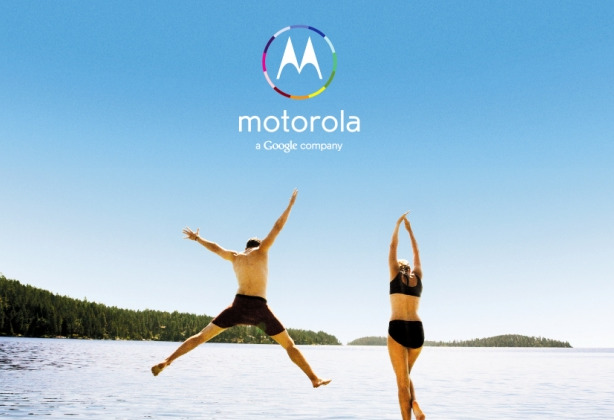 If there's ever an opportunity to tie a product in with a national holiday, a public relations company is apt to do it. This week the folks at Motorola are set up to release a full-page advertisement for their customizable smartphone, one that'll go by the name Moto X. This device is prepped to be designed by the user (you) and entirely assembled in the USA – a first for a product such as this.
With this full-page spot, Motorola also once again comes out in force with its new logo, bound and determined to make you understand that the big M belongs to Google now. This logo also shows a collection of colors that the user will almost certainly get to choose from for the battery cover – or perhaps the whole casing – of the Moto X smartphone later this year.
The Google company known as Motorola has hereby been reinvented as one that's ready to make a real American effort with a 4th of July message for the public.
"What we are doing which is very different is assembling here in the U.S. in our assembly plant in Ft. Worth, Texas. What better time than July 4th to come with a message like that?" – Motorola VP of global brand and product marketing Brian Wallace
Are you ready for a smartphone whose physical attributes you can customize yourself? Could this be Google's first big influence akin to the color choices available with Project Glass?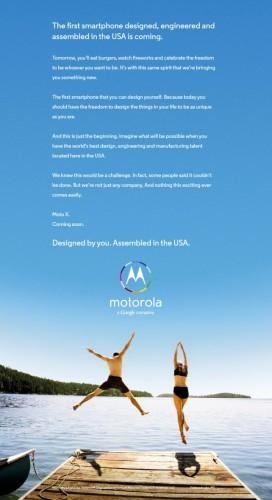 Click image for full-sized JPG file.
Have a peek back at SlashGear's Fire-side Chat feature series on Glass to see what that's all about, specifically the entry titled Google Glass color choices: will yours be custom coded?
Then take note of the leak of what's called the Motorola DROID Ultra – perhaps the Verizon-specific iteration of the Moto X, made in what they describe as a bunch of glossy colors integrated with DuPont Kevlar – much like the DROID RAZR lineup from the past couple of seasons with the brand. We shall see!
Thanks for the tip, Josh!
VIA AdAge