Moto X Pure Edition: 5 facts you need to know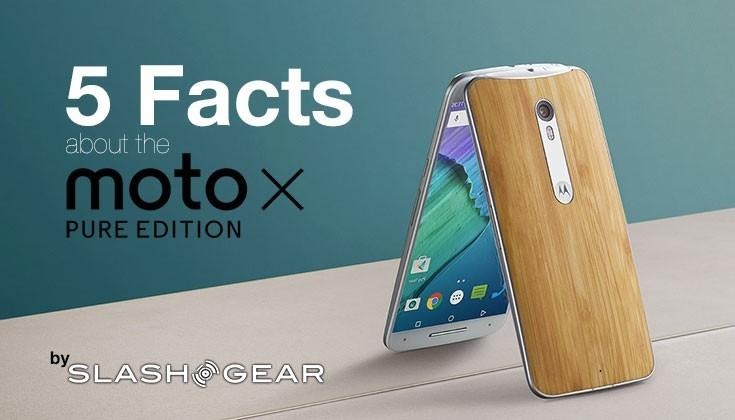 Today Motorola revealed several new smartphones, the most compelling of which happens to be coming without a carrier. The Moto X Pure Edition will be released in the United States without a carrier starting at four hundred dollars. While smartphones (like Sony's range, for example) have been coming to the United States off-contract and off-carrier in their primary release for several years now, Motorola is doing something different. In addition to making the device affordable (not cheap, but within reason), they've finally released a device that works on all carriers.
All carriers and no carriers at all
First, while we've seen machines like the Nexus 6 (also made by Motorola) coming with multi-band LTE before, the Moto X Pure Edition will work with all major carriers inside the United States at launch. It's suggested that a strange launch like the Nexus 6 experienced won't be repeated here.
The Moto X Pure Edition works with the following networks and bands:
• LTE cat. 6 (up to 300 Mbps)
• WCDMA
• CDMA
• EV-DO
• TD-SCDMA
• GSM/EDGE
- UMTS GSM/GPRS/EDGE (850, 900, 1800, 1900 MHz)
- UMTS/HSPA+ (800, 850, 900, 1700, 1900, 2100 MHz)
- 4G LTE (B1, 2, 3, 4, 5, 7, 8, 12, 17, 20, 25, 28, 40, 41)
The Moto X Pure Edition is being sold through Motorola in the United States off-contract online. For $399.99 USD off-contract. It's closest relative, the Moto X Style, will be sold through carriers, likely with a "lower" price through contract.
Customization: Bamboo is now standard
This device will be available in two "standard models", one with a black lens/dark gray frame/accents with black "Soft Feel" inlay. The other has a white lens/silver frame/accents and a Bamboo inlay. Bamboo is STANDARD.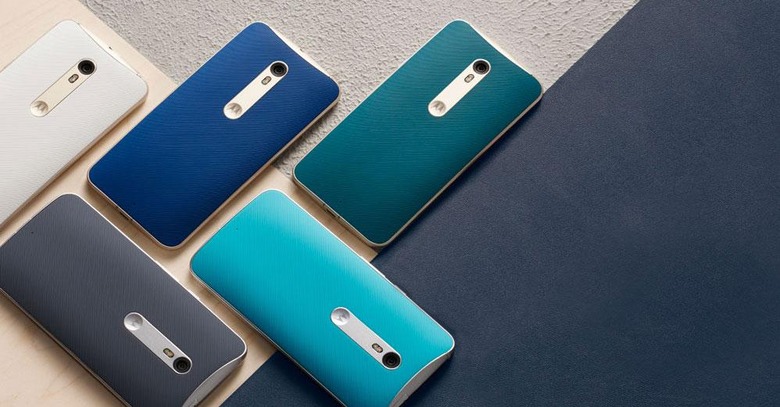 That means enough people have ordered wooden-backed Moto X models in the past that Motorola's sourced enough bamboo to make bigger orders. If you're not all about one of those standard models, you can always choose from one of 18 different inlays through Motorola's Moto Maker console.
Multi-processor
This device has front-facing speakers, Bluetooth 4.1 LT, and a Motorola Mobile Computing System.
The Motorola Mobile Computing System is something very similar to each previous Moto X, working with a Qualcomm processor as well as two other separate and unique processors sourced elsewhere. These other processors are as follows: 1x Natural Language Processor and 1x Contextual Computing Processor.
"Water Protection"
This device is water-resistant. That does not mean waterproof. Unlike the Moto G, which appears to be OK going under water, this device is made to be OK being splashed. According to Motorola: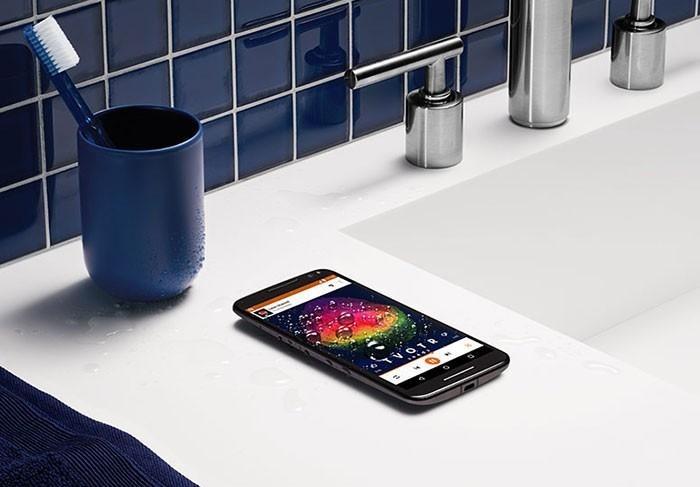 "Advanced nano-coating technology creates a water repellant barrier to help protect against moderate exposure to water such as accidental spills, splashes or light rain. Not designed to be submersed in water, or exposed to pressurized water, or other liquids; Not waterproof."
Turbo Charge, TurboPower, and Micro-SD support
While this device has no removable battery, which is a bit of a bummer, it's not all the different from the last two Moto X models – they had that same situation going on. The good thing here is that Motorola has a relatively large battery (3,000mAh) and their own brand of Qualcomm's Quickcharge tech, what they call "Turbo Charge" – It's not really clear at the moment whether or not this device will come with the same Motorola-made "TurboPower 25" charging cable that the Moto X Style comes with.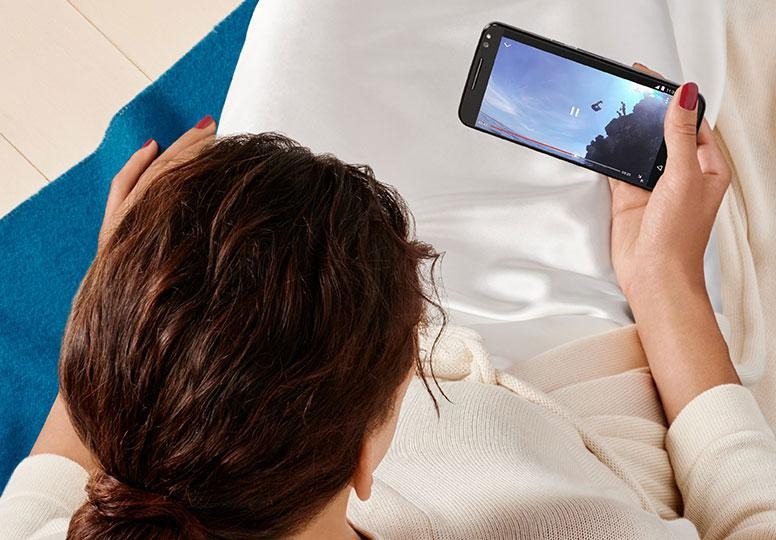 The Moto X Pure Edition DOES come with microSD support. You can purchase the Moto X Pure Edition in 16, 32, and 64GB internal storage size iterations, each of them with a microSD card slot that adds 128GB of additional storage space. MicroSD cards are sold separately.
Stick around our Motorola tag portal for more information on the Moto X Pure Edition, Moto X Style, Moto X Play, and the 3rd edition Moto G as well.