Moto X Style detailed for summer release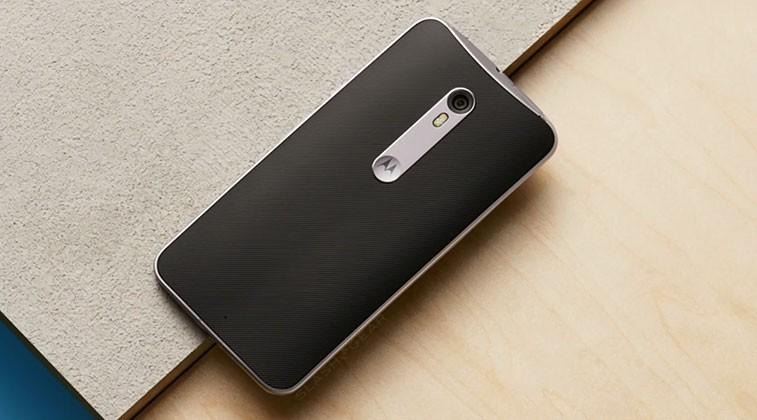 This afternoon the Moto X Style was revealed by Motorola alongside the Moto G 3rd generation and Moto X Play. This device has what the company suggests is "one of the best in the world" cameras, a large sharp display, and a new focus on customization – hence the name. This device works with a 5.7-inch quad-HD display, metal rim, and colorful accents. This device also has the same ability to customize with Moto Maker – that means wood backs, leather, and a new coated silicon rubber soft back.
This device will be working with Android 5.1.1 Lollipop right out of the box. You'll have Moto Voice, Moto Assist, and Moto Display, along with Moto Actions for quick-launching applications and features. That's the standard edition. There'll also be a "Pure Edition" coming to the United States, launched off-carrier and off-contract with universal LTE.
The camera on the Moto X Style will be a 21-megapixel f/2.0 shooter with 4K video capture and dual CCT flash. Motorola suggests that this camera out-shoots the iPhone 6 and is "one of the best 3 smartphone cameras in the world" – meaning it's near or matching the quality of the Galaxy S6 and LG G4.
Front-facing camera has its own flash (somehow or another) with a 5-megapixel shooter with 87-degree wide-angle lens.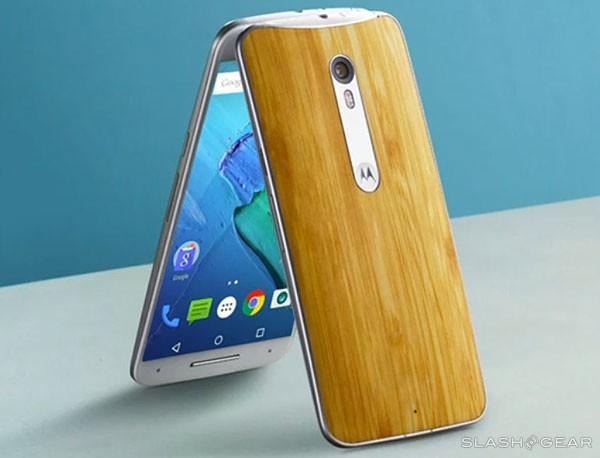 The battery inside this device is 3,000mAh strong with "up to 30 hours of mixed use" according to Motorola. Motorola has their own proprietary charging here that's not the same as Qualcomm Quickcharge 2.0 – one they call TurboPower. A TurboPower 25 charger is included in the box.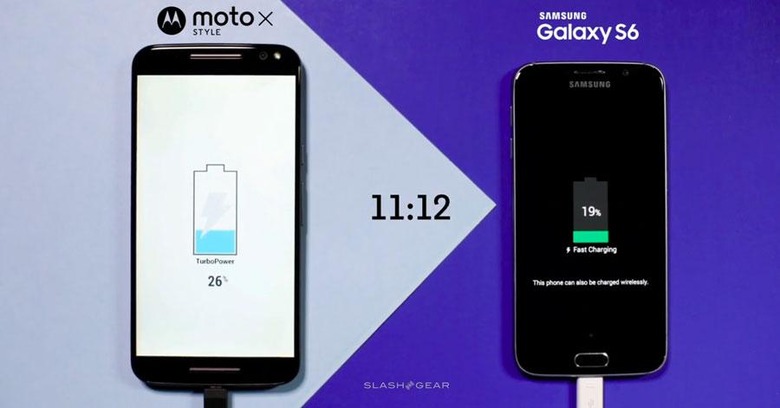 This device will come with 16, 32, or 64GB of internal storage and there's a microSD card slot with up to 128GB of storage more.
Up front is a 5.7-inch Quad-HD display contained within a small bezel and a sharp metal rim. Along the back you've got the ability to choose from premium Horween leather and natural wood, plastic, or coated silicon rubber that's specially formulated to resist color change. You can also have this device engraved.
Inside is a Qualcomm Snapdragon 808 processor clocked at 1.8GHz with 3GB of RAM. This device has a water repellant coating and functions with Universal LTE banding – any carrier, that is to say.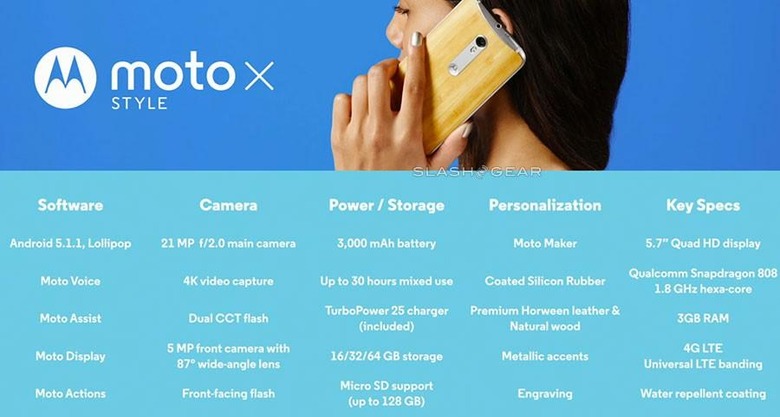 While we're waiting on final pricing from each individual carrier, Motorola suggests this device will cost $200-$300 less than the competition. Stay tuned for more information, hands-on, and our full review.
Also note – this is one of THREE Motorola devices revealed today. Head to our Motorola tag portal for more.