Moto 360 Sport Review Part II: what no other device has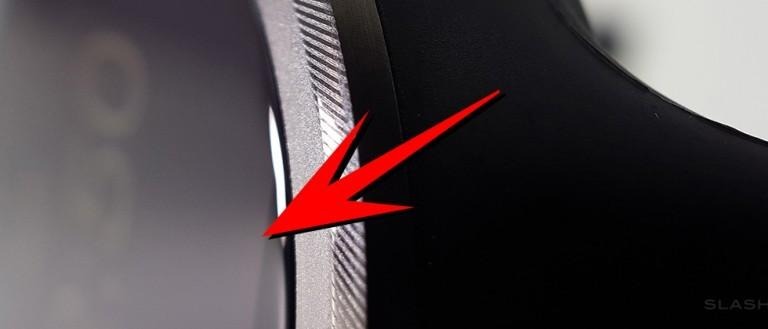 While my first inclination was to title this post "what no other smartwatch has", that just wouldn't be accurate. What we've got here is a bona-fide piece of technology in the Moto 360 Sport that's never been released in any device before. Here, according to Motorola, the Moto 360 Sport equips a "first of its kind LCD display." It's a first of its kind, that is to say, in that it "combines a traditional backlit transmissive screen with a front lit reflective technology." The best of both worlds – always visible.
Imagine our surprise when Motorola introduced a new combo display technology on a device that wasn't necessarily its hero product for the season. That'd be the Moto 360 (2015). Instead, Motorola released this "Sport" product on a launch that took place several weeks after the initial watch.
And here it is.

Above you'll see outdoors on the left, indoors on the right. Below you'll see the same image up close – outdoors on the top, indoors on the bottom.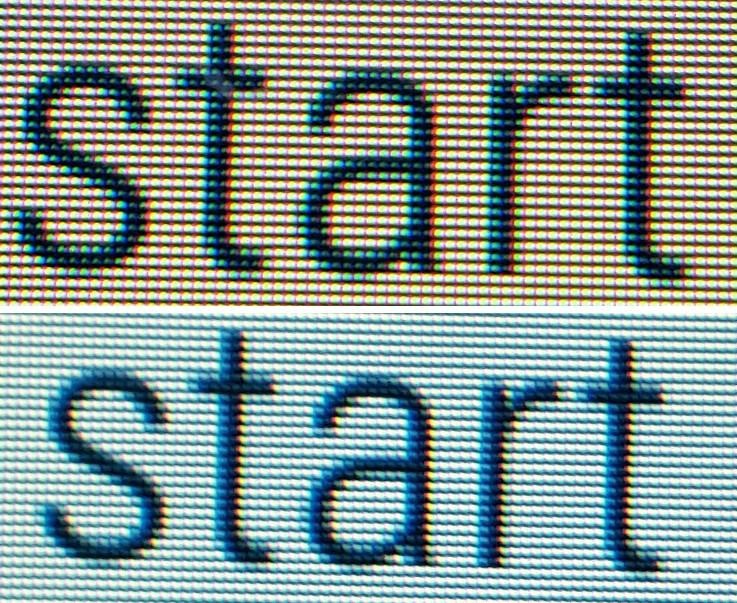 When you go out into the sun, you can still see what's on your display because the sun reflects off of your screen and doesn't go to war with the lights that'd otherwise be providing you with information.
The result is a display whose whites are a bit more yellow and whose remaining visible spectrum isn't quite as bright. It's not quite as flat and mind-blowingly visible in bright light as, say, an e-reader using e-ink, but it's good. It's surprisingly good.

Again, here you'll see the reflective properties of the display on the left, in direct sunlight. On the right you'll see the LCD backlight, indoors, in the dark.
Below you'll see a close-up, with the same lighting situations on the same sides.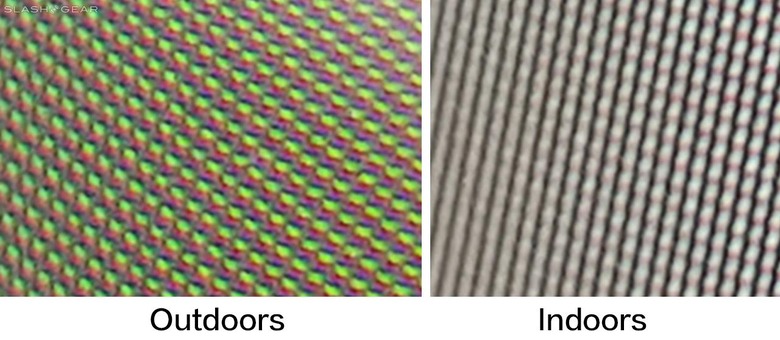 In this last example here below it's is a bit harder to see the difference between the two lighting situations as it's mostly a black, blank display. Same is true though – sunlight on the left, darkness on the right.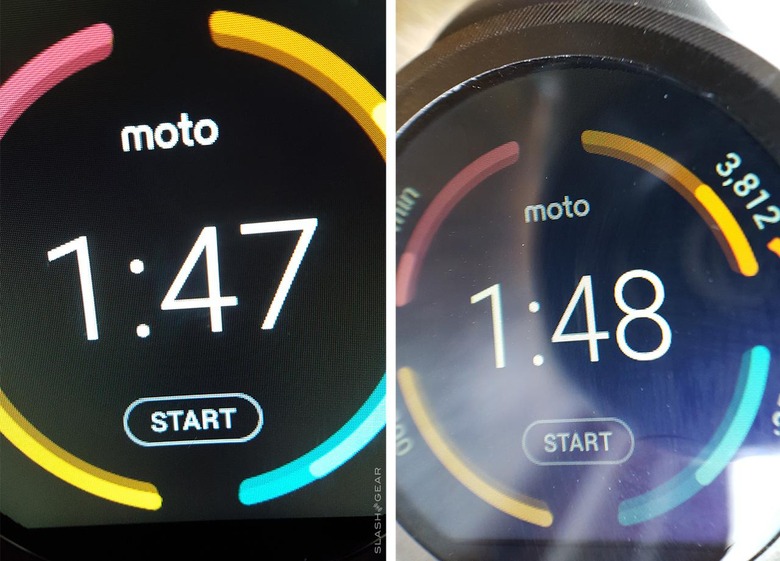 This technology is so good that, barring costs in implementation on a larger scale, we wouldn't be surprised to see an AnyLight Hybrid Display on the next Motorola smartphone – a hero phone for 2016.
Google sells Motorola to Lenovo
The display on this smartwatch doesn't make it a must-have device. It's got plenty of other features that'll do that bit just fine. Also the Moto 360 Sport is still a smartwatch just as much in its infancy as any other Android Wear watch or Apple Watch.
Without paying especially close attention to the watch's face whilst comparing it to another display at the same time, you won't necessarily notice the difference. This technology is passive, and really is the sort of thing that you'll know is working if you don't actively realize it's even there.
SlashGear 101: What is Android Wear?
That said, as we get more into the software bits of this device, you'll find that this Moto 360 Sport is as fine or finer a piece of equipment on the inside as any other Android Wear watch we've yet come across.
You'll want to see our other Moto 360 Sport articles released over the past couple of days (as listed below) as well. Be sure to stay tuned for the rest of the Review process throughout the week into next, and ask any and all questions either here or via Twitter at @t_chrisburns and we'll answer the lot of them.