Moto 360 Camera Moto Mod detailed: the world from all angles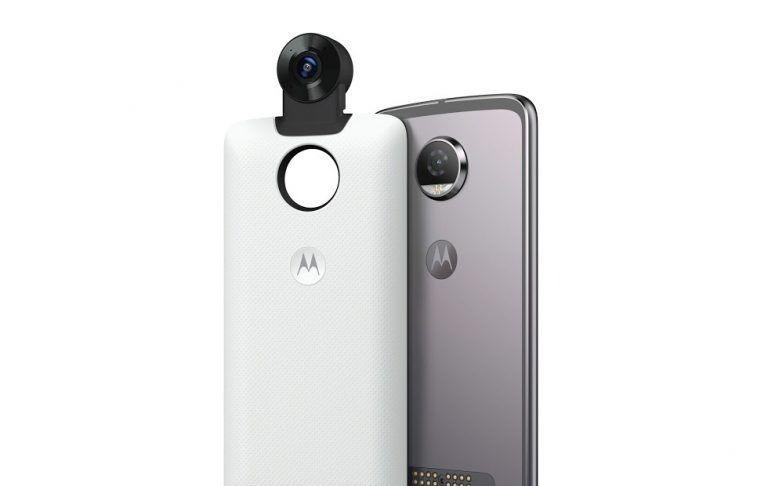 This week the folks at Motorola have revealed the Moto Z2 Force Edition alongside a Moto Mod that sees the world from all angles. This is the Moto Mod called "Moto 360 Camera", and we've seen it before – albeit very briefly. This piece of work delivers spherical video with two lenses that, together, create a 4K-sized video captured at 24-frames per second.
The Moto 360 Camera connects using the same Moto Mod system that each Moto Mod revealed so far has had. The same set of pins and the same backside connector are embedded within. This Moto Mod will therefore work with every single Moto Z device, and most features will work on every Moto Z device right out the gate.
One exception is the ability to stream spherical video from the camera live, but this limit is not per smartphone – it's just not ready to roll yet. A software update will bring live streaming soon. Otherwise the device uses its two 13-megapixel cameras in a module that sits up above the smartphone to capture a full 360-degrees (spherical, if that wasn't clear enough already) view at 24 frames per second.
SEE TOO: 5 reasons its good to be a Motorola user again
If you'll have a peek at our recent 5 big things Andy Rubin just told us about the Essential Phone, you'll see something familiar. This device has a similar 360-degree spherical camera, though this one connects with just the magnetic connector instead of the full backside cover. The Essential 360-degree camera will cost a cool $200 and was quoted at 12MP per side for 4K video at 30fps – but we'll see!
It's suggested by Motorola that the 360 Camera Moto Mod will be released very soon. UPDATE: The 360 Camera Modo Mod will be available globally for $299.99 USD (MSRP) beginning August 10. Have a peek at our Android hub for more information on the Moto Z2 Force, as well – it's coming to all four major carriers in the USA!