This week we've received two watches in the mail, one Moto 360 (the new one for 2015), and a Huawei Watch. Both devices work with Android Wear, and both devices are very, very similar. So similar that, had we gotten the same color materials for the Moto 360 as we do here the Huawei Watch, we'd have trouble telling the two apart at a glance. Up close, of course, you'll see the Motorola logo on the single button on the Moto 360, and the shapes are slightly different – but inside, they're largely the same.
Both devices run the same processor, the Qualcomm Snapdragon 400. Both have the same amount of RAM at 512MB, the same storage at 4GB internal, the same IP67 water resistance, heart rate monitors, Android Wear v1.3 out of the box, battery size, quick-release bands, and round watch faces – hold up there.
Wait a second.
The Moto 360 does not have a fully round watch face. This is where the differences between the two devices begin.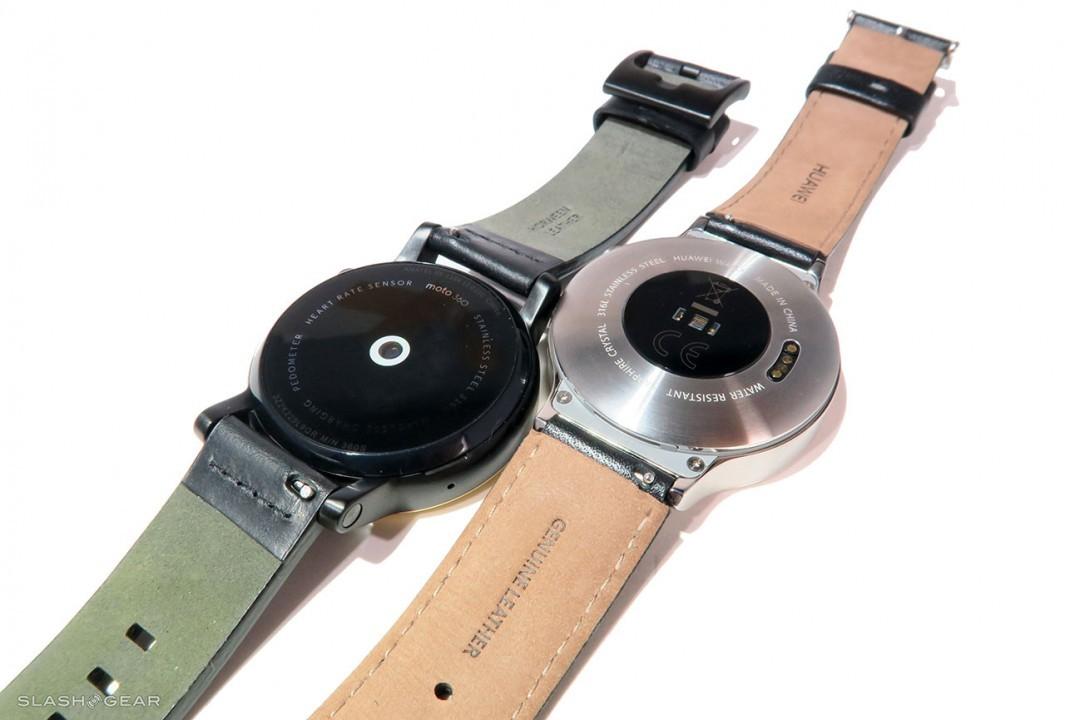 While the Huawei Watch has a fully round watch face, Motorola has once again released a watch with a nearly-round face. A small bit of the bottom of the circle is cut off by a flat line at its base.
Though they seem very similar in size, the Huawei Watch has a 1.4-inch display while the Moto 360 has a 1.37-inch display.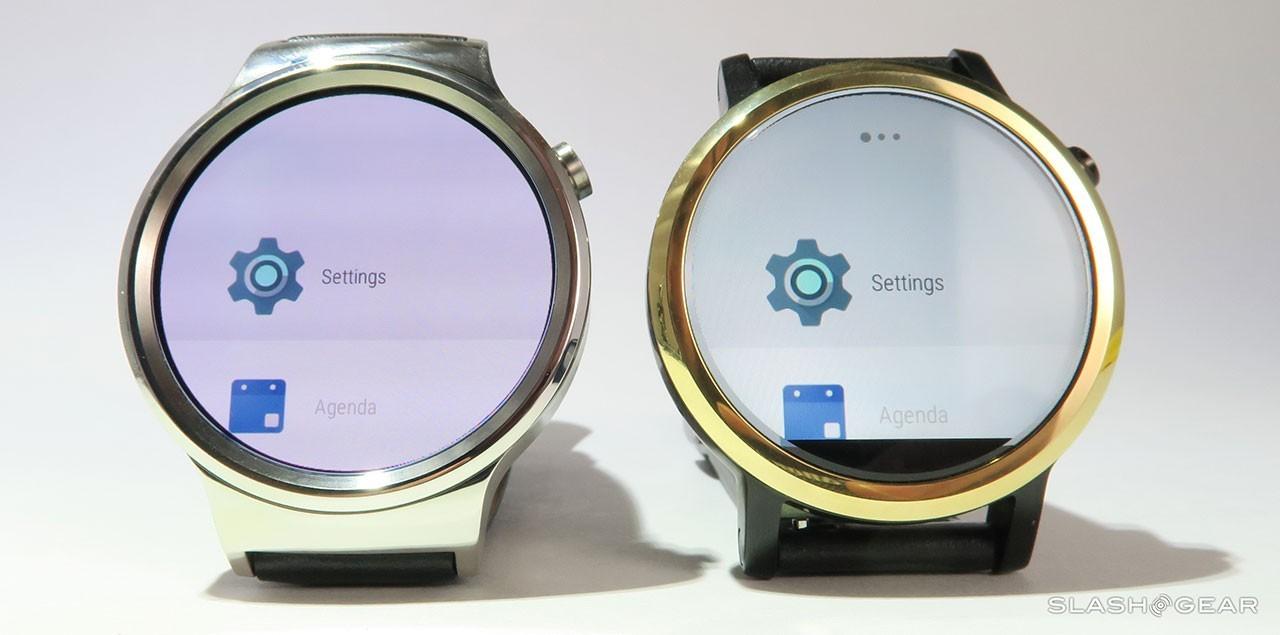 NOTE: we're using the 42mm edition of the Moto 360 (2015) for all comparisons. There's still a larger 46mm Moto 360 (2015) which has the same massive 1.56-inch display as the first Moto 360 from 2014, this time with 360 x 330 pixels or 233ppi.
The Huawei Watch works with 400 x 400 pixels across its face bringing it to 286ppi, while the Moto 360 works with 360 x 325 pixels across its face bringing it to 263ppi.
Those pixel densities are so extremely similar that we can't realistically tell the difference at a foot or more away from our face. Taking a photo like you see above results in fairly clear differences – but in everyday use, you would not be able to perceive which display is which.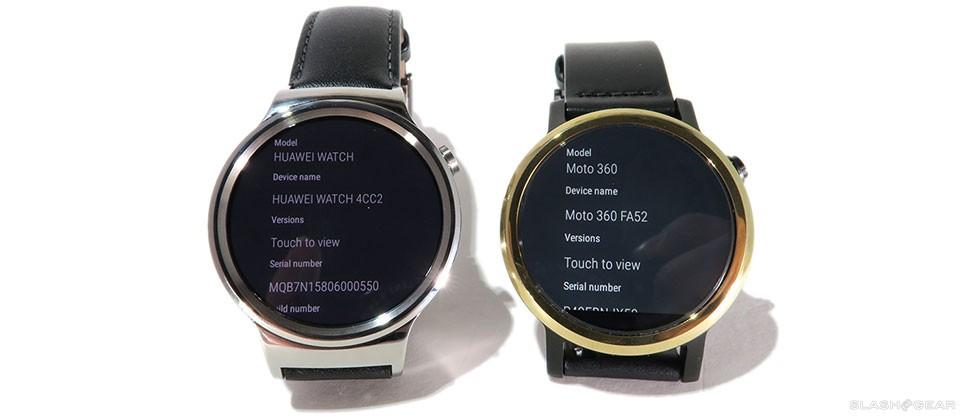 The Moto 360 works with an IPS LCD display while the Huawei Watch works with an AMOLED. They're very, very similar in this instance, save the "temperature" of the screens which, when set next to one another, has the AMOLED appearing more "warm" than the LCD. See the new Moto X Pure Edition, for another example.
The Moto 360 works with Corning's Gorilla Glass 3 for screen protection while Huawei opts for sapphire glass.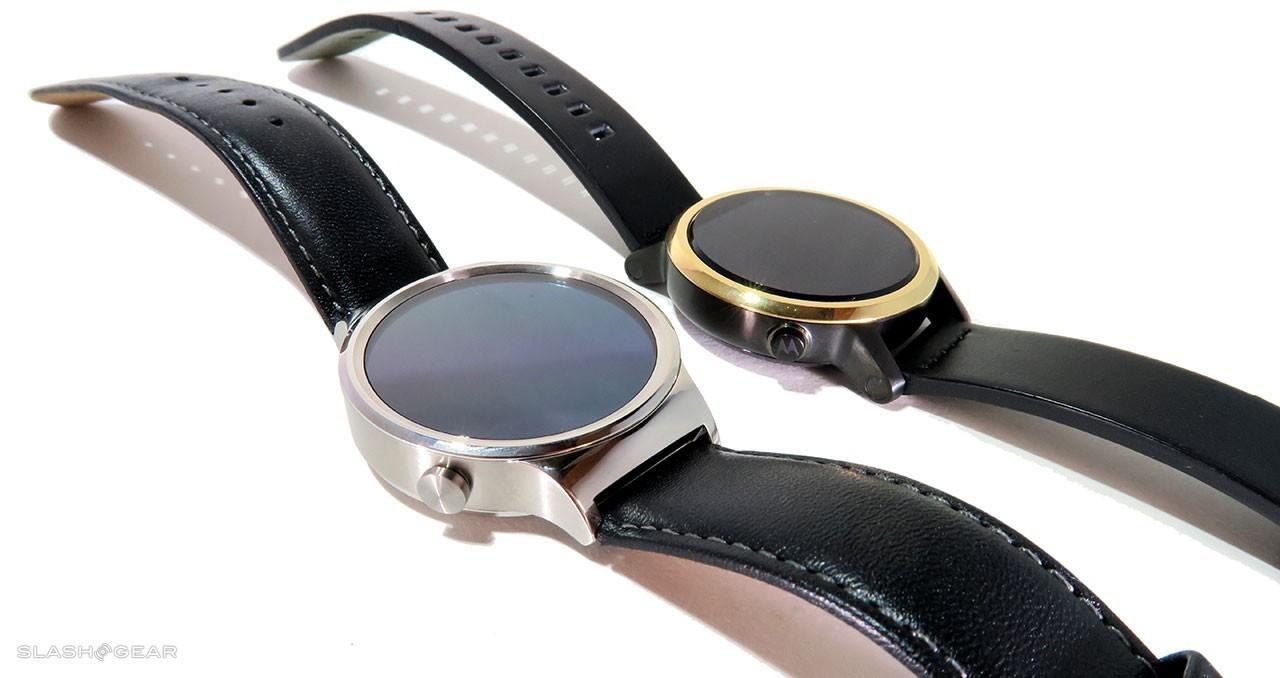 The Moto 360 (this year's and last year's) work with Qi-standard wireless charging, with included wireless charger in their boxes. This means you can charge them on basically any wireless charger you might have sitting around your home, or at Starbucks, if you do so wish. The Huawei Watch works with a magnetic charging cradle (also included in the box), and does not work with 3rd party chargers – unless you happen to have one that fits it precisely, somehow or another.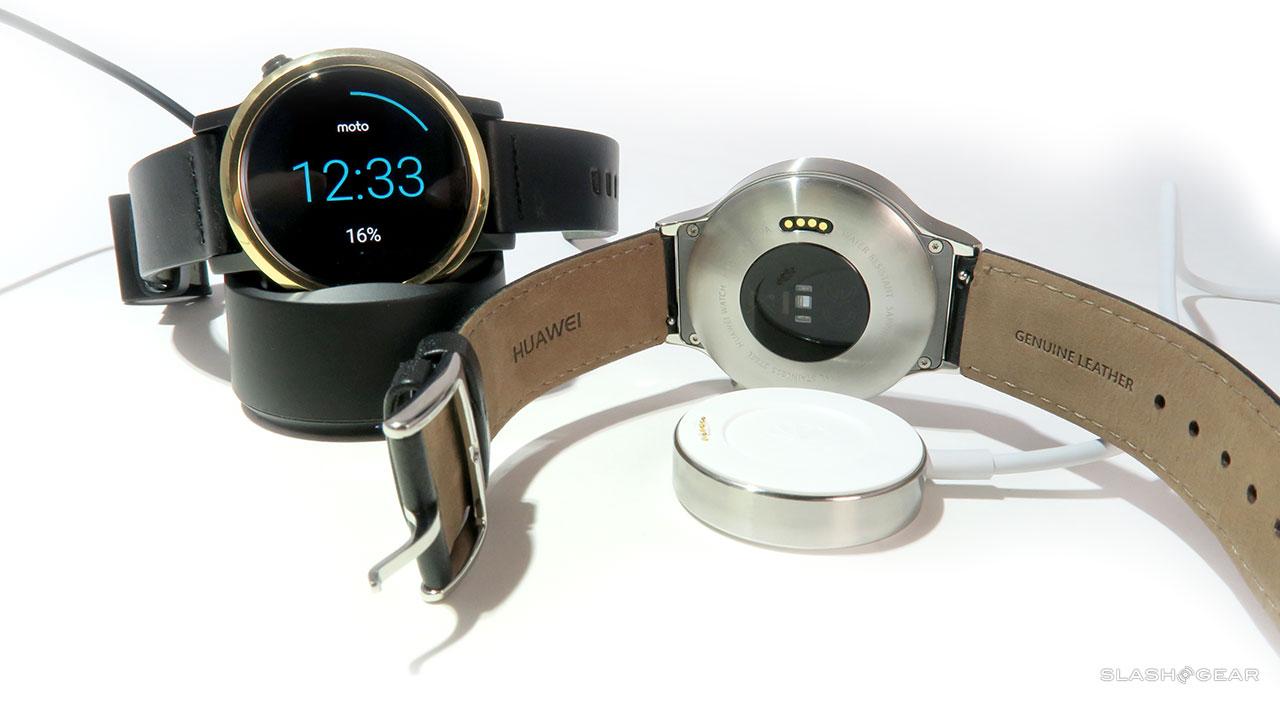 Both devices work with stainless steel casings. The Huawei Watch works with 316L stainless steel and is available in silver, black, and rose gold, each with their own slightly unique design. See the full collection in our most recent Huawei Watch hands-on.
The Moto 360 also works with 316L stainless steel and comes in gold, black, silver, and rose gold, and you can select a different bezel from your casing – we've got a gold bezel here with a black casing, for example. You can also choose the larger 46mm edition with black, silver, and gold casings and different (or matched) bezels, and there's an ever-so-slightly different "Designed for Women" version in Gold, Silver, and Rose Gold. See more colors in our most recentMoto 360 (2015) hands-on.

Pricing is ever-so-slightly different here as well, but you're really going to need to judge on the sorts of materials you're going with in the end. An extra textured bezel here, a slightly different color there – can add up. The Moto 360 (42mm) starts at $300 (men's or women's), while the larger Moto 360 (46mm) starts at $350. The Huawei Watch starts at $350 as well.
Also Note: There's a Moto 360 Sport coming soon, too.
Stay tuned for our full review of the Huawei Watch as well at the Moto 360 (2015) soon!