Huawei Watch priced for $349 Apple Watch battle: Hands-on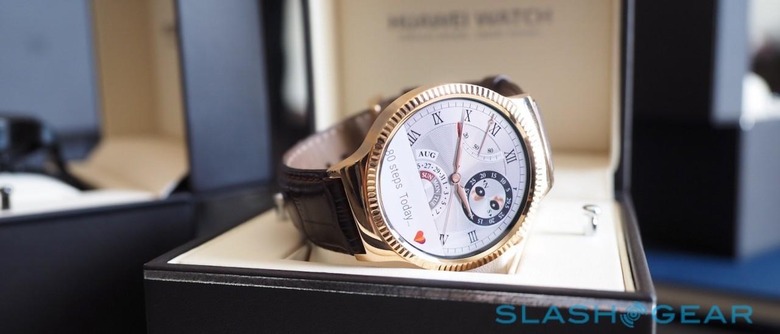 Huawei is going all-out with the Huawei Watch, aiming to raise the Android Wear bar as well as directly take on the Apple Watch in pricing. The new wearable goes up for preorder today, kicking off at $349, and is one of the few Android Wear watches to come in a relatively wide variety of styles and finishes. All get a bright, responsive 1.4-inch AMOLED touchscreen.
Huawei actually announced the Watch back in March at Mobile World Congress, and it stood apart from its Android rivals even then. It's one of the most watch-like examples of a smartwatch so far, helped by the fully-circular display – with no "flat tire" like the Moto 360 suffers – and slim bezels.
It's well-made, too. Huawei opted for cold-forged 316L-grade stainless steel, which is both corrosion and scratch resistant as well as being 40-percent stronger than non-forged steel.
The metal continues onto the back, rather than giving way to plastic, and it's the first Android Wear watch to use a sapphire crystal coverglass, including – and unlike Apple Watch – on the most affordable model.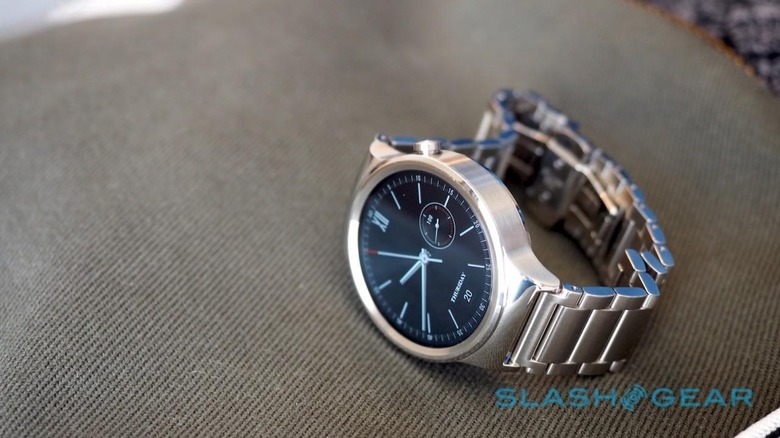 The US will get three styles and a selection of straps. Cheapest will be the polished stainless steel, coming in at $349 with a matte leather strap, or $399 with a stainless steel link bracelet.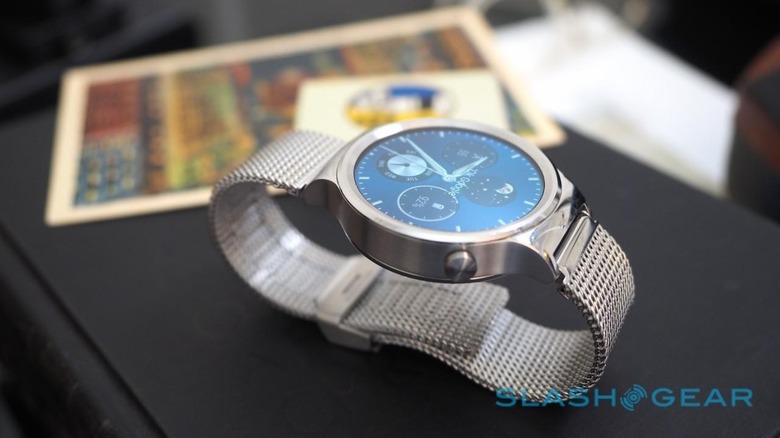 It'll also be offered with a mesh bracelet, similar to the Milanese loop style that, while not created by Apple, has certainly been popularized by it most recently. It's $399, though it doesn't have the slimline magnetic clasp of Apple's version, making do with a relatively bulky buckle.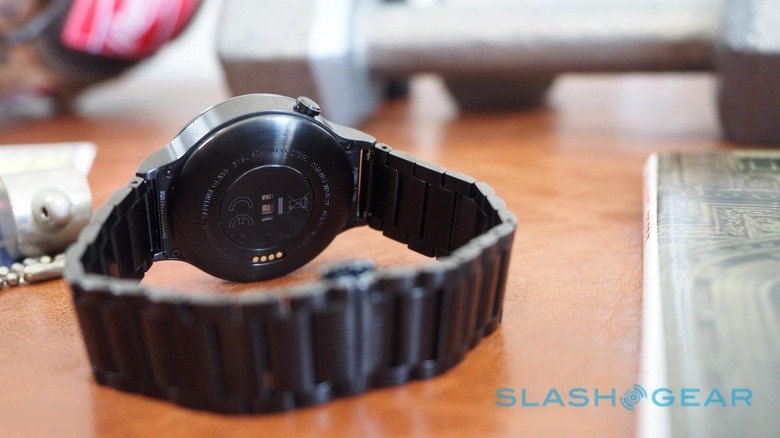 $449 steps up to the matte black Huawei Watch, perhaps my favorite of the finishes, and where the stainless steel has been given a scratch-resistant carbon coating and paired with a matching link bracelet.
Finally, there's the rose-gold plated model with a distinctive coin-edge bezel, offered with either a leather strap for $699 or matching link bracelet for $799.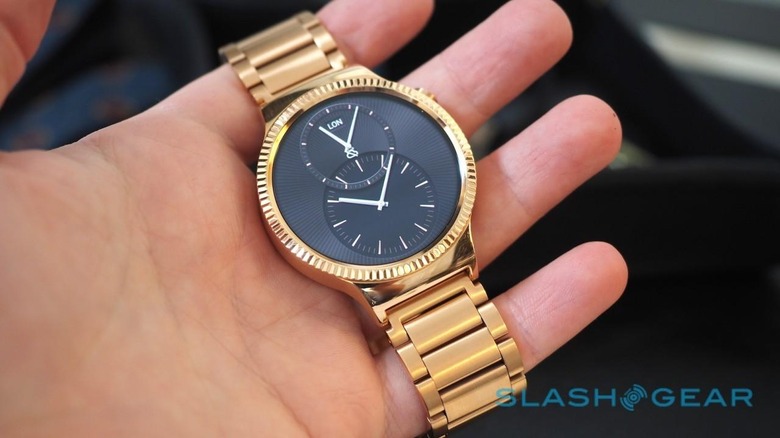 No matter which you opt for, removing the included strap is straightforward. Small clips on each of the bands allow them to be removed without tools, and if none of Huawei's straps take your fancy, standard 18mm examples can be used instead.
On the wrist, the 42mm face and slightly thick casing means you definitely notice it's there, though few smartwatches – especially those with metal cases – are exactly shy and retiring these days. With the right face, however, its geekier credentials aren't instantly obvious.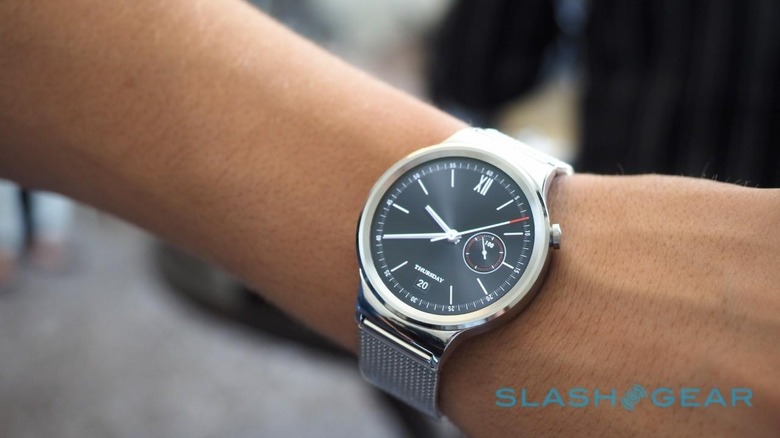 Huawei says the 300 mAh battery should be good for up to two days of wear with the always-on ambient display turned on. Recharging takes around an hour and is handled with a circular puck – strongly reminiscent of the Apple Watch's charger – which clings on magnetically, though it connects with pogo-pins rather than using inductive charging.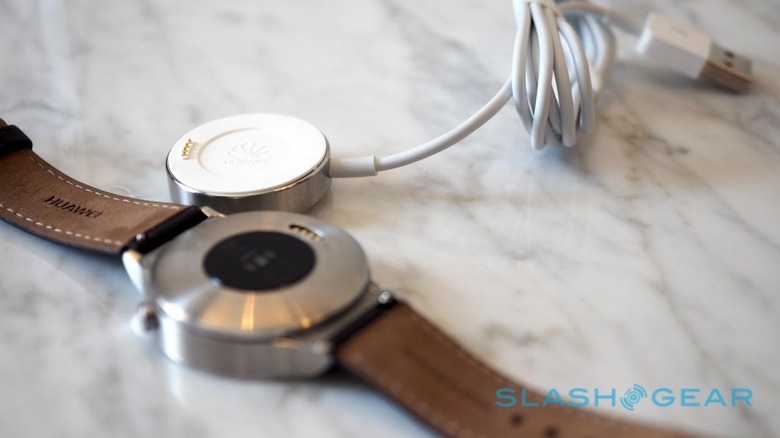 Inside it's par for the Android Wear course. There's a 1.2 GHz Snapdragon 400 processor with 512MB of RAM and 4GB of storage, together with WiFi and Bluetooth 4.1 LE. 6-axis movement tracking is handled courtesy of a gyroscope and accelerometer, and there's what Huawei is promising will be the "most accurate" heart rate monitor on a consumer smartwatch.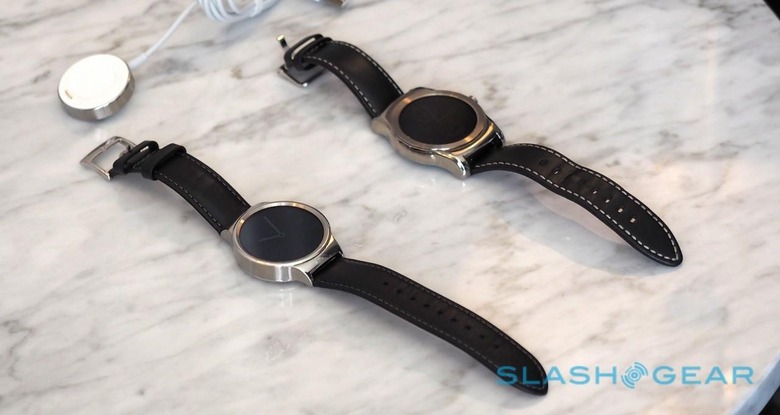 If I'm making comparisons, I do prefer the Huawei Watch to the recent batch of circular Android Wear options. That's not least because of its balance between display and casing size: the LG Watch Urbane, for instance, has those huge bezels.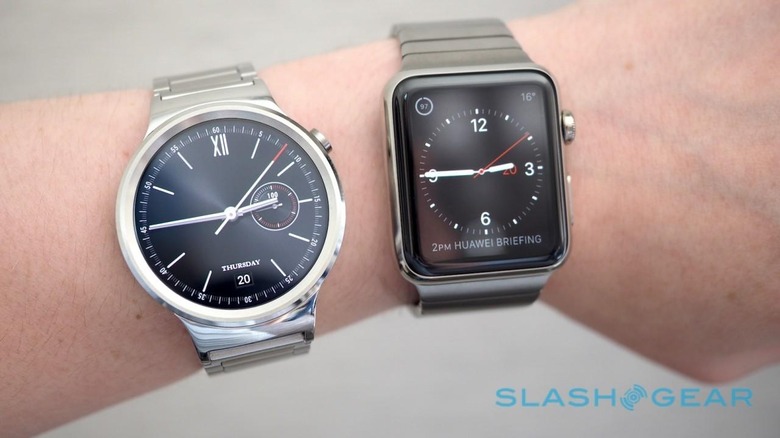 As for the Apple Watch, though Android Wear is now compatible with iPhone it's not quite the same clean sweep of features as you'd get with an Android device. Build quality between the two is very similar, though of course the screen shape is a big differentiator.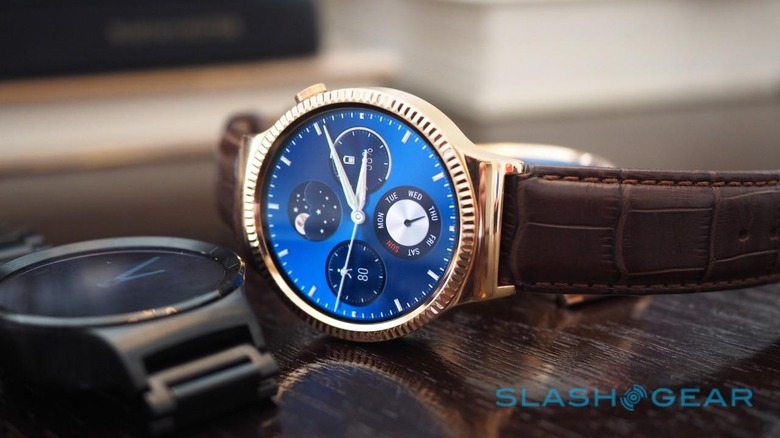 It's a fight Huawei clearly has at the forefront of its mind, given its pricing and its layering on of the traditional watch considerations that Apple has name-checked in the past.
Whether it all works out will have to wait until we can review the Huawei Watch; meanwhile, the stainless steel and black versions are up for preorder today and are expected to ship in September 17, while the rose gold will follow on later in the year.