Huawei Watch hands-on: Prettiest Android Wear yet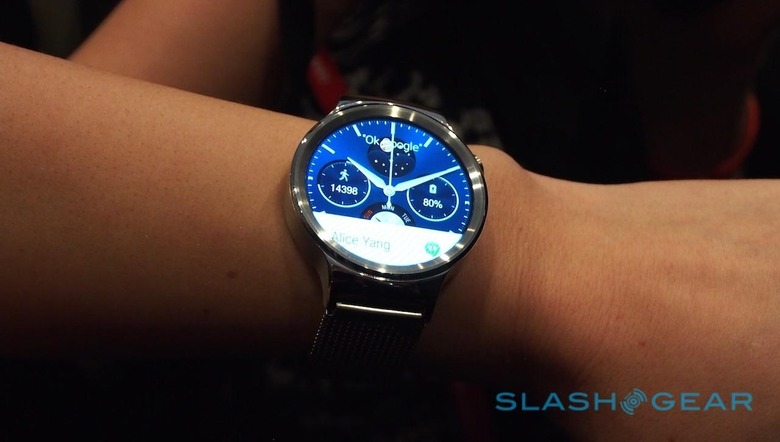 As Mobile World Congress 2015 is now in full swing, Huawei has wasted no time in announcing its latest product, the Android-powered Huawei Watch. As the company's first smartwatch, the Huawei Watch sports a stunning design, clearly resembling a classic timepiece over a tech wearable. We've had a brief opportunity to play with Huawei's current Watch prototype, and right now it's running the same looped Android Wear demo we saw on the very first smartwatches back at Google I/O in 2014.
As an Android Wear device, the Huawei Watch features a sapphire crystal lens over a 1.4-inch circular touchscreen, with a display sporting a resolution of 400 x 400 pixels, at 286 ppi. The casing and frame are made of cold-forged stainless steel, which is 40% harder and contributes to its scratch resistance. In addition to the standard silver, the Huawei Watch will also be available in black and gold, and for additional customization there will be a range of straps and more than 40 face designs.
What we know at this point is that it feels very well constructed, with the design skirting close to traditional wristwatches rather than the more techie-aesthetic other companies have adopted. The look changes considerably with the strap type, too, and while it's slightly thick, we can't knock Huawei for having multiple colors out the gate.
The physical button at the 2 o'clock position also feels great, as when you grip the bezel with your thumb and forefinger it falls in the right place naturally, unlike the Moto 360's button.
On the inside there's a built-in heart rate monitor along with 6-Axis motion sensors, 4GB of storage, 512MB of memory, and Bluetooth 4.1 for connectivity. The motion sensors can automatically determine motion activities such as walking, running, biking, and hiking, as well as when a user falls asleep. For health monitoring, users can track stats like calories burned, heart rate, steps taken, distance travelled, and height climbed.
Details on battery life haven't been revealed yet, but Huawei will be including a magnetic charging station. The watch is planned to ship in a number of countries around the world later this year, although pricing is yet to be announced.