Moto 360 2 (possibly) spotted on Chicago train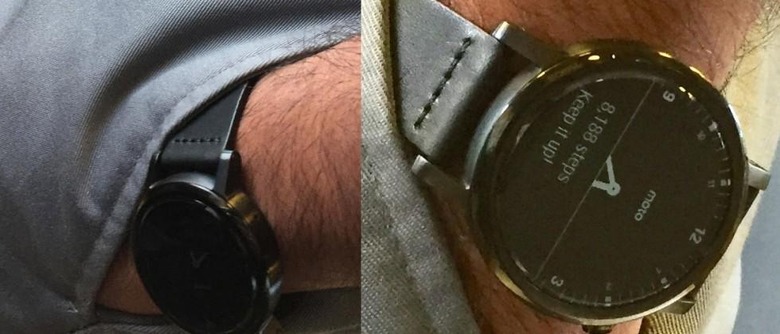 The new Moto 360 may have been spotted being worn by a commuter on a train in Chicago, at least according to the person who snapped a couple pictures of it. We've seen leaks suggested to be of the newest Motorola wearable over the past weeks, such as the one that surfaced on August 14 showing an unexpected device. A couple days later some regulatory documents surfaced from Brazil indicating that next Moto 360 will be available in two different sizes, per consumer feedback.
It is anticipated a new Moto 360 will be arriving in the near future, and following that speculation are two images snapped by Gerrit Gödecke. He shared the images on Google+, asking, "Did I just see the Moto 360 2 in the wild...?" According to Gödecke, he was on a Chicago commuter train when the watch on one passenger's wrist caught his eye.
The two images — available in the gallery above — show a Moto wearable akin to the Moto 360, but with some subtle tweaks that we've seen reflected in leaks over the past few months. The image showing the full watch face reveals what looks to be the continued existence of the 'flat tire' — the portion of the display near the bottom where there's a void.
It has been hoped Motorola would do away with that in the Moto 360 2, but this latest leak — assuming it shows the upcoming version — further dashes those hopes. We've previously rounded up the different leaks and sorted through the info to lay it all out plainly — you can see the rumored specs for yourself here. Counted among them is that users will be offered with a small and a large version.