Mother's Day Gifts Guide 2017 By SlashGear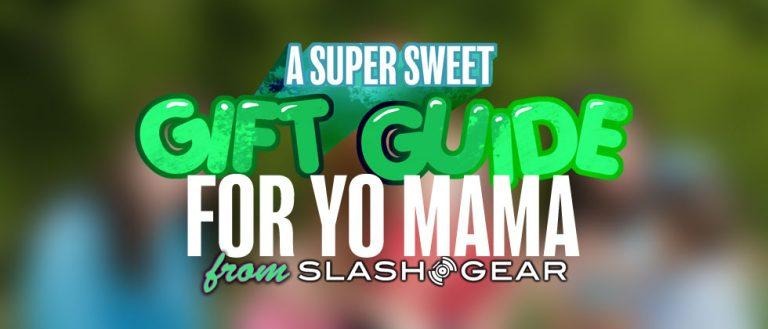 Today we've got a guide for gifts that only the most awesome moms are going to want. The sort of moms that would rather have a chameleon night lamp than another hand-made Mother's Day card. Or both, you know, alongside a bag of her favorite candy – the stuff that any mom would always appreciate should always be in the gift-giving package.
The gift guide we've got here is somewhat of a buyer's guide for the offbeat mom. The sort of mom that has a LEGO keychain because she loves to play LEGO with her kids. The sort of mom that's all about Pokemon – and not just because her kids are addicted to Pokemon GO.
1. Muchlax Lunch Bag
For the mother on the go – there's the hungriest of Pokemon made into the perfect standard lunch bag for work. Lunch break will be a lottery from the point this bag starts being used as the pocket monster might just chow down by the middle of the day.
This lunch bag is extremely price-friendly for the high quality with which it's been produced, too – bonus! While standard pricing is around $20, there's a sale going on when this article goes live for 25% off, making it about $15. This piece of equipment comes from ThinkGeek only, manufactured by Geeknet.
2. A big fat cup of LEGO
This one only really works if you live near an official LEGO store – so it's more of a reminder of the possibility than anything else. For the uninitiated: official LEGO stores have walls of loose LEGO bricks that can be tossed in official LEGO cups and purchased with a real mix-and-match flavor. For a LEGO-loving mom, that means picking either a wild variety of all one color, one brick – or just a few hundred one-peg gems!
3. Huey the color-copying chameleon lamp
The Huey is an interesting piece of equipment, to be sure. Once it has batteries in it or is plugged in with a standard micro-USB cord, it's able to change its light color. The color the chameleon turns depends on which color it sees using the light sensor at its base.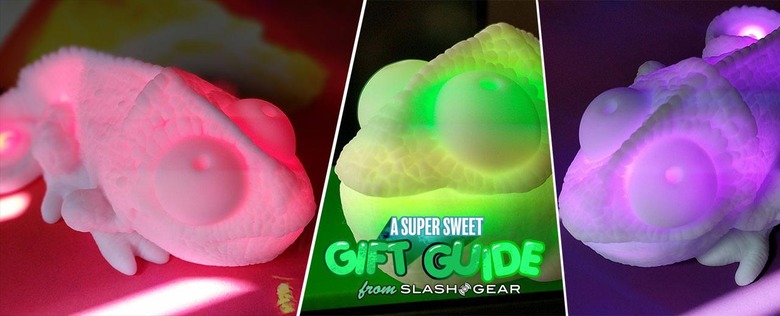 This lamp comes from ThinkGeek exclusively and costs a cool $25 USD. UPDATE: Unfortunately this lovely lamp has suddenly sold out! For more information on when it'll be available again in the future, see the Huey page at ThinkGeek.
4. World's Smartest Mom Brain Cell
The plush you see here comes from the folks at GIANT MICROBES and costs a cool $10 – or so. Depends on where you find it for sale, and if you buy it direct from the Giant Microbes store online. For more love-shaped items like these, see our birthday gift guide – essentially a late Valentine's Day gift guide.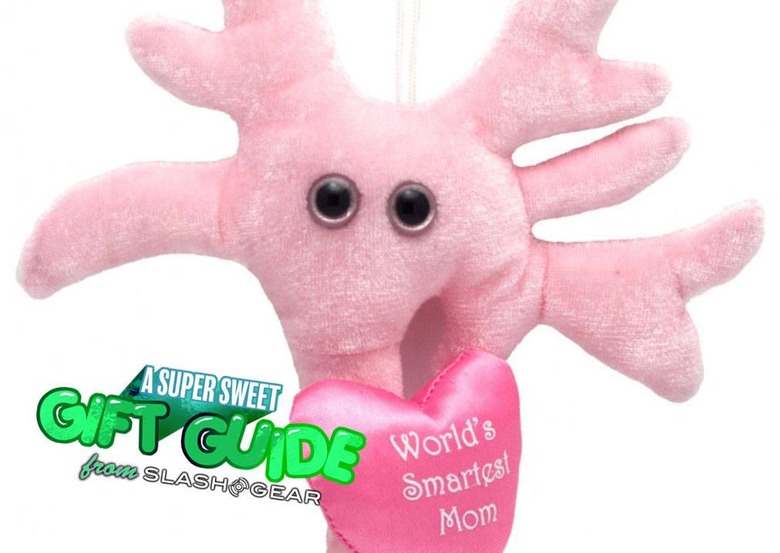 5. Jewelry from Han Cholo
This is not a drill – the beast known as Han Cholo makes the greatest geek-aimed jewelry in the universe. Or at least the best geek-aimed jewelry that isn't tricked out in millions worth of diamonds. Cholo's pieces are both high-quality and made to be entirely affordable – just search Han Cholo and you'll see the truth.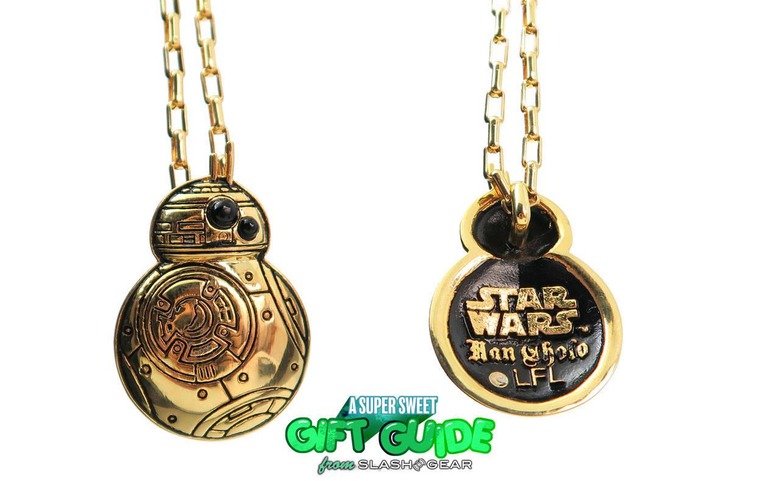 6. BB-8 by Sphero
For those of you that've seen me recommend this remote-controlled and/or autonomous toy before, tough luck! I will NEVER stop recommending it because it's completely awesome and hasn't stopped being completely awesome since we first laid eyes on it, then reviewed it again three months later. If your mom is a fan of BB-8, there is absolutely no better gift than this one.
This BB-8 by Sphero can be purchased in a special "battle worn" special edition or the original, a bit more clean. Prices range from $130 to $200, depending on whether you're going to get the Force Band or not. Might want to leave the Force Band for her birthday.
7. Rocket Raccoon Backpack Buddy
This Rocket Raccoon Backpack Buddy is easily the best backpack of all time. Or at least the best backpack that looks like a raccoon... of all time. He's 26-inches tall ear to toe, and 24-inches paw to paw – which means he's a tiny bit smaller than he'd be in the movies, but not by much!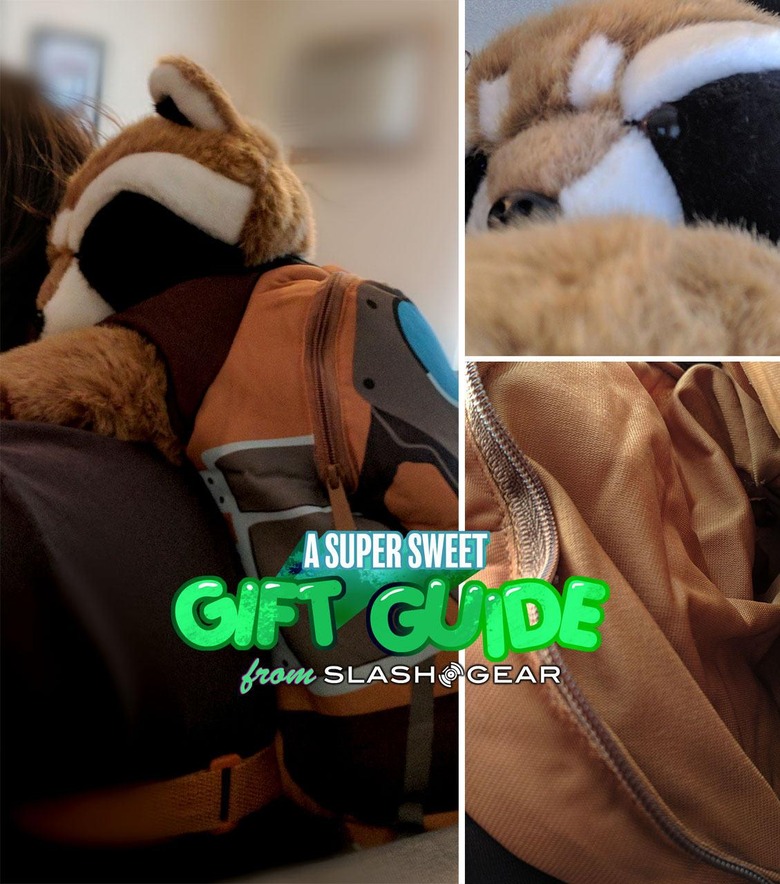 This backpack is meant for users of all ages, so don't be shocked if the kids take possession of this little monster immediately. Both adjustable polyester straps work with plastic fittings, and the zipped compartment is 9 3/4" wide x 8" high at zipper to 12" high at apex. At this very minute in ThinkGeek's backpack department, this Rocket costs $30 USD – and is normally around $40.
8. Plush Pokemon
If you have the sort of mom we think you have, you can't really go wrong with a really high-quality stuffed animal. If that mom is a big Pokemon fan, you're in luck. The folks that manufacture the most common Pokemon toys, TOMY, make just the right sized Eevee and sell it for a cool $11 or so – and they're available in the toys section at most department stores.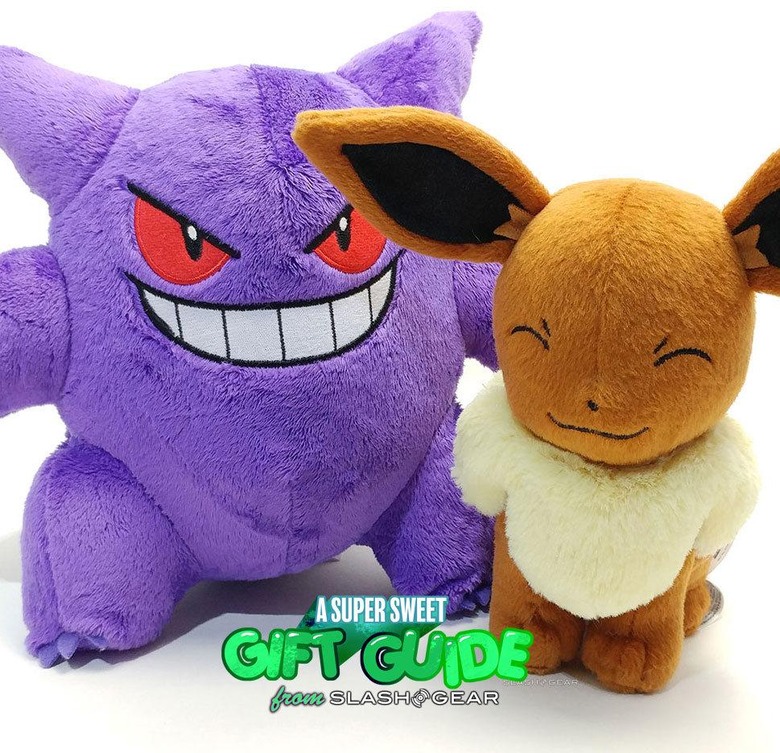 9. Rogue One on Blu-Ray
The film Star Wars: Rogue One gets better with every viewing. Now that it's on Blu-Ray for home consumption, it's prime time to toss a few more dollars at Disney. With the minor edits in the film between the theater and the home theater as well as the fact that the home edition is sharper than what's seen in the theater – there is no choice! You'll find this Blu-ray for prices between $15 and $30 depending on included features.
10. Flowers and a big bag of chocolate chips
No matter what kind of mom you're buying a gift for – if you're spending money at all, that is – there's always flowers and chocolate. While I'd wager the vast majority of moms would appreciate as much chocolate in as convenient a package as possible would be best, there are other options, too. Consider spending an afternoon concocting your best batch of chocolate chip cookies and deliver them forthwith!