Sphero BB-8 Force Band Review : Star Wars' Top Wearable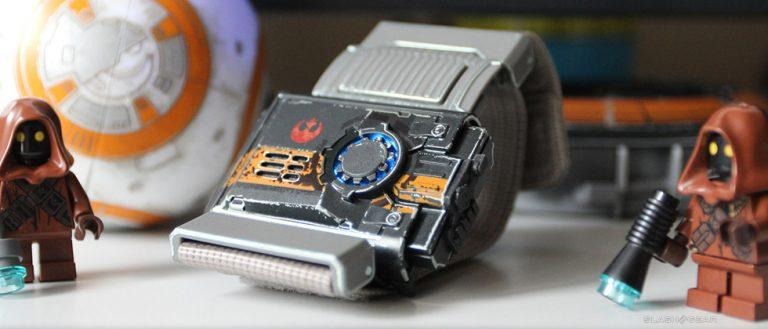 Sphero's Force Band for BB-8 is the best example of going above-and-beyond the call of duty I've ever seen in a Star Wars toy. And I've seen a lot of Star Wars toys. While there are some mightily impressive action figures out there – some with details so striking, I can barely tell model from real life – this Force Band for the BB-8 by Sphero amplifies the Star Wars magic already present in BB-8 by Sphero, a device we maintain is the Best Star Wars Toy Ever Made.
During our review of the original BB-8 by Sphero, I came to understand what it was like to inadvertently see emotion in a remote control toy. BB-8 is also capable of rolling around on his own, exploring his environment – and after The Force Awakens was released on Blu-Ray, he was given additional abilities.
BB-8 can use Sphero's connected app and the microphone(s) in my smartphone to listen to Star Wars The Force Awakens and react to a variety of bits of action happening on-screen. If the rolling around on his own wasn't enough to make BB-8 seem alive, sitting next to me watching (and reacting to) The Force Awakens certainly was.
The Force Band reaches stores at the same time as the special edition BB-8 by Sphero with desert battered body.
This alternate BB-8 has a far more matte body and head as well as a design that makes him appear as though he's been rolling amongst rocks and dust for many moons.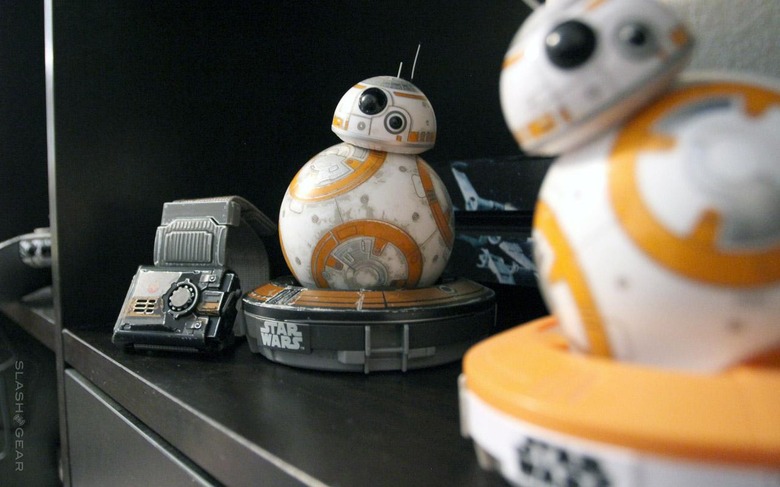 The differences between models is entirely external, as far as I am aware.
Both the original BB-8 by Sphero and the new "Special Edition Battle-Worn BB-8 App-Enabled Droid" work with the same app for Android or iOS and work with the Force Band equally well.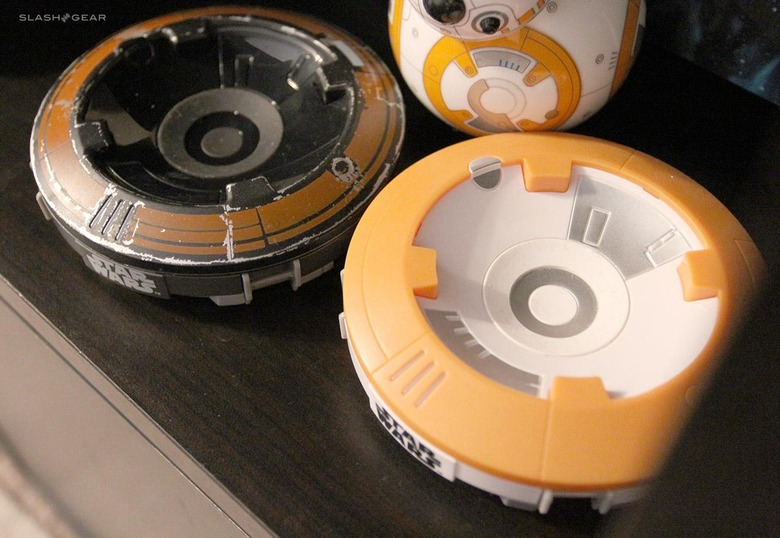 ABOVE: Charging bases are also different. Both function in exactly the same way, but one is war-worn, the other isn't.
BELOW: The heads are similar, but also manufactured with a slightly different process.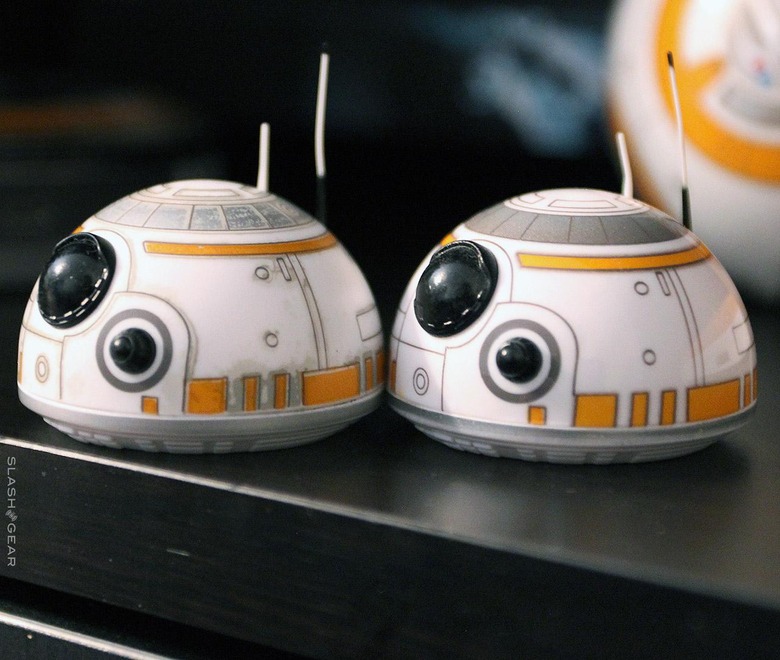 The biggest difference is in the spherical bodies of these two different BB-8 units.
One's pristine. One is not.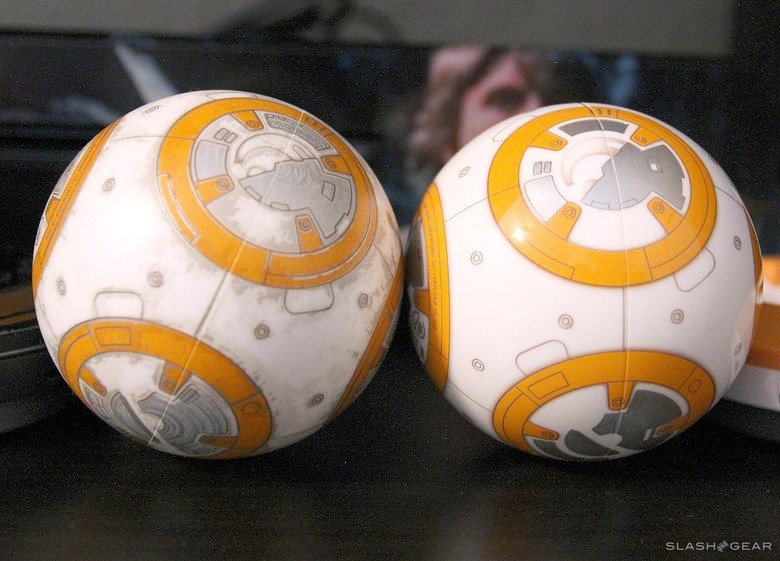 The Force Band's primary use is controlling BB-8.
Once the band is switched on and connected with the droid, Obi-Wan Kenobi speaks to the user through the band. There's a speaker inside this band, making it and BB-8 completely independent of a smartphone, if that's what you're interested in.
When I "Force Push" forward, BB-8 takes off in that direction. As BB-8 rolls, I can speed him up or slow him down by raising or lowering my arm.
Moving BB-8 to the right requires that I move my arm right. Moving BB-8 to the left requires that I move my arm back to the left. It's as if my Force abilities, provided by the Force Band, give me a giant invisible joystick with which to control BB-8.
This Force Band looks like it's truly been made inside the Star Wars universe. It's part of the "Used Future", as it were, and could very easily become part of a top-level cosplay for a top-level cosplayer.
Other uses for the band – directly involving BB-8 – are active in the Force Band app (like a game that controls BB-8 on-screen for those users that don't yet have the real BB-8 by Sphero but somehow have the Force Band separately.) And updates and expansions are coming.
NOTE: The Sphero Force Band app is separate from the original BB-8 by Sphero app. While this device is most awesome when used with BB-8, there are uses for it without the droid – such as the following: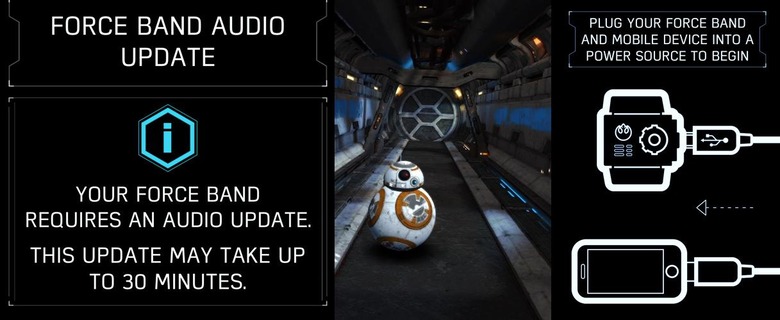 As a bit of a bonus – or perhaps a sign of things to come, outside of the Star Wars universe, Sphero's Force Band works with the BB-8 app on Android or iOS to tap into IFTTT controls. Over at the IFTTT Sphero Force Band recipes page are plentiful use cases for this fantastically simple-yet-powerful piece of equipment.
While some formulas could certainly stand to produce quicker results, the idea that odd control like this is even possible in the first place makes the band worth the cash.
The "Special Edition Battle-Worn BB-8 App-Enabled Droid with Force Band" includes the new BB-8 as well as the Force Band all in one package for $200 USD. Users can also choose to purchase the Force Band for BB-8 on its own for $80 – just in case they happen to have a BB-8 already and don't feel the need to own another.
This device tells us not only that the BB-8 by Sphero remains a force to be reckoned with in the larger Star Wars toy universe, it tells us that Sphero has a very bright future ahead of it. Innovation and top-quality implementation can be seen here in a very big way.