Mophie Charge Force Case for iPhone 7 Review: Fixing Apple's flaws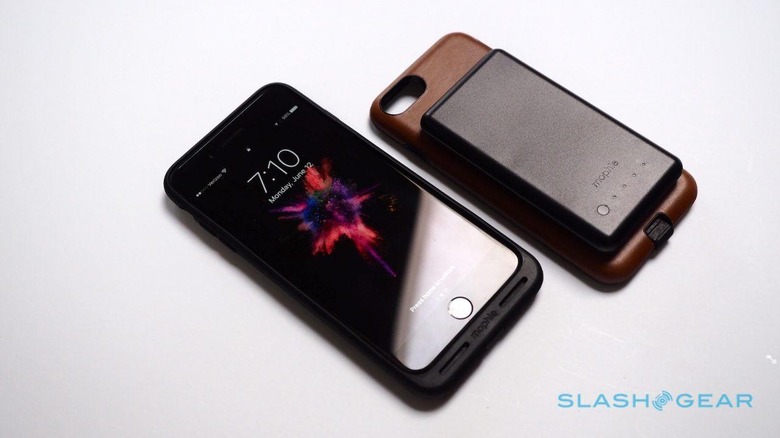 At first, I thought Mophie had screwed up. The portable battery company has made a name for itself as offering some of the easiest ways to keep your smartphone going when its own charge is running low, with an array of external power-packs and battery cases for the most popular handsets. Yet the newest Mophie Charge Force Cases for iPhone 7 don't even have a battery inside.
That seems a fairly odd strategy, and yet the new cases – which are also available for the Samsung Galaxy S8 and Galaxy S8+ – do come with a strategy. Power is an option, it's just not permanently attached. Unlike Mophie's Juice Packs, cases which have a battery permanently built-in, the Charge Force Cases are designed to shrug off their batteries when they're not required.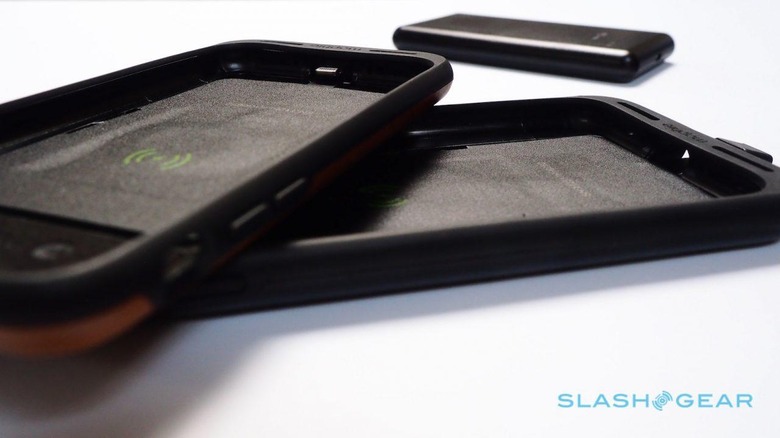 It's the latest iteration of Mophie's Charge Force technology, effectively its push into wireless charging. That began last year, with a range of cases for the iPhone 6s that included Qi wireless charging receivers in along with a battery pack. Wireless charging, Mophie argued, was a platform not just a technology: while its Charge Force products were compatible with any Qi- and PowerMat-compliant pad, it was also offering car kits and desk stands to which your case-clad iPhone would stick, magnetically.
Magnets come into it again with the new Charge Force Case for iPhone 7. Effectively, they're a Juice Pack without the built-in Juice, and with an ensuing drop in bulk and weight. Squeeze your iPhone 7 or iPhone 7 Plus inside – it takes a little effort, at least initially, since the cases are a single piece and need to be stretched around the edges – and plug in the Lightning plug at the bottom, and suddenly your smartphone has the wireless charging support Apple itself omitted.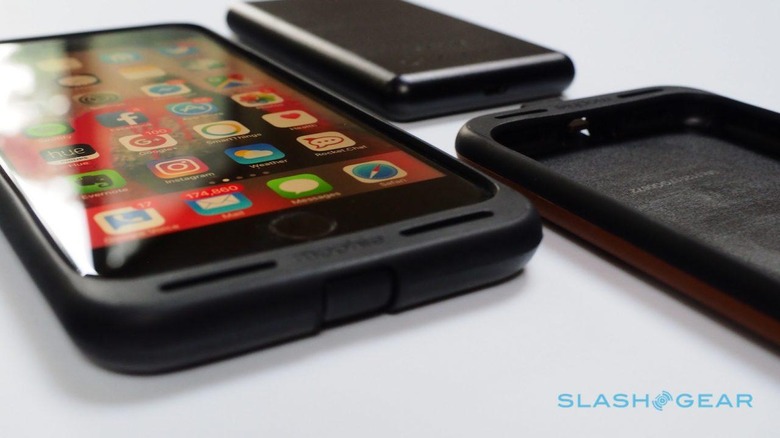 The Lightning plug is designed to be easily detached, sliding out of the way so that you can plug in another cable or a headphones adapter if you wish. There are pass-through buttons on the sides for volume and power, a cut-out for the ringer switch, and sound-pipes that funnel the iPhone's bottom-mounted speakers out the front of the case. Unlike Apple's own leather iPhone cases, Mophie's are a mixture of leather and plastic, but both materials feel sturdy.
They're also light. The Apple leather case for the iPhone 7 Plus tips the scales at 0.92 ounces. In contrast, the Charge Force Case for the same phone is 2.19 ounces (the smaller iPhone 7 version is 1.75 ounces), while the battery-equipped Juice Pack Air for iPhone 7 Plus is 3.65 ounces. More importantly, if your phone lives in your pants pocket like mine does, they're thinner than the Juice Pack Air: the iPhone 7 Plus Charge Force Case is 0.47-inches thick, versus the 0.61 inches of the Juice Pack Air.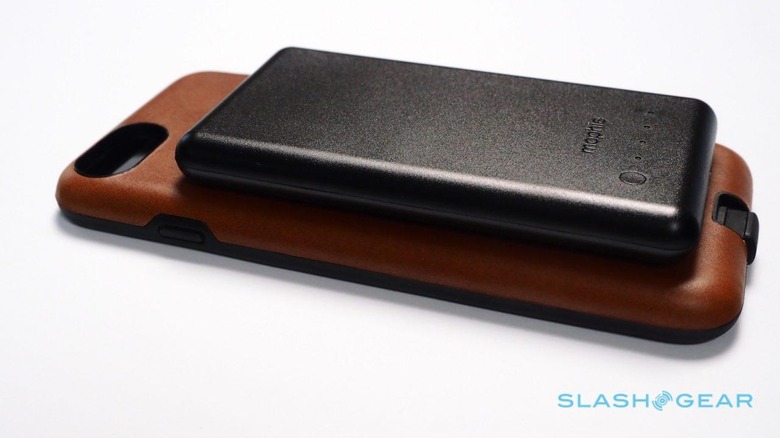 Of course, the reason for that is that Mophie expects you to add a battery separately. Specifically, it's the Charge Force Powerstation Mini, a $50 pack that's smaller than a deck of cards and which contains a 3,000 mAh battery. It's not Mophie's first battery pack with wireless charging support, but it does have special magnets which allow it to cling tightly to the lower half of the Charge Force Case.
Mophie suggests you'll get up to 26 hours of talktime from the battery, or 22 hours of web browsing. Its 3,000 mAh should be good for a full day of video playback, or more than three days of music playback. Unfortunately it doesn't have a USB port for outputting power via a cable, so it's only compatible with devices that themselves support wireless charging.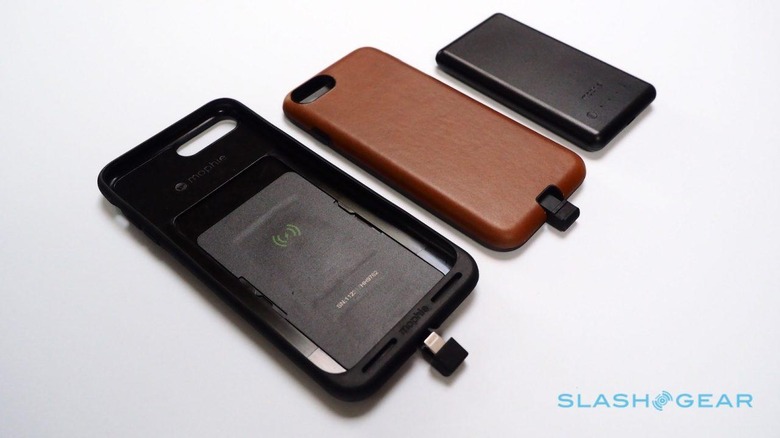 The idea is that you only attach the battery pack while you're in need of a charge. When you're done, or don't want the bulk, or if the Powerstation Mini itself is all used up, you can remove it, and its extra weight. There are some clever features, too: if you're at your desk, for instance, you can plug the Charge Force Powerstation Mini into a microUSB charger and use it as a wireless pad for any device. Mophie has designed it so that it'll prioritize pass-through power first, getting that to 100-percent before it'll charge its own internal battery.
If, like me, your extreme power expectations from a smartphone come primarily when you're on the road and have a bag with you, this system makes a lot of sense. I like being able to remove the Powerstation Mini and leave the iPhone with a fairly slimline case. Conversely, if you've nowhere to put the battery pack when you're done with it, a Juice Pack Air makes more sense, since it's less bulky than the Charge Force Case and Charge Force Powerstation Mini combined.
Wrap-Up
You could argue that the Charge Force Case is a stopgap. After all, the new iPhone 8 – and whatever Apple does to update the iPhone 7 and iPhone 7 Plus – are widely expected to have native wireless charging. Thing is, you could've said that about battery cases in general, and yet meagre battery chemistry advances mean they're still a road-warrior's best friend. Not to mention the fact that, just because there'll be new iPhones later this year, there'll still be plenty of people with an older version.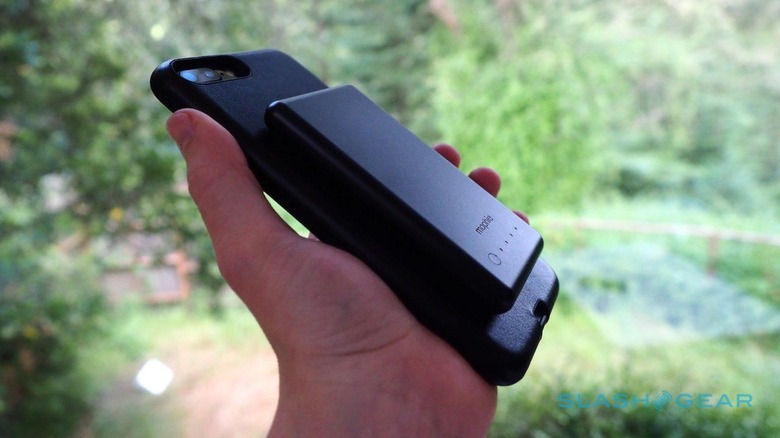 I like Mophie's a-la carte approach. If you just want wireless charging on your iPhone 7 or iPhone 7 Plus, you can stick with just the case; if you need power too, you can slap on a wireless battery. The Charge Force Case is $59.95 for either version, and comes in five colors including a (PRODUCT)RED model; buy the Charge Force Powerstation Mini at the same time, and you save $5.
That's still a slight premium over the $99.95 Juice Pack Air, but you're getting a bigger battery for your combined $104.90. Really, though, the Mophie Charge Force Case system is primarily about wireless charging flexibility, and there it neatly ticks one of the more onerous frustrations that has lingered around the iPhone.