Mophie Juice Pack Wireless Review for iPhone 6s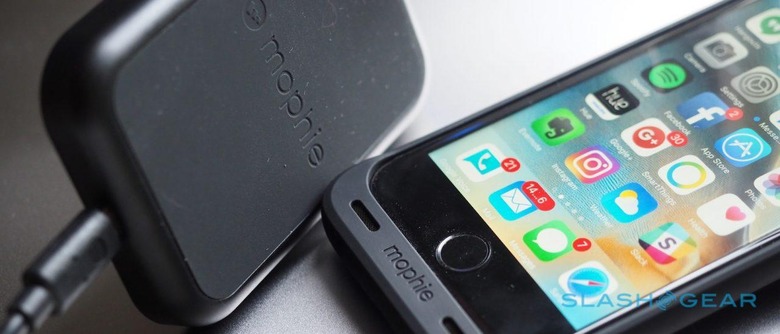 For many of us, a battery case for our smartphone is a necessary fact of life, but Mophie wants to make opportunity out of obligation. The company is no stranger to putting extra power into cases for the iPhone and other smartphones, but with the Mophie Juice Pack Wireless it's embracing not only wireless charging but building a power ecosystem that, though not inexpensive, promises to last you through the iPhone 7 and beyond.
Although I've been a Mophie user in the past, I jumped ship to Apple's own Smart Battery Case when that was released. While its design has been criticized as anything from uninspired to just plain ugly, it felt smaller overall in my hand than the Mophie Juice Pack I was using on the iPhone 6s before, and I liked the integration of battery status for both smartphone and case in iOS.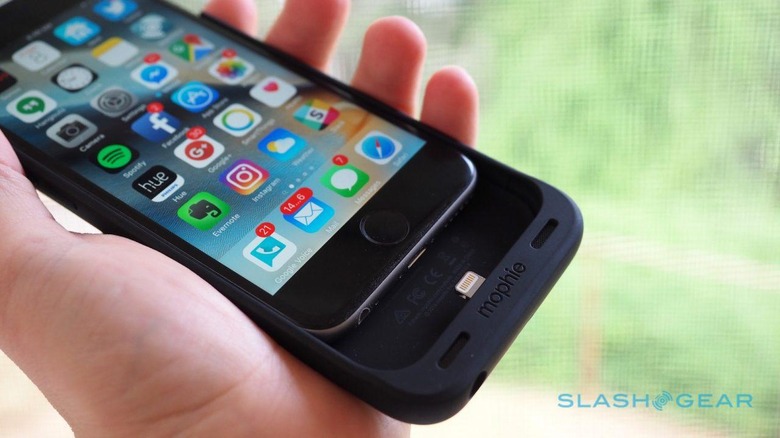 I'm also a fairly heavy user when it comes to power, and I found that the Smart Battery Case was generally almost enough to get me through the day. If I'd been at my desk most of the work day, on WiFi, I could count on it making it through from 6am to 11pm. If I'd been out, though, I'd resigned myself to a top-up mid-evening.
Mophie's strategy to win me back is a battery case that costs the same as Apple's – both the Juice Pack Wireless and the Smart Battery Case are $99.95 for the iPhone 6/6s; Apple doesn't make a Smart Battery Case for the iPhone 6 plus/6s plus, but Mophie does and it's $129.95 – but adds in the flexibility of wireless charging and a clever mounting system too.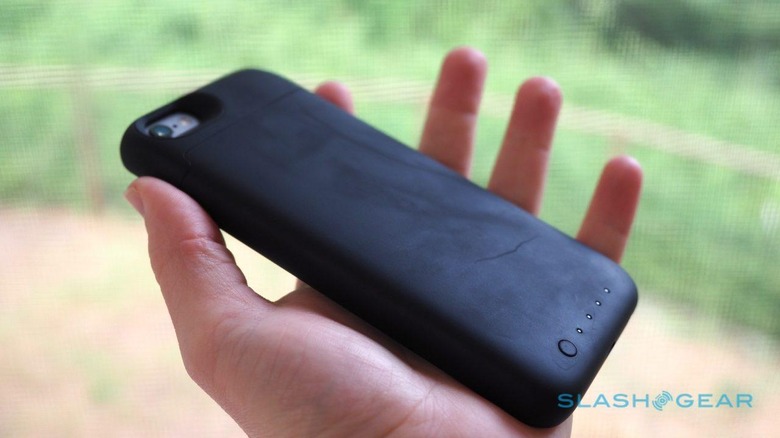 The design won't turn any heads. Soft-touch black plastic, easy to slip in and out of a pocket but a magnet for fingerprints and smudges, with a panel that unclips at the top – with a little yanking – so that you can slide in your iPhone. A hole through which you toggle the ringer switch, pass-through buttons for power and volume, and grilles for the speaker and microphone are all present, as is a hole through which you access the headphone jack. Mophie includes a short extender cable should your headphone plug be too wide to fit through.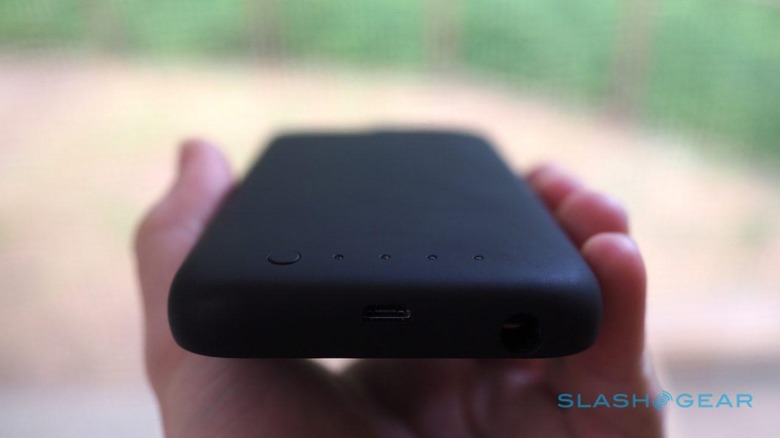 Since Mophie doesn't get to enjoy the same iOS integration the Smart Battery Case does, it shows its power status through a row of four white LEDs on the lower back, which light up when you press a button alongside; on the iPhone 6s case, holding down that button turns on or off the battery supply to your phone, while the 6s Plus Juice Pack has a separate switch. On the bottom is a microUSB port through which you can charge the Juice Pack Wireless and your iPhone simultaneously.
However, the idea is that you won't need that port too often. Also in the box is a wireless charging base, a roughly 5 x 3 inch pad, microUSB powered, that charges up the Juice Pack Wireless when it's placed on top.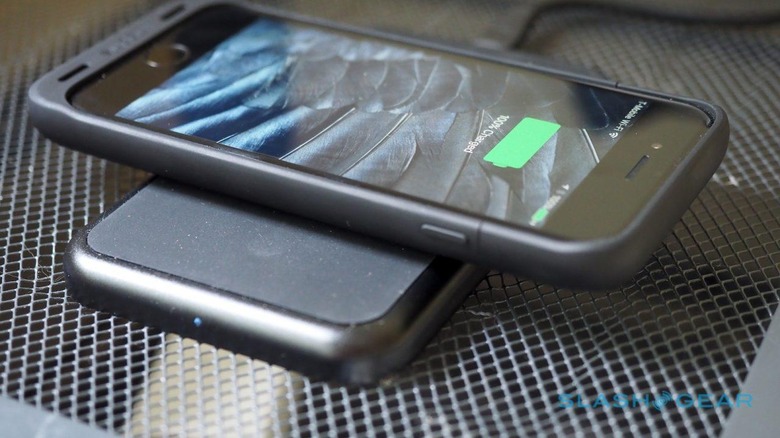 Mophie calls it Charge Force, but actually it's a combination of the two most common wireless power standards out there. Each Juice Pack Wireless case – as well as the iPhone versions there's cases for Samsung's Galaxy S7 and Galaxy S7 edge, too – supports both Qi and Powermat, while the charging base uses Qi alone. It means you needn't worry what technology your IKEA nightstand, Starbucks table, car dashboard, or any other implementation of wireless charging relies upon.
You can place the Juice Pack Wireless on the base to either cover it or at a 90-degree rotation, and there are magnets to help guide it into the correct place as well as stop it from falling off. The base has a single white LED which remains illuminated until both phone and case are fully charged, which Mophie says won't take any longer than using a regular wired charger. If you need another, Mophie is selling them at $39.95, but you can of course use any Qi or Powermat compliant third-party alternative.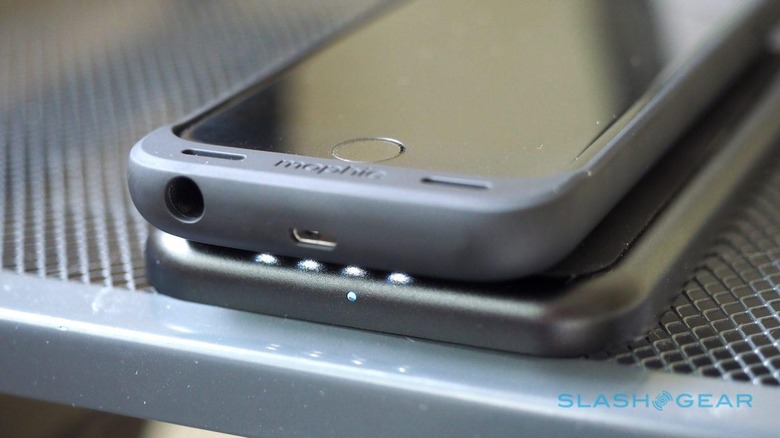 Where Charge Force as a platform comes into its own is when you consider the other products in the line-up, too. The Charge Force Desk Mount and Charge Force Vent Mount both cost $59.95 and take advantage of the magnets to hold the iPhone in its Juice Pack Wireless up.
In the case of the desk stand, that means elevated off the papers and detritus on my workspace. It's already become second-nature for me to dock my iPhone there, next to my monitor, where it's not only in my line of sight for notifications but getting charged too.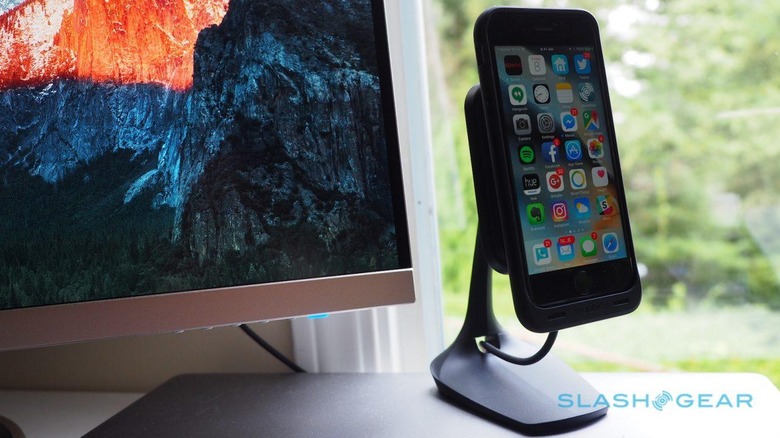 It's a fairly light assembly, and the charging pad "head" uses a screw-tightened mechanism that I had to fiddle with to get it to hold the phone at the right angle without drooping. That does give the flexibility to rotate the pad and dock your iPhone in landscape orientation, if you prefer, mind.
As for the Vent Mount, that uses the same magnetic charging pad but backed with four rubber fingers intended to grip the vent fins on your car's dashboard. I've tried it with numerous cars and haven't encountered one that it struggled to hold on to; the design means it works with both horizontal and upright louvres. The supplied USB cord can plug straight into a USB port on your dashboard, if your car has one, or into the car charger that's also in the box.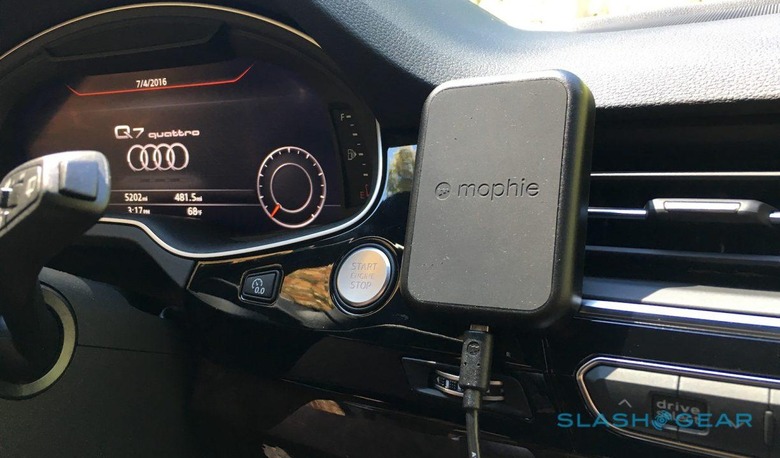 Once in place, you can rotate the pad for landscape or portrait use, even while driving. I try not to use my phone while I'm at the wheel, though I do rely on Spotify for music over Bluetooth, and there are the occasional times when I've waited for a clear stretch of road so that I could grab it and change playlist. Having it elevated up on the dashboard makes that a lot easier and thus safer.
Making it easier to charge whether you're in bed, at your desk, or on the move helps offset the fairly conservative batteries Mophie has had space for in each case. The iPhone 6s model gets a 1,560 mAh battery, while the iPhone 6s Plus gets 2,420 mAh.
While that means the battery is actually smaller than what Apple put in the Smart Battery Case – which has 1,877 mAh – I'm yet to run out of power in an average day, because whenever I put my iPhone down it's topping up. Yes, I could do the same by remembering to plug in whenever I sit down or get into the car, but all too often I forget to. Having a dedicated space for my phone to go makes all the difference.
It's not been perfect, mind. Sometimes, even though it's fully charged, the iPhone suddenly lights up – usually showing the 100-percent icon – while it's on a Mophie pad. Mophie's cases feel a little lightweight in places, the sides flexing when you squeeze them hard, and if you want maximum protection for your iPhone you'll probably want to look to a more specifically ruggedized alternative.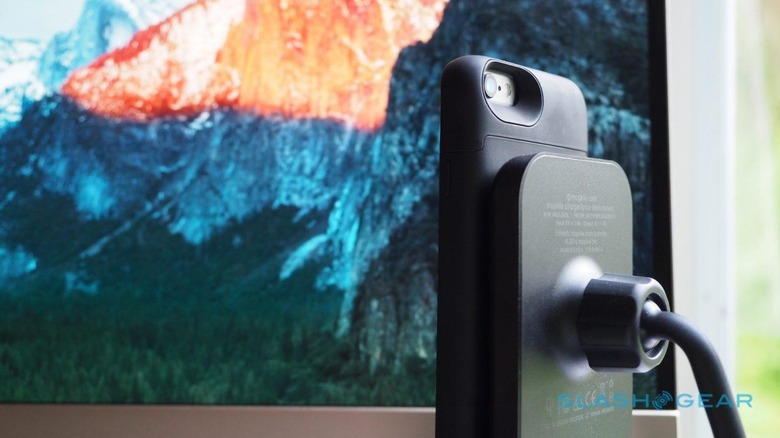 All the same, I don't plan on going back to Apple's battery case. The convenience of wireless charging and the magnetic docking system gives Mophie a clear advantage.
Meanwhile, though several car companies offer wireless charging in their vehicles, the location of those charging pads can be questionable. Often they're hidden in a compartment or under the driver's armrest; sometimes the space provided isn't sufficient to fit a larger device, like an iPhone 6s Plus with a wireless charging case or something from Samsung's Galaxy Note range.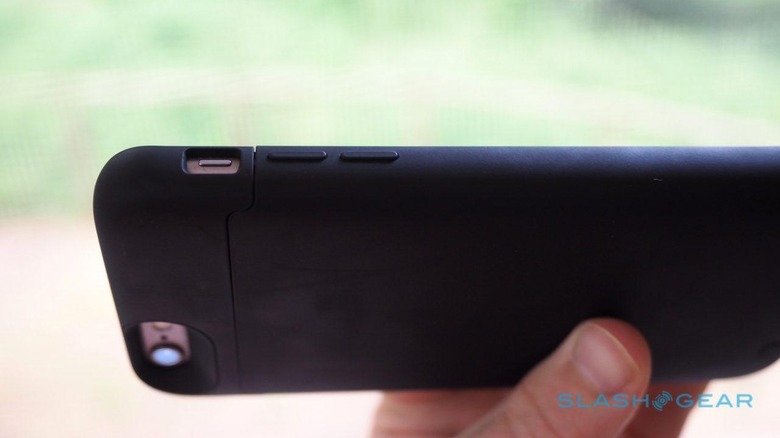 NOW READ: Apple Smart Battery Case Review
Mophie's Charge Force line-up is not be the cheapest way to add external power to your iPhone – you're looking at almost $220 for the case with its charging pad, a desk charger, and the in-car charger – and if you can do without wireless charging there are other third-party cases that cost less but offer larger batteries.
If there's a degree of reassurance for that investment, it's that Mophie has committed to including Charge Force in all its future phone-related products; if you buy the inevitable iPhone 7 Juice Pack Wireless, you'll be able to keep using all the same accessories.