MIUTech HDPC phone/MID hybrid gets slick new look, specs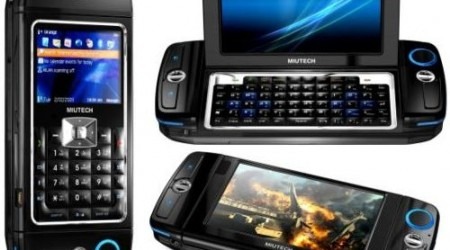 MIUTech's HDPC smartphone/MID hybrid looked, frankly, a mess in its first iteration, and a subsequent redesign or two did little to improve things.  Happily the company have returned to the drawing board and come back with this slick little monster, freshly updated with some appealing specifications – full QWERTY, a 4.8-inch 1024 x 600 touchscreen and Intel Atom 1.6GHz Z530 processor – and a promise that, distributors aside, it's all go for a release.
In fact you get two devices in one, with an ARM9 processor driving the Windows CE cellphone functionality (complete with external 2.4-inch 320 x 240 AMOLED display and numeric keypad) and a Windows XP (or Linux) PC lurking inside.  That gets a 32GB (or larger) SSD, 1GB of RAM, WiFi, USB (both host and device) and GPS, together with a microSD card slot, T-DMB (unlikely to make it out of Asia), HDMI and HD audio outputs, and a total of three cameras.  One is a 5-megapixel unit for photography purposes, and then there are external and internal VGA cameras for video calls.
Considering it measures 6.06 x 2.95 x 0.91 inches and weighs 10.3oz that's not at all bad, and while it's still relatively bulky compared to, say, a Sidekick, it's not the monstrous "plastic shoebox" we first compared it to.  According to MIUTech they're looking for distributors across the globe "for this final mass model" and pricing – initially tipped as $500 for a basic unit and $900 for the "premium" version – is yet to be finalized.  All of a sudden this is actually something we're vaguely interested in seeing launching.
[via Pocketables]