MiFi Developer Program launches: personal hotspot SDK released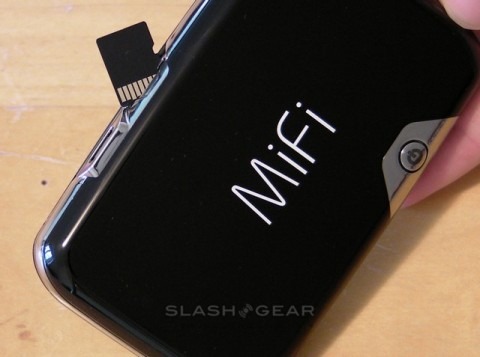 Back when we reviewed the MiFi 2352 in June, one of the aspects of the "intelligent personal hotspot" we were left most excited about was the prospect of an open API and the potential for web-connected applications to run on the 3G/WiFi device's secondary app processor.  Now Novatel Wireless have announced the launch of the MiFi developer program, and with it the release of the MiFi Web server Common Gateway Interface (CGI): everything web-savvy developers should need to start coding for the battery-powered router.
The API is applicable both to the MiFi 2352 – currently available with Euro 3G support – and the MiFi 2200 which is on sale in the US through Verizon and Sprint with EVDO Rev.A support - together with future models (such as the tipped 2372 US 3G UMTS model).  Developers also get access to the Novatel support forum and can help the company shape future MiFi models.
The MiFi 2352 has a secondary processor, RAM and flash memory, which can be used to run network-attached apps on the device itself.  That way, any WiFi connected client will be able to access the app's services (security permitting).  Registration for the MiFi developer program is free.
Press Release:
Novatel Wireless Accelerates MiFi Evolution with First Release of MiFi Web Server Interface to Developer Community

Release of CGI Streamlines MiFi Application Development

SAN DIEGO, Jul 27, 2009 (BUSINESS WIRE) — Novatel Wireless, Inc. (Nasdaq:NVTL), a leading provider of wireless broadband access solutions, today announced the availability of its MiFi Web server Common Gateway Interface (CGI) for the MiFi Developer Program. Easy to understand, the interfaces are targeted for both novice and advanced developers. The release of these interfaces will promote the acceleration of the MiFi ecosystem, by allowing the Company to harness the creative power of potentially thousands of Internet programmers. Releasing the Web server CGI is designed as the first step in enabling developers to leverage MiFi's open CGI interface and access the on-board processing capabilities of the MiFi line of Intelligent Mobile Hotspots.

In conjunction with this announcement, developers will be able to download the MiFi CGI API Programmer Guide from the Novatel Wireless Developer's Lounge at www.novatelwireless.com/lounge. The API applies to the current MiFi generation of products (2200, 2352) and future generations. Developers will also be able to access a Novatel support forum, get tips from fellow developers and make suggestions for further MiFi enhancements.

"We are very excited about opening the software interfaces of MiFi to the developer community," said Rob Hadley, CMO of Novatel Wireless. "This is the first of several steps in building a vibrant third party developer community and enabling the development and distribution of advanced enterprise and consumer applications that extend the software power of the MiFi line of Intelligent Mobile Hotspots."

ABOUT NOVATEL WIRELESS

Novatel Wireless, Inc. is a leader in the design and development of innovative wireless broadband access solutions based on 3G and 4G WCDMA (HSPA & UMTS), CDMA and GSM technologies. Novatel Wireless' USB modems, embedded modules, Intelligent Mobile Hotspot products and software enable high-speed wireless Internet access on leading wireless data networks. The Company delivers specialized wireless solutions to carriers, distributors, OEMs and vertical markets worldwide. Headquartered in San Diego, California, Novatel Wireless is listed on NASDAQ: NVTL. For more information please visit www.novatelwireless.com. (NVTLG)