Middle-Earth: Shadow of War trailer reveals new plot details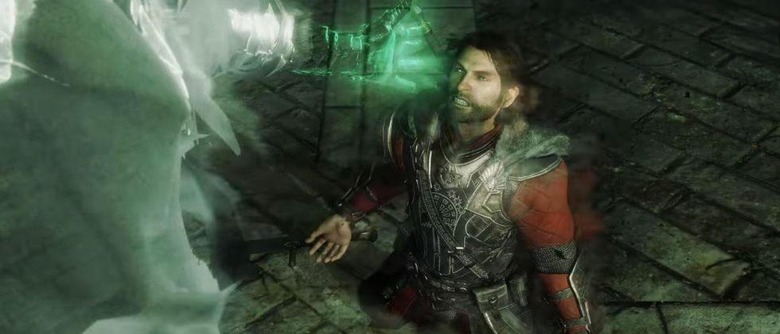 It's time for another Middle-Earth: Shadow of War trailer today, and with this one, we're diving into the game's story. We already know that player characters Talion and Celebrimbor will be forging their own ring of power to stand against Sauron and his gathering army, but this trailer goes a bit deeper than the announcement trailer that landed back in February. It should go without saying, but if you want to go into Shadow of War with as little spoiled as possible, then this isn't the trailer for you.
In this trailer, we get to see Talion interact with a bunch of different characters from Middle-Earth. As with Shadow of Mordor, Shadow of War still seems to largely take place within Mordor, the fire-scarred region that Sauron uses as his base of operations. We also get a few glimpses at the big man Sauron himself, and he seems just as intimidating as ever.
One overarching theme of the trailer is Talion's hesitance in creating a new ring of power. He knows the effect the one ring has on the minds of men, and despite Celebrimbor's urging, that concern carries over to this new ring the two plot to create. Eventually, it seems, Talion goes along with the plan, as he and Celebrimbor can be seen raising an army in Mordor as the collective Bright Lord.
Just a few days ago, Shadow of War was hit with a delay. Originally scheduled to launch in August, developer Monolith decided to push that launch date back to October. Though it's not the longest of delays, it still probably stings a bit for fans of Shadow of Mordor, though it should allow the studio to put a little more polish on the game.
We should see more from Shadow of War next week at E3 2017 – Monolith has said that it will be showing be game during the Expo, so we can at least expect to see a new trailer or two. Perhaps there will even be a deeper conversation about the game's mechanics? We'll just have to wait and find out. SlashGear will have a ton of coverage from the event, so stay tuned.