Microsoft Zune HD Gets Another Release Date, Still No Official Pricing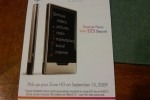 As if it weren't enough to "see a pre-order screen", "the on-screen keyboard", and "speculated pricing", here we have evidence of a release date. But unlike the other rumors we've covered recently, this time we're seeing it in a far more physical way.
The picture was sent to Boy Genius Report and comes from another anonymous tipster from Best Buy. So, as official as we can get for now, here's the release date for the Zune HD: September 15th. It's a bit later than had been originally rumored, but at least it's still September.
Also, the packaging didn't come with any indication of pricing, but seeing as these images also fall in step with the leaked Best Buy images suggesting $220/$280 for the 16GB/32GB models, things are lining up pretty nicely for Microsoft's next installment of the Personal Music Player. Now, if we can see some of that Xbox LIVE integration here soon, we'd be happy campers.
[via Boy Genius Report]