Zune HD browser and onscreen keyboard shown: Bing on board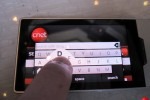 After their hands-on earlier this month with the Zune HD, CNET are back with a second round of photos showing the OLED PMP's on-screen keyboard and browser.  As you might expect, given the fact that the Zune HD's browser was developed by the Internet Explorer Mobile team, functionality is similar to what you'd find on a Windows Mobile device.
There's also – visible in the shot above – integrated search using Microsoft's Bing search engine.  Again, no great surprise but an interesting change from Google as default on most mobile devices.
Microsoft look to have got the onscreen keyboard right, too; unlike on Windows Mobile, there's a neat pop-up letter preview whenever you tap a key, so that you can be sure you've hit the letter you were aiming for.  More on the Zune HD's UI in this demo video; pricing is tipped to be $220 for the 16GB model and $290 for the 32GB when they drop in early September.