Best Buy Shows Off Zune HD Pricing: $220 16GB, $290 32GB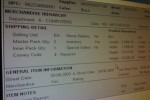 We're coming up rather quickly on the still-rumored launch date of the Zune HD, and up until now we've received only random pieces of information regarding its build and software. Pricing, internal storage, and even the User Interface have been in question, and it seems we have a little bit more to go off.
An image of future inventory leaked via Best Buy, shows off the 16GB model selling for $220, and the 32GB at $290. What is also noteworthy, is the fact that Best Buy has the Zune HD going on sale on September 8th, which falls right in line with those rumors we've been hearing.
In regards to the competition, these prices are dirt-cheap.  Of course, it wouldn't be much of a surprise to see Apple adjust the prices of their range of iPods for the launch of Microsoft's reemergence into the personal music sector.  For now though, the Zune HD keeps looking better and better.
[via Gizmodo]