Microsoft pits Acer Iconia W3 against iPad mini in latest Windows fight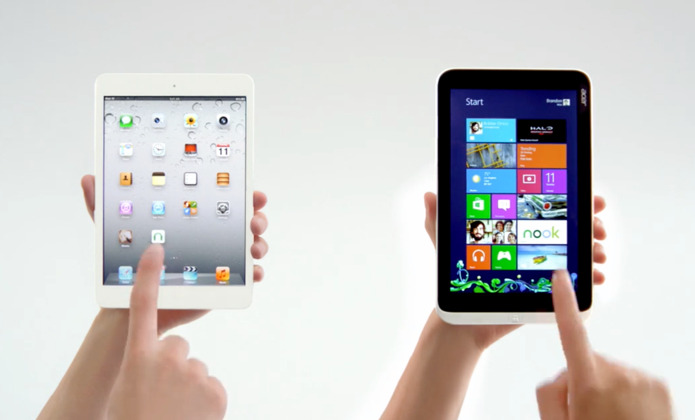 Microsoft has taken on Apple's iPad mini in its latest head-to-head commercial, pitting the 7.9-inch iOS tablet against Acer's Iconia W3 and, unsurprisingly since it's all being paid with Microsoft's dime, finding the Windows 8 slate to be the winner. The advert, which follows June's battle between the iPad 4 and Dell's XPS 10, runs through some of the things you can do on Windows 8 that you can't on the iPad mini.
For instance, Microsoft points out, Windows 8's multitasking system is arguably more useful than what the iOS offers, particularly when its split-screen layout is used. Meanwhile, Windows 8 can also run Microsoft Office, the company highlights, as well as play Halo.
Whether the Iconia W3 was the best choice to take on the iPad mini is a good question, however. As we found in our review, its plasticky build quality is nowhere near the metal construction of the Apple tablet, while the display is also subpar in comparison, with particularly narrow viewing angles.
In fact, Acer is tipped to be readying a refreshed version just months after the original's launch, with a release rumored for September. That follows retailer complaints, so the sources suggest, with the shabby screen coming top of the list.
With a street price of under $300 for the entry-level W3 (down $80 from the RRP) versus $429 for the 32GB iPad mini, you could either call the Acer a bargain or a commercial dud. Unsurprisingly, Microsoft leans toward the former; let us know whether you're convinced by the advert in the comments.