Microsoft MyPhone 2.0 overhaul tipped for Windows Phone 7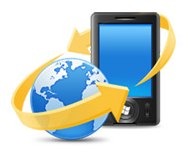 We've not heard much about Microsoft's MyPhone cloud backup service since the company confirmed the service details shortly after the Windows Mobile 6.5 launch, but it seems the team responsible are hard at work on v2.0.  According to a recently posted job advert, calling for testers in the Windows Mobile software engineering team, Microsoft are elbow-deep in MyPhone 2.0 which will form part of "the next release of Windows Mobile".
The assumption is that they're referring to Windows Mobile 7, rather than WinMo 6.5.3 which has been recently revealed on devices like the Sony Ericsson Aspen.  The advert falls short of describing any new functionality being tested, however it does describe a greater context which Microsoft expect MyPhone to pave the way for:
"The My Phone service is the initial release in a bigger vision to combine these two critical areas into a compelling customer experience, enhancing the Windows Phone platform with powerful web integration scenarios around data protection, device management, social networking, location awareness, ease of use, integration with partner services, and much more." Microsoft job advert
The timescales involved also seem to suggest that we won't see a new version of MyPhone rolled out until Windows Mobile 7 drops, something not expected until the end of 2010.  Last we heard, Microsoft were planning a significant overhaul to their smartphone platform, with Zune and Xbox integration but the removal of some of the more complex functionality (such as multitasking); a comprehensive cloud-based counterpart would seem an obvious partner for such a device.
[via WMPowerUser]