Microsoft My Phone details confirmed: premium remote-wipe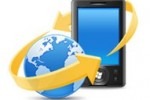 Microsoft have confirmed that its remote security functionality in My Phone, the free smartphone backup service that will be preloaded on Windows Mobile 6.5 devices, will be a paid-extra.  Users will be able to backup their contacts, SMS messages, media and other data from their handset, as well as access it and share it via Windows Live, Facebook, My Space, and Flickr through the web portal free of charge; however, to remotely ring, lock or wipe that device will require a fee.
Four different premium features are on offer: making the phone ring through the web interface, locking it remotely, tracking its location (as long as it's in the US) and wiping the handset completely.  These features will be free of charge until November 30th, after which point they will require a 7-day access fee of $4.99 (in the US); My Phone is also available to download for Windows Mobile 6.1 device users.