Microsoft Digs Into Samsung And HTC Wallets For WP7 Promotion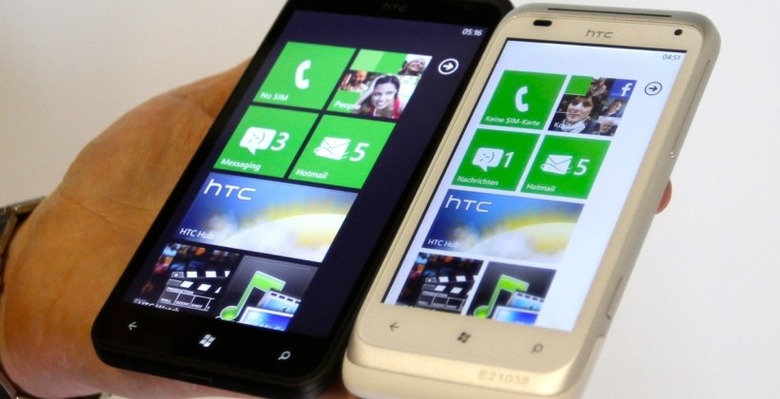 Microsoft has pressured Windows Phone manufacturers to boost their marketing spend promoting the platform, coaxing more ad cash out of Samsung and HTC despite having handed over millions of dollars to Nokia to push its handsets. Although it will be up to individual manufacturers to decide exactly how the freshly-pledged money will be spent, Windows Phone chief Andy Lees told Bloomberg, some of it is likely to go on encouraging retail staff to push the platform to potential buyers.
Lees did not spell out specific ways that those promotions might be handled, but retailer incentives – such as prizes for hitting Windows Phone sales goals – and in-store advertising, displays and other eye-catching encouragement to at least consider the platform rather than iOS or Android are likely to be considered. So far, handset sales have been "disappointing" Microsoft CEO Steve Ballmer admitted, despite efforts to position Windows Phone as a "very strong third ecosystem" behind rivals.
Ironically, just as it's expecting OEMs to dig deep and support Windows Phone, Microsoft is already spending considerable amounts on its own promotion via Nokia. As part of the deal between the two companies, Nokia's licensing payments for using Windows Phone will be offset by Microsoft subsidizing R&D and marketing for the upcoming range of devices.
The exact sum of that subsidy is unclear, though estimates range from "millions of dollars" suggested when the partnership was initially announced, to talk of over a billion dollars in the months that follow. Nokia has slashed its R&D budget by a third, partly by axing its ambitious MeeGo plans.
Meanwhile, just how much more HTC and Samsung will be pouring into Windows Phone marketing is also yet to be revealed. Last month Microsoft announced that Samsung had signed a new patent licensing deal, agreeing in the process not only to produce more Windows Phone handsets but to collaborate on promotion.