Microsoft changes toy gun emoji to revolver just after Apple does opposite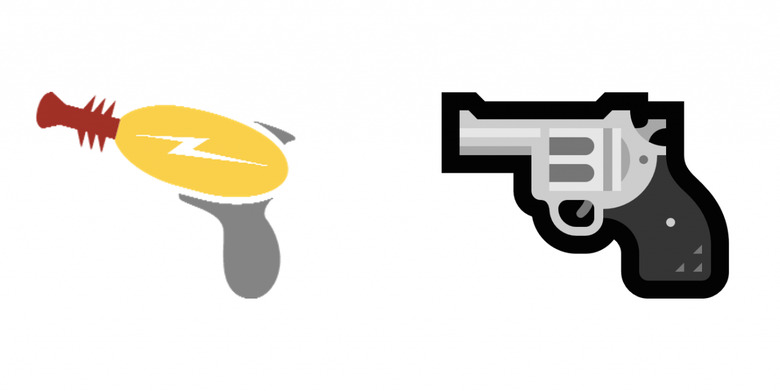 An emoji gun battle may be breaking out between Microsoft and Apple. As part of the Windows Anniversary Update that was released this week, Microsoft has adjusted the design of emoji on its platform, including a drastic change to the gun, changing it from a sci-fi-themed ray-gun to a more realistic revolver. Surprisingly, this comes only days after Apple rolled out a new beta for iOS 10 which now features the gun emoji depicted as a water pistol.
The two versions of Microsoft's emoji can be seen above. Before this week, the character was clearly designed to look like a toy, including red and yellow colors, but the new revolver emoji, while still cartoony in design, is a depiction of a realistic firearm in black and grey.
As part of its overall emoji redesign, Microsoft explained in a new blog post that "They needed to feel more human, more personal, more expressive. It was time for a significant update, and Microsoft placed a bet on the strength of its Design Language." As for the change to the gun specifically, the company gave the following statement to Engadget:
"Our intent with every glyph is to align with the global Unicode standard, and the previous design did not map to industry designs or our customers' expectations of the emoji definition. We will continue to work with the Unicode Consortium to refine and update glyphs that reflects customer needs, feedback and supports a consistent system that works across the digital world."
As for Apple, the newest version of the iOS 10 beta now features the water pistol emoji, seen below. It's bright green with a bit of orange, and there's no confusing the character with a realistic firearm.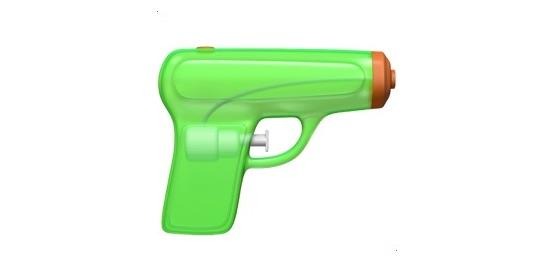 This change is also part of a recent effort on Apple's part to reduce the promotion of gun violence. Just a few months ago it was revealed that Apple was behind the push for the Unicode Consortium to remove the rifle from consideration in 2015 for upcoming emoji.
Both Microsoft and Apple are members of the Unicode organization, which is responsible for overseeing the standardization of emoji for all platforms. Microsoft even backed Apple in removing the rifle as a potential emoji.
What's interesting, however, is that Unicode allows companies to customize emoji to match the designs of their own platforms, so there was nothing technically wrong with Microsoft's ray-gun look of the emoji, as it still took the general form of a gun.
SOURCE Emojipedia, Windows Blog, Engadget