MetalBeard's Sea Cow LEGO set Review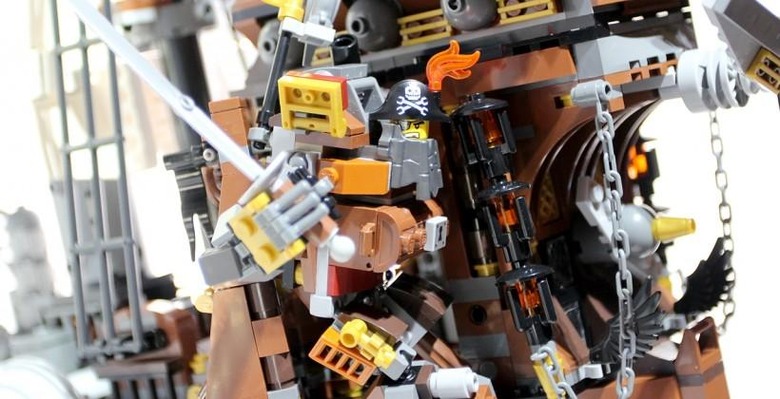 Now that the LEGO Movie is returning to the streets after a short absence – between theaters and its DVD/Blu-ray release – it's time to bring out the real deal. Here as we devour the digital release of The LEGO Movie, we construct the largest of the LEGO Movie LEGO sets – the largest so far, that is to say. Here be MetalBeard's Sea Cow.
Construction
MetalBeard's Sea Cow is the largest set my crew has ever put together. At 2741 pieces in all, it took several hours for a full construction – and only with intense concentration and Ren and Stimpy-style close-up beads of sweat.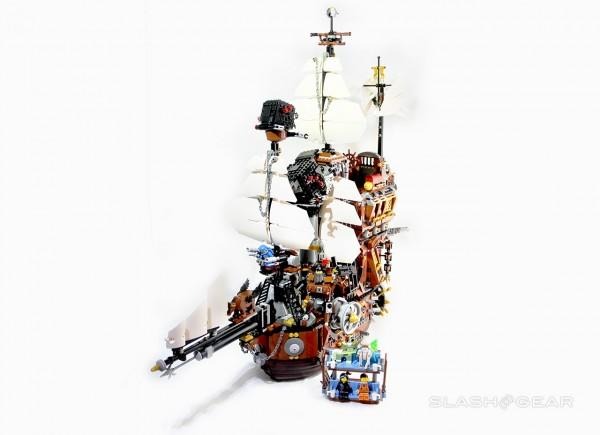 Putting each of the massive number of bags of LEGO bricks together for this set is entirely rewarding, each new bag containing new pieces I'd never seen before – or at least had never seen in this much of an abundance. This set succeeds in creating structures one at a time which, only at the end, give you the full picture. You don't get any spoilers, as it were.
Make sure you don't let the Micro-Managers get in your way while you're building. They've been known to dis-allow any super-strange modifications on the part of creatives.
Minifigs
This set contains a miniature version of MetalBeard, Emmet (complete with Piece of Resistance), Benny the Spaceman, Vitruvius, Wyldstyle, UniKitty (Seasick Edition), and the Sea Cow herself – mounted to the front of the ship, of course.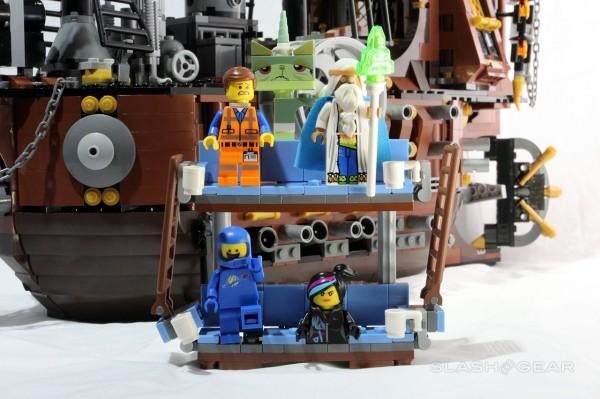 Above you'll see nearly the whole crew aboard none other than the Double-Decker Couch, a model that currently exists in no other set at the moment. It's simple enough to build, but the color combinations aren't exactly easy to find.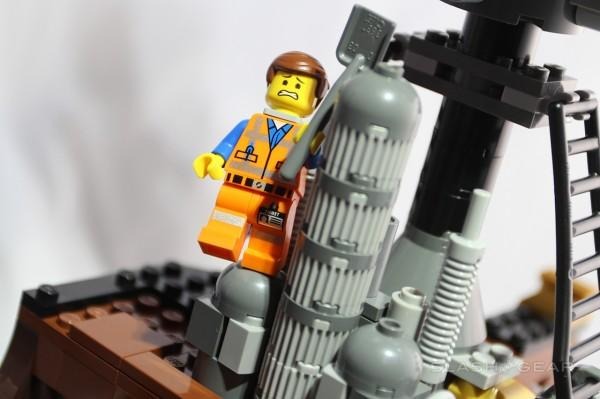 Emmet comes in several sets at this point – as does Wyldstyle – but as far as we can tell, you can never have enough of either. Especially when they've got faces like these – freaked out and super-slick are always good to flip out with other random figures.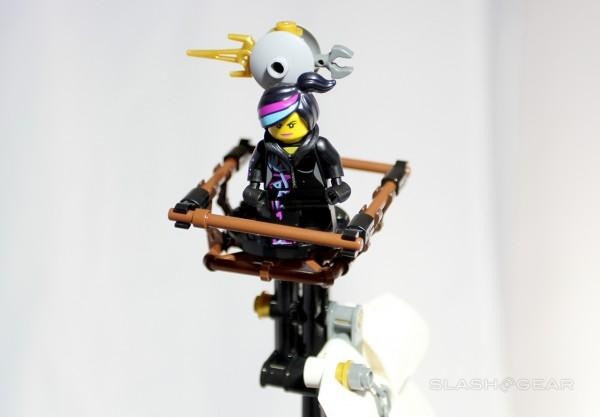 Vitruvius comes with the LEGO-fied version of his sucker-cane as well as a shiny fabric cape. You'll also find that he has a real mouth and emotions under that beard, if you think you can handle taking a peek. This Vitruvius is very similar – if not identical – to the version you'd get in Lord Business' Evil Lair.
Benny is an awesome re-make of an original Blue Spaceman from the 1980s. As such, you could technically get him from a number of old sets, but at this very moment he's exclusive to this set specifically. Benny doesn't appear in any other LEGO set at the moment and was not part of the LEGO Minifigures blind-bag set either – eventually you might see him in a "Benny's Spaceship" set release – we shall see!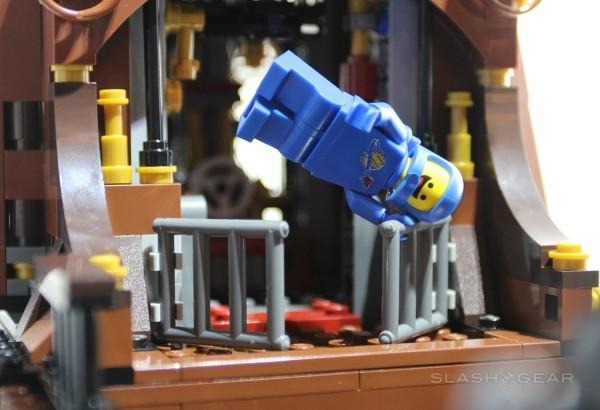 Unikitty is also unique to this set in her Seasick edition. She's out there a couple more times in her cute and friendly pink edition, but nowhere else will you find her looking this ill.
MetalBeard can be found in MetalBeard's Duel set in his larger form – the form you see most of the LEGO Movie. Here you find him in a size that's far more fitting for this Sea Cow set – he fits perfectly with his captain's deck and steering wheel.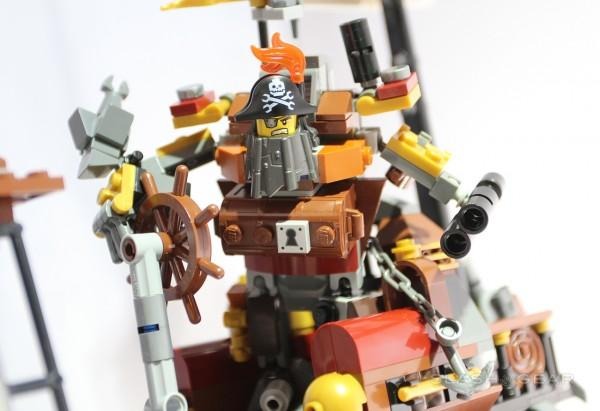 Take note: if you take MetalBeard's face and add a body with black pants and a jacket and long flowing brown hair, you've got Snake Plissken. Below you'll find MetalBeard striking a pose in several fabulously opportune locations aboard his ship, as well as Plissken in a bath of treasures (not included with this set, of course.)
Model
This model is not one you're going to be able to purchase at Target. It's exclusive to LEGO Stores – ones dedicated to LEGO only – like the one I visited earlier this year in New York City. There you'll likely also see the set constructed in full, for your up-close and personal perusal.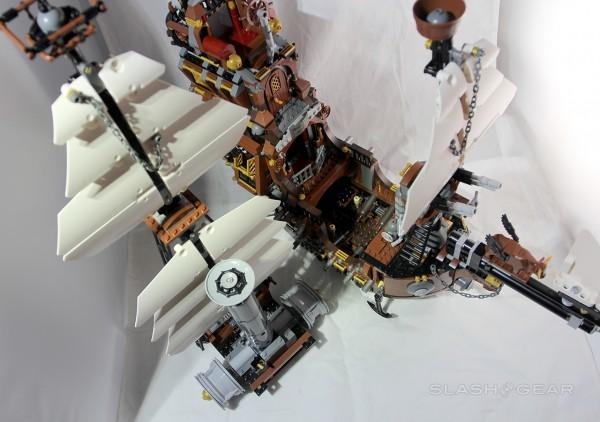 The model ends up being about 22-inches high and around the same length, making certain you're not going to have an easy time displaying it if that's the sort of builder you are. If you do plan on displaying it, I recommend you set it in a place where it can be inspected from all angles.
If you plan on playing with MetalBeard's Sea Cow, you're in for a treat. Every tiny section of this ship is accessible. It's as if this model were meant to be inspected and fiddled with from all angles.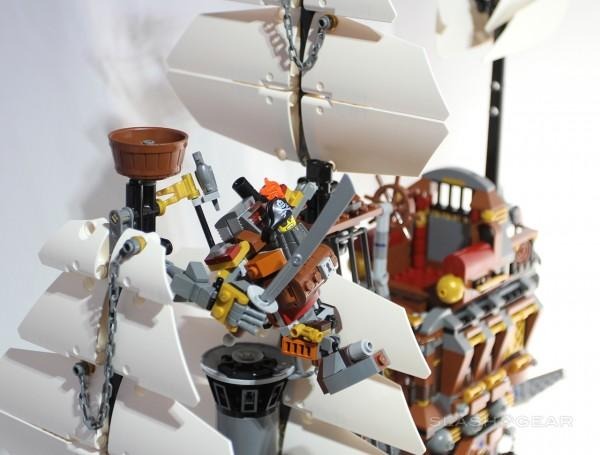 This ship is also surprisingly robust in the face of a 3-year-old's desire to destroy. Ye olde Sea Cow won't survive a kick to its side, but it's hearty enough to take a push or tossed, stuffed bear or two.
Tiny Details
There are several decks to this ship. The top deck is accessibly immediately, and meant for MetalBeard to steer with ease. This top deck is made to be removed to reveal the living quarters for MetalBeard – though he's not exactly sized up to the task.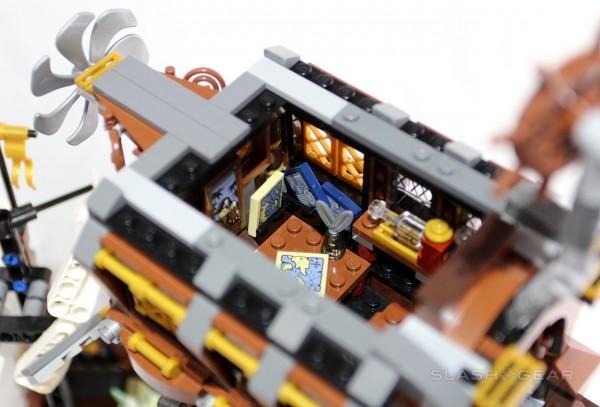 This living quarters has several maps, a lovely spinning globe, and tools of the trade we've never seen anywhere else. Consider the ship in a bottle, for instance: a tiny bottle with a black ship applied to its side (printed, not a sticker) – extremely memorable despite its miniature stature.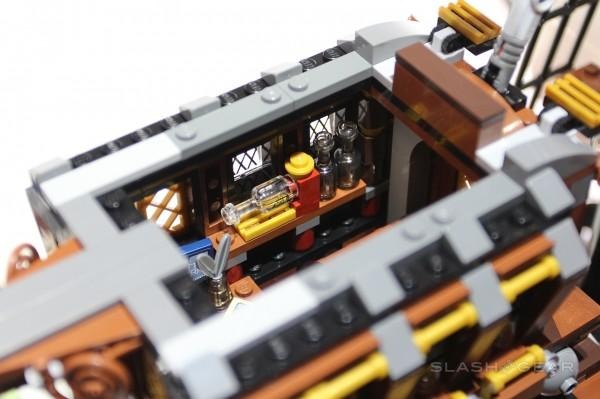 When taking the model back apart, it's this one section of the ship that's most difficult to let go of. Luckily, being that we've got these large hunks of ship left over no matter what, a "Shipwreck Cove" is certainly within the realm of possibility.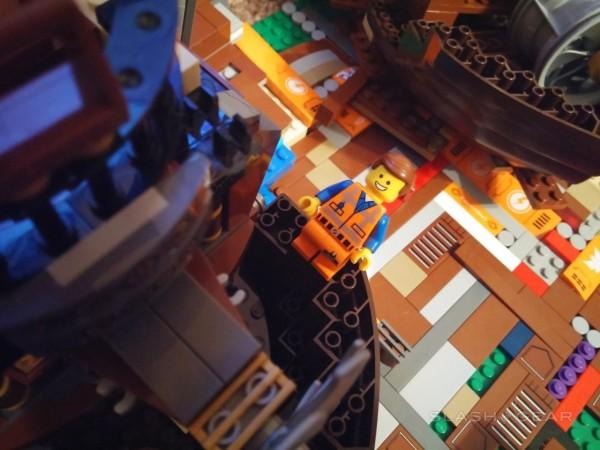 Stay hearty and ye shall keep the near-top-deck together for all time. Our (several at this point) Emmets are all ready to make this oddity their home – they along with the rest of our hearty Master Builder crew.
Wrap-up
Before constructing MetalBeard's Sea Cow, I'd not created an official LEGO set of any more than 1000 pieces. While this monster did take a whole lot longer to construct than I'd anticipated, the final result is the finest model I've ever had the pleasure of following the instructions to build.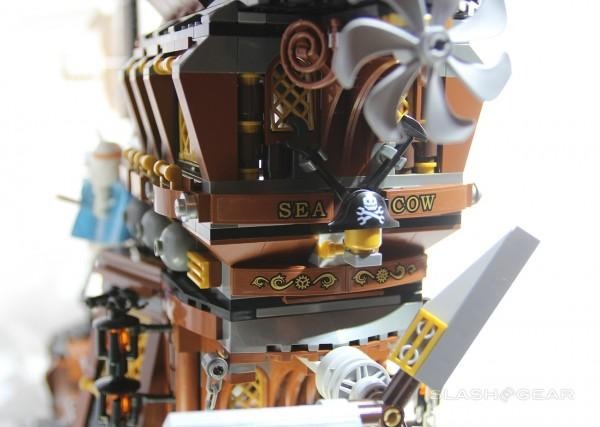 This LEGO set is not for tiny children. It's rated at 14+, which in LEGO terms may as well be any age above that point for construction, and any age at all for enjoyment. This set has passed not only my citizen builder approval, but my daughter's as well: after a week, she'd not yet ripped it to tiny bits, so it must be amazing!
MetalBeard's Sea Cow LEGO set is available now for a cool $249.99 USD. This set is not available all over, as it's a limited edition release. You'll have to head to a specialty shop or an official LEGO Store to find it physically, or you'll be relying on LEGO online – points for all!
Below you'll find a number of images of MetalBeard's Sea Cow from various angles. Many of the photos below feature a fully-hearty Master Builder Crew, with many mini-figs that do no come with the set standard. Only what's described above comes with the box!