Today's the day The LEGO Movie comes to DVD, Blu-ray, and combinations of the two therein. This film was released in its digital format earlier this month to web-based storefronts like Google Play and iTunes, and starting today you'll be able to pick it up in physical format. This film comes in packages of many sizes, from most basic to a rather strange combo-pack.
The LEGO Movie was released earlier this year with a surprise amount of fanfare, earning top marks from reviewers young and old. SlashGear reviewed The LEGO Movie as well, turning out a wholly positive reaction as the film summoned our long-dormant love for the toy brand.
Headed to stores today, the Target Exclusive version of the film will include the Blu-Ray and the DVD as well as a Digital HD format of the film along with a 24-page activity book with stickers. This version will cost you $27.99 USD online – and likely the same price in-stores.
Another packaging of The LEGO Movie is the DVD 2-disc special edition, costing you anywhere from $14.99 (at Target) to $28.98 USD in video stores throughout the USA. This version brings you a wide-screen presentation of the film on one disc and a collection of special features on the other.
A third edition includes Blu-ray + DVD + Digital HD formats of the film with a price range between $19.99 and $29.99 USD. You'll find this version most prevalent as the DVD to Blu-ray format change over rages on.
Note here that wherever you find the Blu-ray or DVD versions of the film, you'll also find "over 2 hours of bonus content."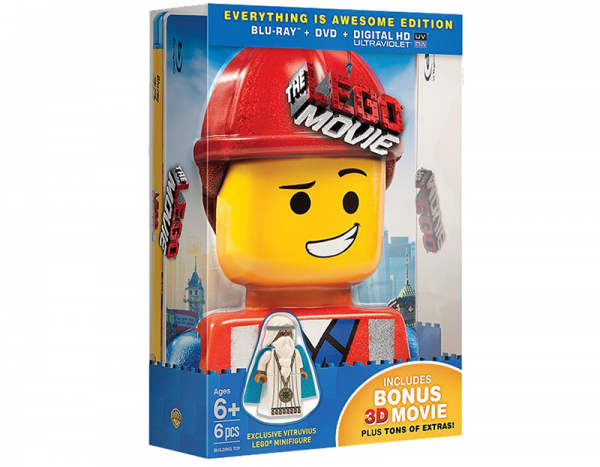 The biggest, most powerful version of the movie brings you three different discs in one box. You'll get the 3D Blu-ray of the film, a standard 2D Blu-ray of the film, a DVD disc, and a 3D bust of the LEGO character Emmet made of plastic.
This is also the one and only place (for now) that you'll be able to get the LEGO mini-fig of Old-School Vitruvius. When you get Vitruvius with sets like MetalBeard's Sea Cow, he is as he appears through most of the movie – Hippie Vitruvius. This Old-School Vitruvius still has a pendant, more of an old-Roman look, and real human (LEGO human) eyes!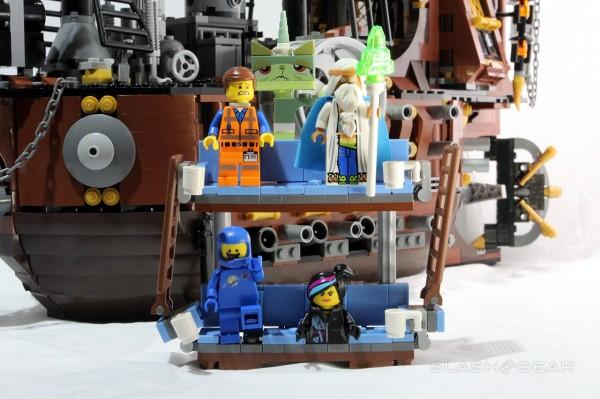 Make sure to have a peek at our MetalBeard's Sea Cow LEGO set Review right this minute and get your Hearty Crew party on!