Mercedes-Benz has revealed Vision URBANETIC, a new concept for a modular, autonomous platform equally at home transporting cargo as it is people. Handiwork of Mercedes-Benz Vans, the new concept is based on an underlying self-driving chassis, that would be electrically powered for zero-emission use in cities and other urban areas.
Atop that, the automaker suggests, could be fitted numerous different body styles. A ride-sharing Vision URBANETIC, for example, could include seating for up to twelve people. With a cargo body, meanwhile, up to ten EPAL pallets could be accommodated.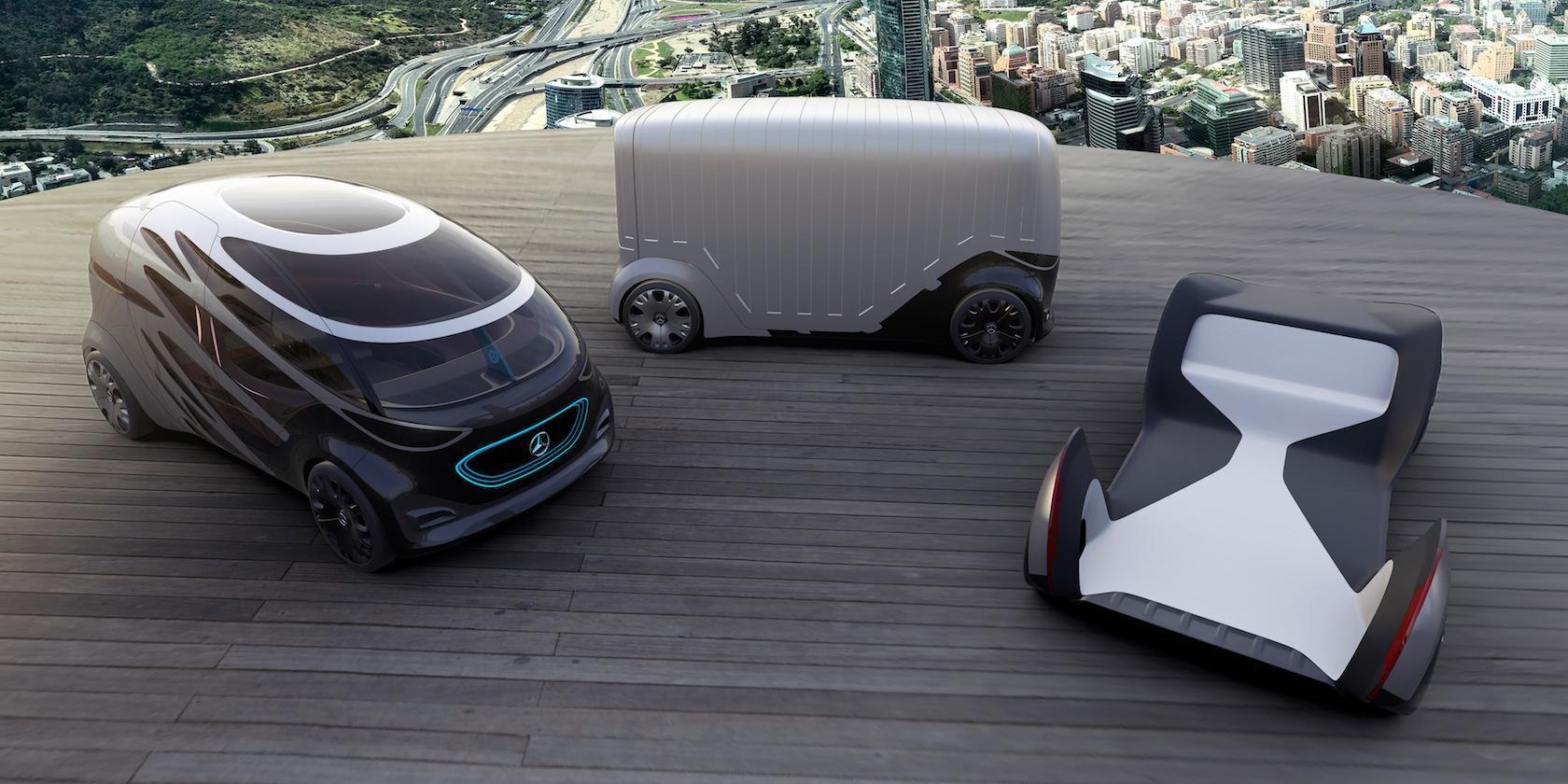 By splitting up the chassis from the body, Vision URBANETIC can be more flexible overall. The autonomous driving platform underneath handles all the mobility functions, with redundant components for steering, braking, and acceleration in the name of safety. Indeed, the chassis itself could be dispatched without a body at all, Mercedes suggests, if an extra platform is needed in a different location.
When there, though, actually switching in an upper module would be a straightforward process. Mercedes says it could be done automatically or manually, the former taking a few minutes to complete. The interior layout of each module could be adjusted, too: fewer seats and greater space, for example, for executive transportation, or splitting the 353 square-foot interior into two levels for better cargo management.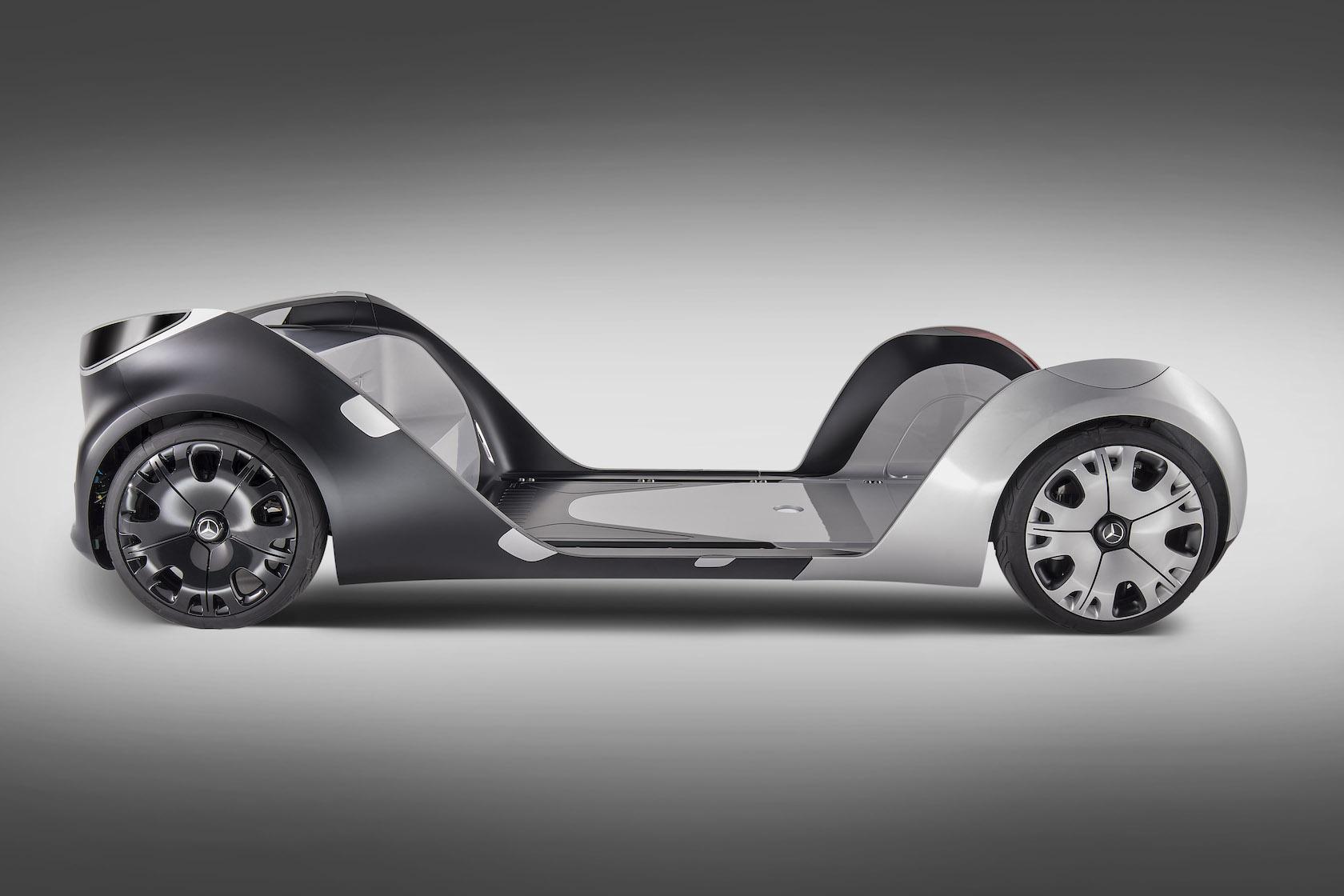 Either way, part of what Mercedes is pushing with Vision URBANETIC is its connected infrastructure. Each of the vehicles would be networked to the cloud, and learn from ongoing use and changing situations. That could be as simple as automatically adjusting route depending on traffic congestion, or as complex as identifying areas where people density is building up and dispatching ride-sharing pods there on the assumption that transportation will eventually be required.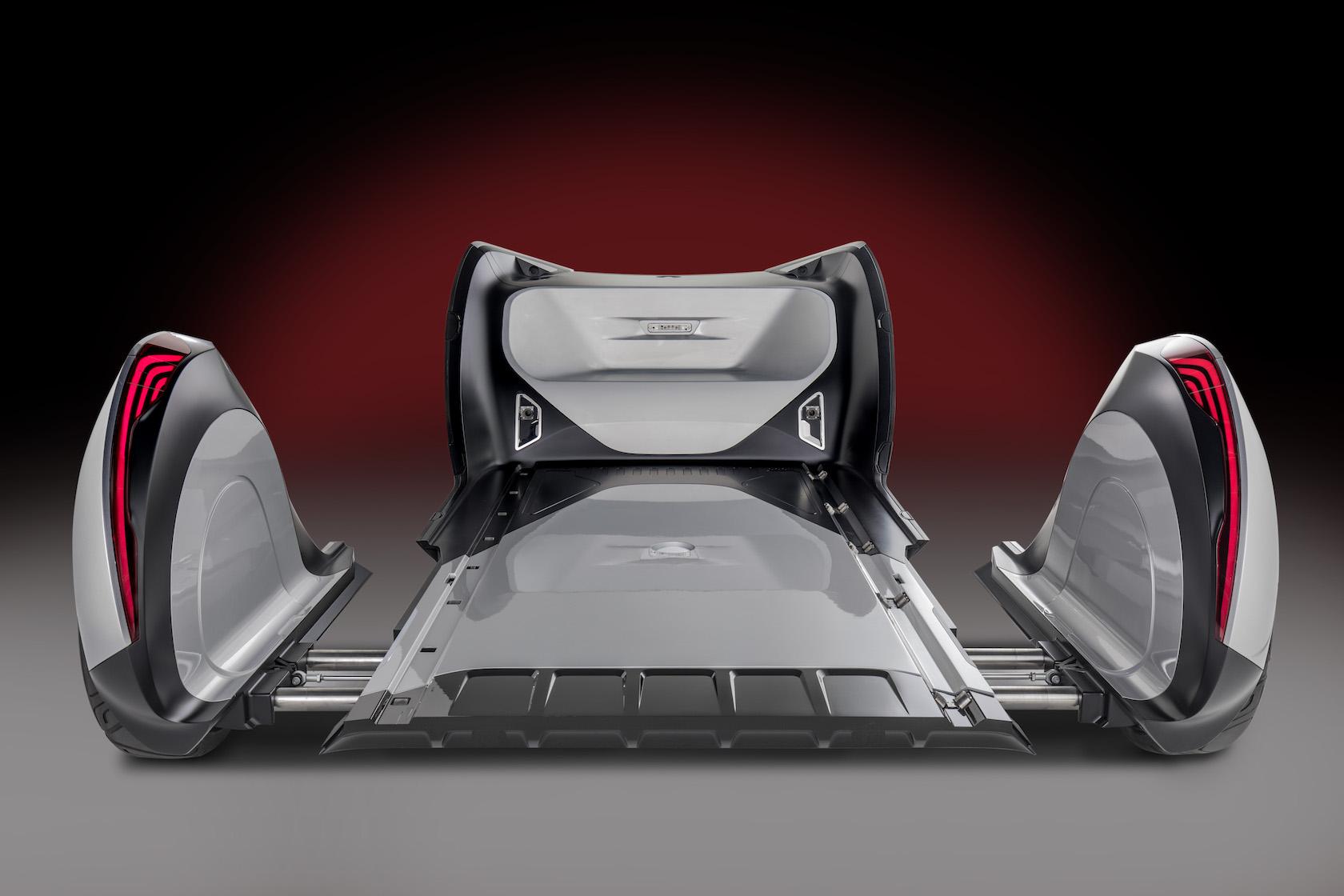 It's not the first time we've seen a modular autonomous system proposed. Back at CES 2018 in January, Toyota pulled the covers off e-Palette, a self-driving concept that was effectively a cargo container on wheels. Like Mercedes, Toyota's idea was that different sizes of e-Palette could be used for a wide variety of purposes, everything from transporting packages through to acting as a mobile pop-up store.
Like the e-Palette, the Vision URBANETIC adopts a squared-off shape that prioritizes interior space and practicality. In cargo form, for example, Mercedes says that its autonomous van is 16.8 feet long, but still manages to offer a 12 foot load space. It could be outfitted with a fully-automated cargo space system, too, and used as a mobile package station for last-mile deliveries.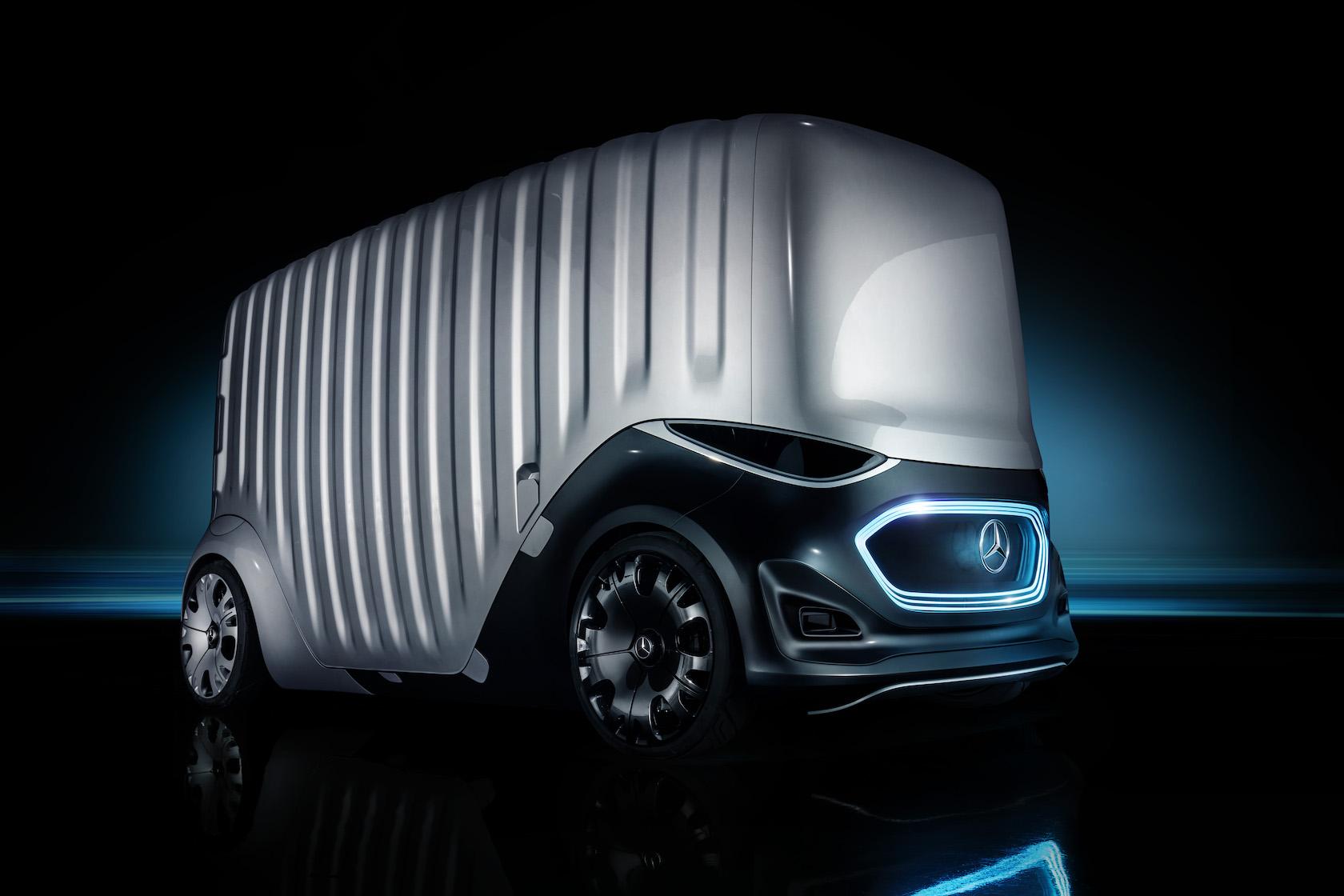 By divorcing chassis from module, Mercedes points out, even charging downtime could be worked around. A full cargo container could simply be switched onto a different underlying autonomous platform, and sent back out to continue operations. Since it's electric and virtually noiseless, meanwhile, it would also support round-the-clock deliveries.
Since self-driving pods would be an unfamiliar – and potentially unsettling – sight in cities, Mercedes wants to make them more communicative too. A large display on the front would be used to give feedback to pedestrians and other road users, such as letting them know that it has spotted them crossing. Hundreds of light users on the sides, meanwhile, could create virtual shadow outlines of people as they approach, making it clear that Vision URBANETIC is aware of them.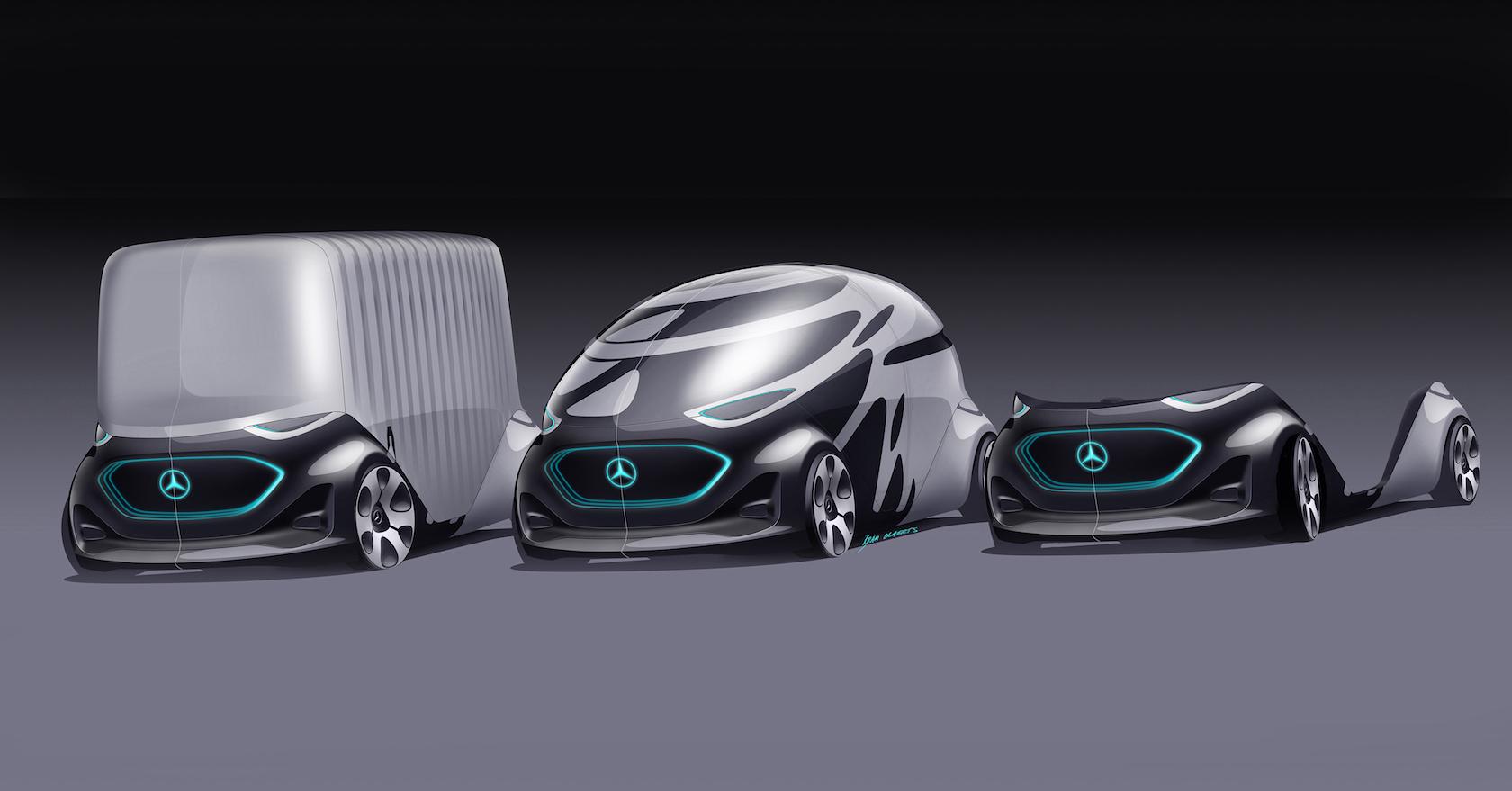 As a concept, this clearly isn't something Mercedes-Benz Vans plans to put into production any time soon. Still, Vision URBANETIC's connected drive and smart infrastructure is something the automaker is already pushing to some extent in the new Sprinter van line-up. Those vans – which include an eSprinter EV – have networking as standard, allowing fleet operators to remotely monitor and manage each connected unit.