Mercedes' EQ crossover to offer all-electric by 2020's end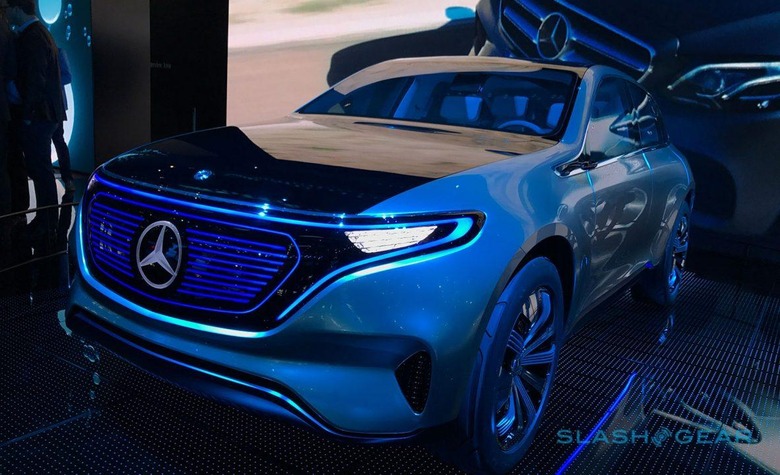 Mercedes-Benz isn't wasting any time with its electric vehicle sub-brand, EQ, announcing that its first model will be in production by the end of the decade. Launched last month at the Paris Auto Show, EQ represents an umbrella under which the German automaker intends more than ten all-electric vehicles by 2025. First up will be something in the vein of a "sporty SUV Coupé" according to Mercedes.
That'll borrow the design of the EQ show car that debuted in Paris, a chunky little crossover. Obviously some of the more spotlight-grabbing features may not make it through to production, but Mercedes' has designed the EQ platform to be fairly modular, so ramping up after this initial car shouldn't be too much of a challenge. Indeed, it'll take place at one of the automaker's more flexible plants.
That's the Bremen facility in Germany, where ten different models in the company's range are already in production. They're not all traditional gas-burning luxury sedans, either, though Bremen is the primary home of C-Class production, along with the GLC. In fact, the GLC F-CELL, a plug-in fuel-cell car, is another of the plant's products.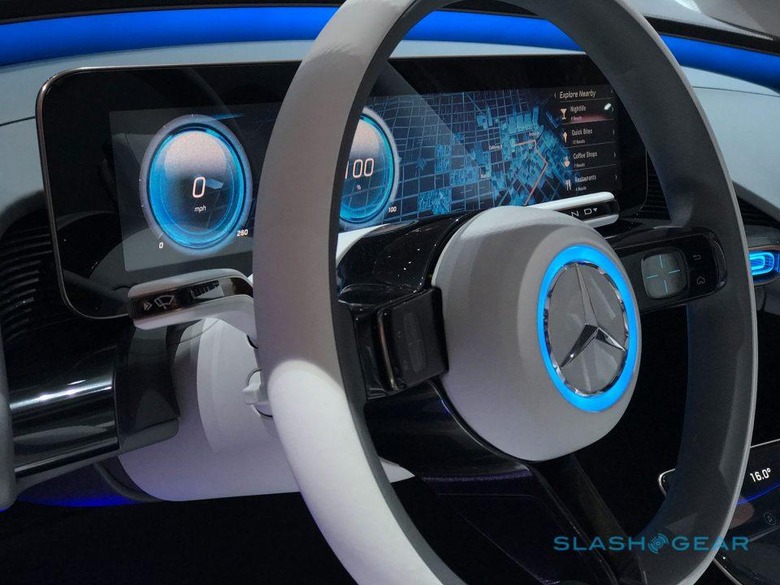 Still, the eventual goal is that production of EQ-range electric vehicles will take place all over the world, particularly as Mercedes-Benz takes advantage of the new architecture. The company does have several hybrids in its line-up already, but is arguably behind in pure-electric cars. That's somewhere BMW has focused with its i-Series of EVs, though all three of the big German marques have found themselves facing increasing competition from Silicon Valley upstart Tesla.
With Tesla announcing recently that it plans to build the hardware for autonomous driving into all of its vehicles moving forward, the race is on for Mercedes to deliver on what it's referring to as CASE. EQ is just one part of the automaker's focus on "Connected, Autonomous, Shared & Services and Electric Drive" technologies all working together, and the first EQ concept car previewed how that might work with its connected dashboard.
NOW READ: Inside the Mercedes Generation EQ
In fact, the style of that dashboard borrows heavily from the Mercedes-Benz F 015 Luxury in Motion autonomous concept we tried out back in 2015. That, too, was just a preview of what the company is working on in attempting to replace the driver, mind. It's not entirely clear when Mercedes expects to have fully-autonomous cars in its dealerships.
Of course electric cars need batteries, and in EQ's case they'll be another homegrown project. Daimler subsidiary ACCUMOTIVE – currently being expanded with a 500m euro ($562m) investment – will be making the li-ion packs for the first EQ car and subsequent models, in addition to Mercedes-Benz and smart branded vehicles. However, there are also plans afoot to use the technology in stationary products as well as cars.
Just as Tesla is pushing home and business electricity storage with its Powerwall products, so Mercedes-Benz plans to launch its own energy storage units. ACCUMOTIVE will be responsible for the battery tech in those, too, as well as 48 volt systems. In total, Daimler is predicting it'll pump more than a billion euros ($1.12bn) into global battery production overall.