Don't let the Mercedes Vision URBANETIC's wacky looks fool you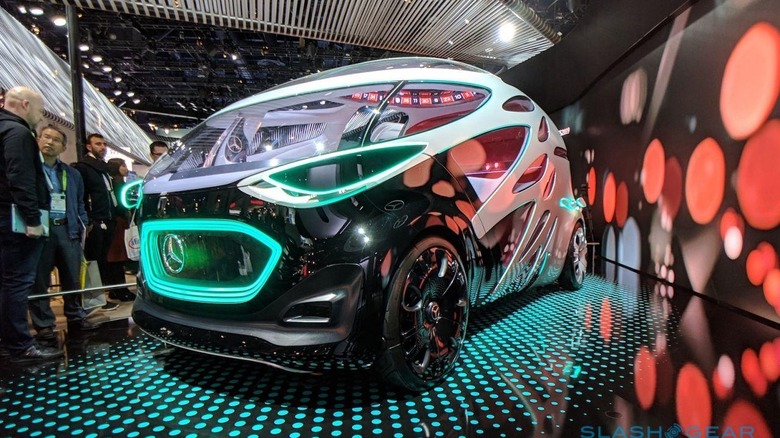 The Mercedes-Benz Vision URBANETIC concept looks like a TRON party bus or a prop from a Netflix sci-fi series, but in reality the show-friendly styling hides a surprisingly sensible idea. Making its US debut at CES 2019 this week, the Vision URBANETIC asks the question of whether an autonomous vehicle needs to always be the same thing, all of the time.
There's no shortage of driverless projects in testing around the world right now. On the one hand, you have Waymo, Uber, GM's Cruse, and others, trying to make self-driving taxis for passenger transportation. At the same time, other teams are looking at how autonomous vehicles could revolutionize logistics, replacing human drivers for deliveries either short- or long-haul.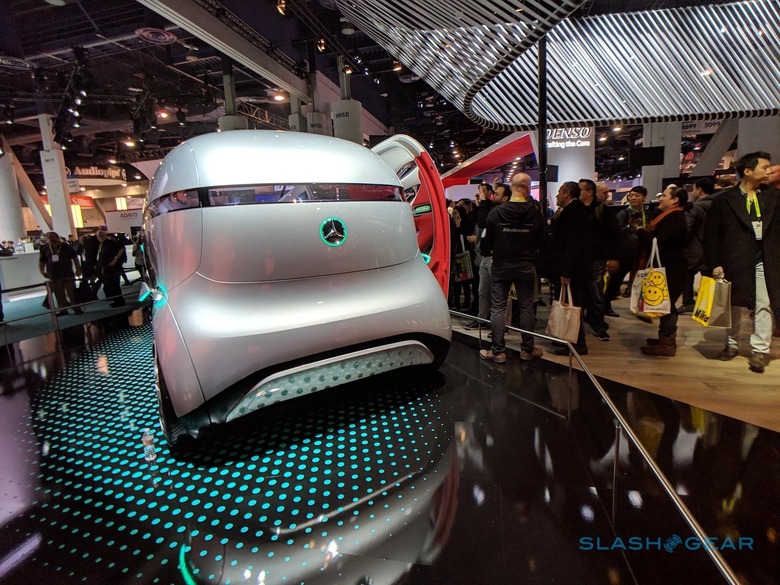 Vision URBANETIC makes the suggestion that it needn't be an either/or equation. Instead, Mercedes separates out the core of the driving experience from the vehicle's functionality.
So, all of the driving is done by a lower skate, or sled, which combines the batteries, electric motors, and everything else required for propulsion. That sled is also permanently connected to the cloud, allowing it to be remotely managed as part of a greater Vision URBANETIC fleet. Mercedes doesn't envisage individuals owning such a vehicle, but rather companies making use of many of them.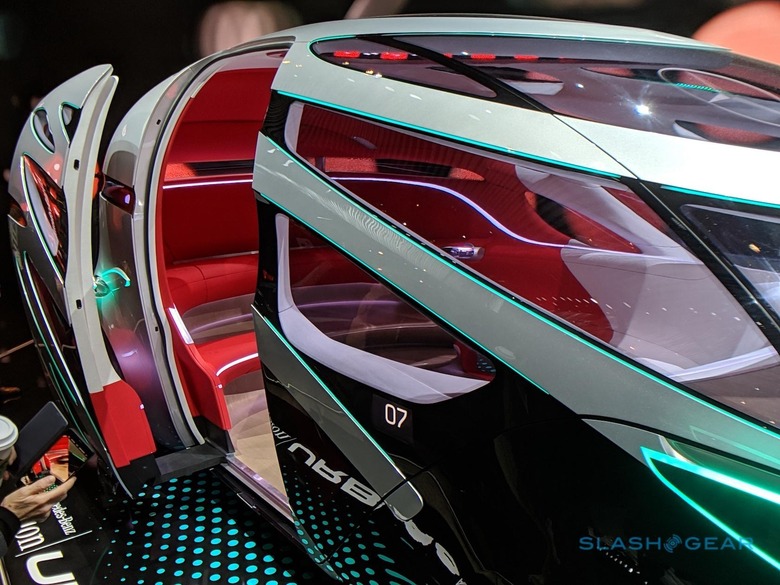 Exactly what that use is depends on how the sled is topped. Mercedes has brought two examples to CES 2019, one a passenger cabin intended for taxi duties, and the other a van for carrying cargo. With the right infrastructure, the automaker says, you could switch between the two – or between multiple fully-packed van sections, for example – in around five minutes time.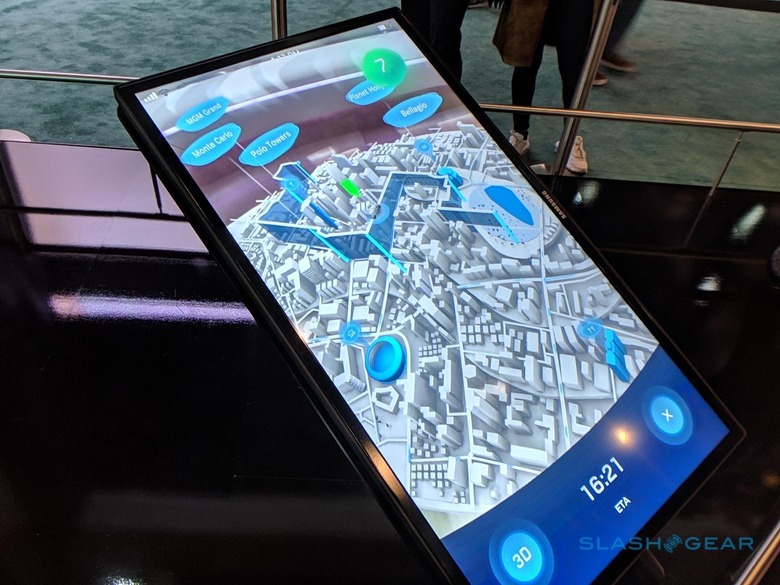 So, a Vision URBANETIC sled could spend its day doing deliveries, either roaming under remote guidance to dispatch parcels to a roster of locations, or alternatively having different cargo sections switched in and out depending on route and client. If the batteries need to be charged, the cargo could be switched onto a different sled underbody, making sure there was no interruption in logistics.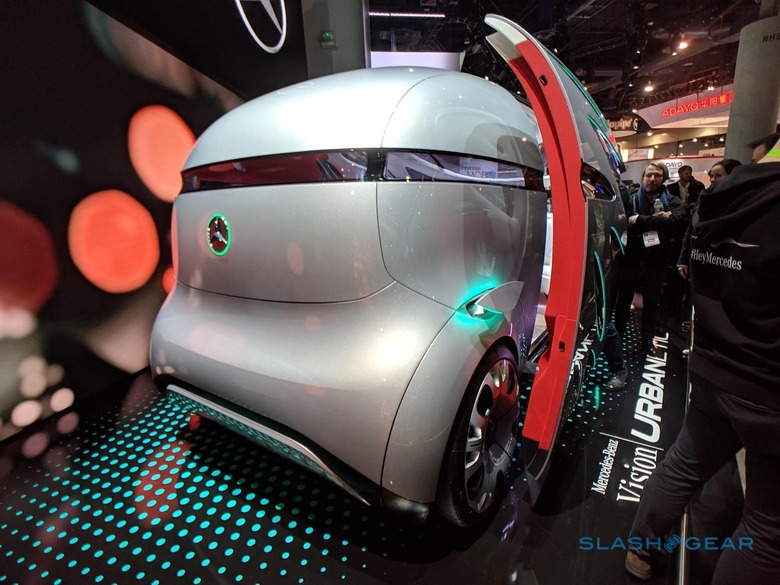 At the end of the work day, meanwhile, the van could be replaced with a passenger cabin. Mercedes' example of that is a cross between a mini casino – complete with a virtual roulette wheel spinning around a circular display in the roof – and a 70s-style sunken seating area, though even the outlandish interior pales in comparison to the staked and slashed exterior. With sliding side doors and plenty of LEDs, there's no missing the Vision URBANETIC on the road.
All of that, though, is really just show car glamor, designed to catch the eye in a hyper-stimulating environment like a CES hall. The reality of a platform like Vision URBANETIC – if it was to come to market – is that the whole thing would be far more mainstream. Think a small cargo container on wheels, the most practical shape for package delivery, or a subway carriage arrangement for people-carrying duties.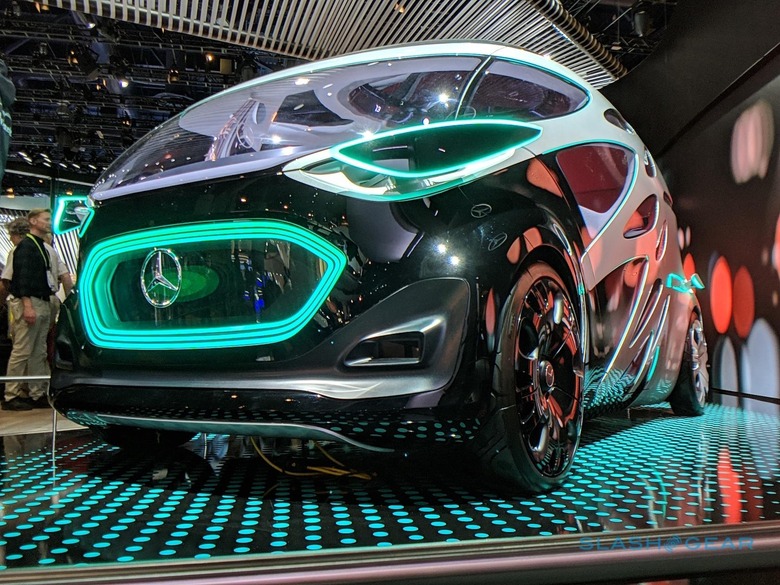 Mercedes isn't, unsurprisingly, talking about production plans for any of this. Instead, it's using the concept to test the waters for more flexible commercial vehicles. The Mercedes eSprinter EV van is already bringing all-electric propulsion and integrated networking to market, though still with a human driver behind the wheel. Vision URBANETIC raises the question of how the space on offer could be better used, if that driver and the controls they require simply weren't present.