Meizu MX Review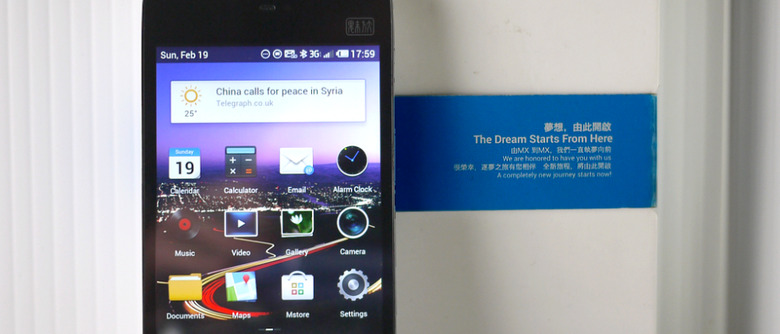 While the Meizu electronics brand isn't that well known outside of China at the moment, they're certainly a brand to be reckoned with in the smartphone market, and if the Meizu MX is any indication, they'll be a whole lot more well known in the very near future. The device you see before you is a high-end Android device made for release in China only, but because of its 2G and 3G network bands, we're able to use it here in the USA with a micro SIM card from T-Mobile or AT&T, whichever we so choose to pop in. Because of this, the review of this device makes for a rather interesting exercise in testing Meizu on a global scale: can this MX smartphone stand up to the rest of the Android devices here in the USA?
This device is currently available in China and can readily be purchased through carriers and resellers of hardware if you're in the area. Should you want to use this device in the United States, you'll want to make sure it's set for English right out of the box or you may have a bit of trouble (provided you aren't able to read Mandarin) working with this device's many interfaces – each of them available in several languages, thus is the power of Android. What you receive here in this unique handset is a high-end experience in both a unique piece of hardware and a unique custom-made user interface working over Android 2.3.5 Gingerbread – with a planned upgrade to Ice Cream Sandwich sometime in the future.

Hardware
Though there was a very early report of a chipped case in one of the first review models that was released, Meizu has since replaced the back cover with a more substantial back battery cover – you wouldn't know the difference unless you had both covers in your hands, and even then the differences are next to impossible to spot. So we're fully confident now that the phone is solid all the way through. The way the back cover attaches to the bulk of the device is unique in that it clips on throughout but has two metal pins that are spring loaded at the bottom of the phone. There's no chance this back cover is coming off unless you want it to come off, I can say that with confidence.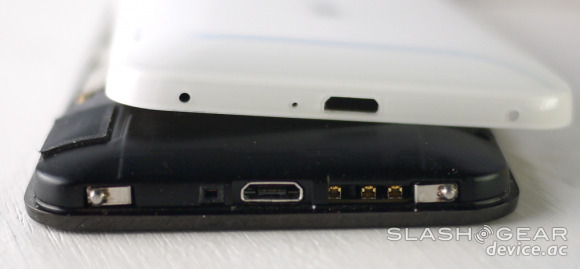 The white back and black front of the device give it a lovely two-tone look that's rare in the market today, with a set of light-up arrangement-switching lights surrounding the center Home button – which sticks outward instead of the usual inward we see with such smartphones as the iPhone. The Home button does just that, brings you back to your main home screen from whatever app you're in, and is also able to wake the device up. Because the button is out rather than in, it poses the risk of you hitting it often when you do no intend to – more than likely we're seeing reduced battery time because it's on in our pocket so very often unintentionally.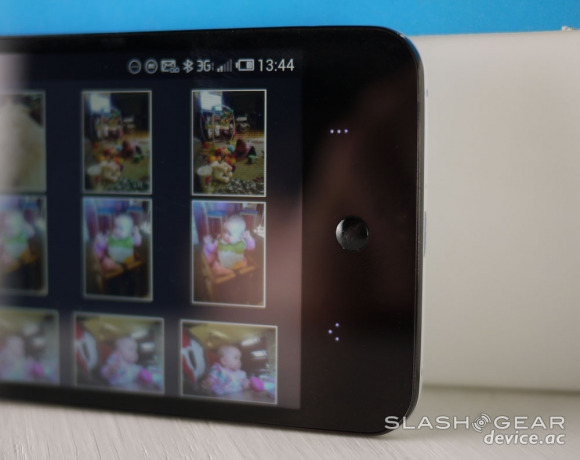 The lights on either side of the Home button are capacitive and can represent a number of different functions. When you see three lights in a row, you know that it's a menu button. When you see three lights in a triangle, you know that it's a back button. When you see one light, you know that your device is awake, but that the button will not do anything except give you haptic feedback. When the phone is asleep, these light-up buttons serve as notification lights, "breathing" in and out whenever you get a notification – be it for a message, an email, or whatever else you've got hooked up to give you notifications all the live long day.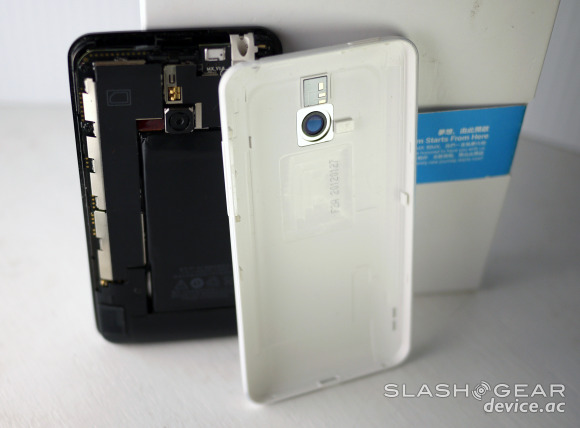 The front panel is some sort of unnamed reinforced glass over a 4-inch 960 x 640 pixel resolution ASV display (aka Advanced Super View TFT LCD). This display has a 288 ppi pixel density – this compares with the 330 ppi pixel density of the iPhone 4/4S and the 316 ppi pixel density of the Samsung Galaxy Nexus. Note that though these displays cannot be directly compared with pixels per inch alone, it is interesting to see how close to one another they are simply based on that one count. Set them next to one another and you'll be able to tell the difference – alone they're all more than sharp enough for any discerning smartphone lover.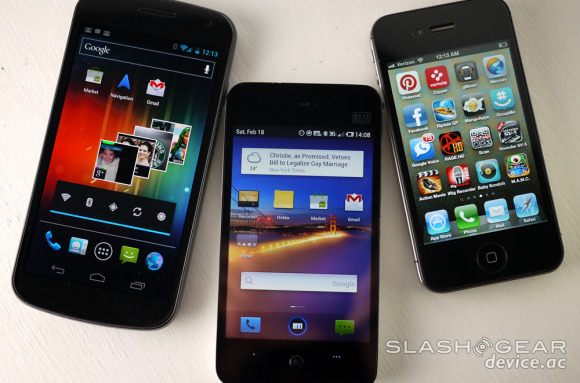 Software
This device runs on Android 2.3.5 Gingerbread with Meizu's custom user interface "Flyme" running on top. You'll get a good look at how this version of Android works in comparison to both Android 4.0 Ice Cream Sandwich on the Samsung Galaxy Nexus and iOS 5.0 on the iPhone 4S in this hands-on video:
[vms 3306db59b6aef5c0d5ca]
There's another China-based app store here that's not affiliated with Google but, strangely enough, can view your downloads folder and tell you which apps you've downloaded for the official Android Market – which is also on the device out of the box. Take a peek at a few other screenshots of modified applications included in this build in the gallery below, but note most what the Music application looks like here. There's an equalizer in there! It works pretty good too, for what it is. It's no ultra-advanced set of modifications for your tunes, but it does adjust well enough for the headphones, built-in speakers, or speaker jack you'll be using.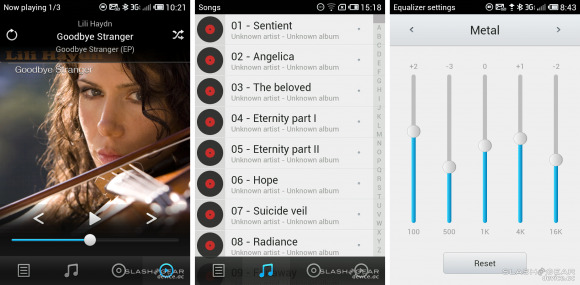 Also feel free to take a glance at a set of benchmark tests done on the phone here, and note that this is the early-release developer/reviewers edition of the device, it appearing in forums across the web as having benchmarks just about 85% as good as the final release of the device. This device is, again, already available in China now. SunSpider is run on the stock web browser with T-Mobile 3G: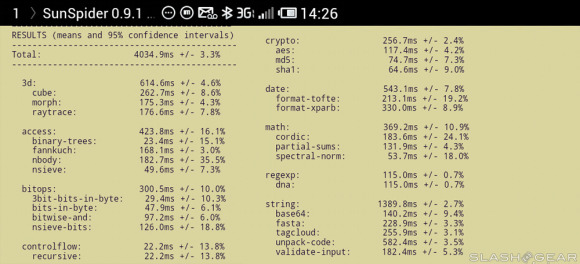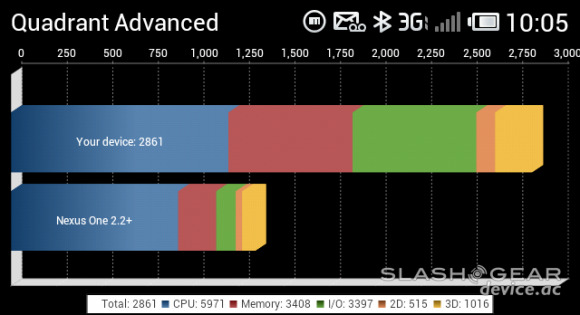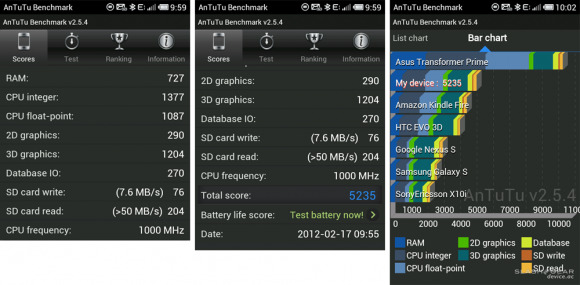 Camera
The camera interface you can also take a peek at in the hands-on video above, it having a decent amount of ability to take modified photos right out of the box, but not having the most extensive set of effects out of the box. Both videos and photos are at least decent and the interface created by Meizu for Flymm functions, but does have some oddities we're not a big fan of. One example is once a photo is taken, previewing the image displays a cropped image – you've got to pinch to zoom out to see the full image. Have a peek at some 8 megapixel photos and a 1080p video here to make your own judgements:
[vms 0420d87272a682bfd1e5]
The video above shows how terrible the camera can be in a dark environment, then this next video comes from someone in China using the final version of the device (and the camera) on a relatively clear day on a road. It should be pretty clear here that this camera can create big range of qualities in video.
Photos on the other hand are pretty darn nice. Check these examples out: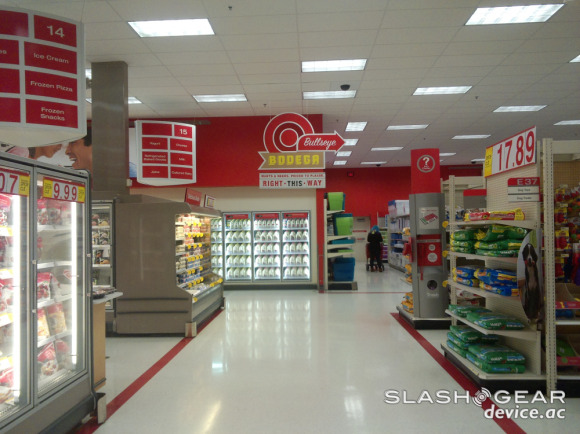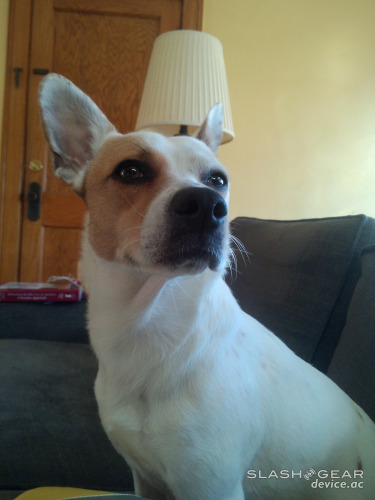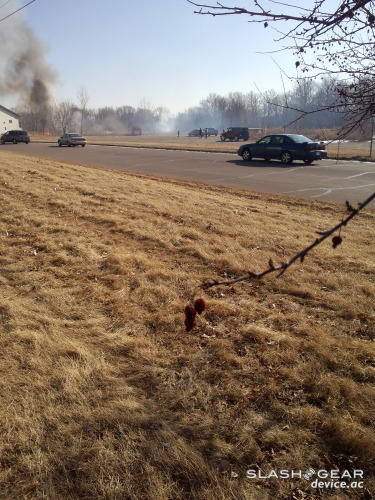 Battery and Phone Quality
The battery inside this device lasted us about 8 hours with medium use, needing just one charge a day if you've not been playing video all day. Have a peek at this indicator of how long the device will last if you're only using it for email, a map or two, and photography: more than a day, easy.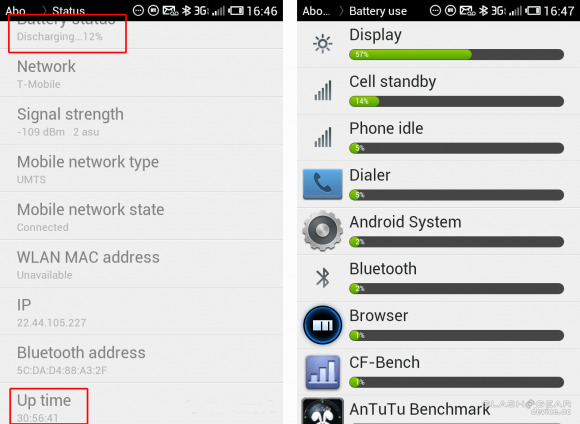 Wrap-Up
This device appears more than ready to take on the top-tier market in China, but certainly isn't something you'll want to pay several hundred dollars to import here to the United States. It works with micro SIM cards from T-Mobile and AT&T, but the coverage limitations and the specs which are essentially equal to phones such as the Galaxy S II make this a device you'll be better to pick up if you actually live in China.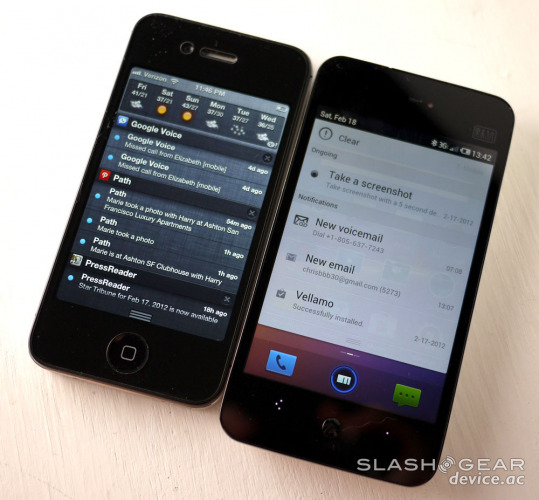 The software is interesting, but does not seem to offer any large benefits over iOS or Android besides the fact that it looks just a bit different. It essentially functions the same as Android, doesn't have an apps drawer so reminds one of iOS, and sits at about equal or a little less powerful a device on the whole mainly because of the software. This is certainly Meizu's best effort to date, and if you do get the chance to play around with one, take it: it's a sign of what might be coming eventually to the United States if a manufacturer here can make it profitable to offer such a different take on Android.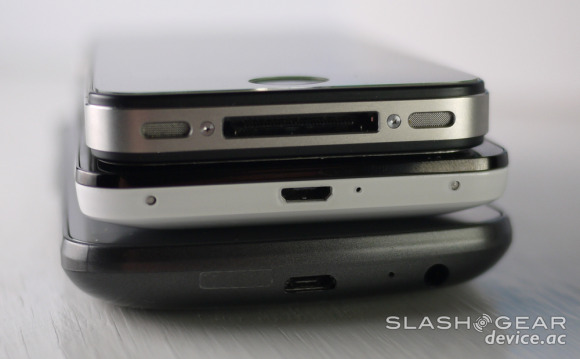 Take a peek at the images and video above and below, and if you've got any questions on the device in the near future, do not hesitate to ask!