McLaren 765LT Turns A Modern Icon Into A 755hp Monster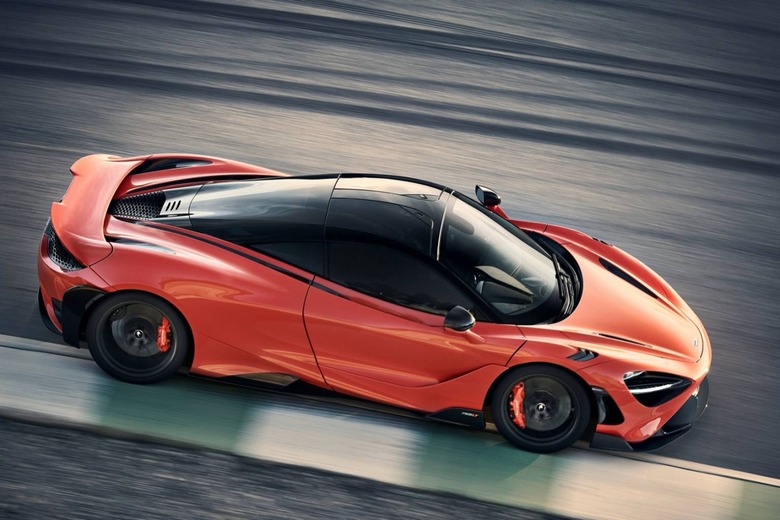 No McLaren is ever normal, but the McLaren 765LT promises to be the British sports car maker's most extreme and memorable Longtail yet. Based on the 720S, it takes McLaren's infamous all-round supercar and molds it into a road-legal track star that only a few lucky drivers will get to own.
For McLaren, the Longtail series has been all about weight and track performance. Invariably lighter and – you guessed it – longer than their regular origin cars, they typically feature bigger, fixed rear wings, lower bodies, and more power. That means a cut in 0-60 time as well as a stickier car on the track.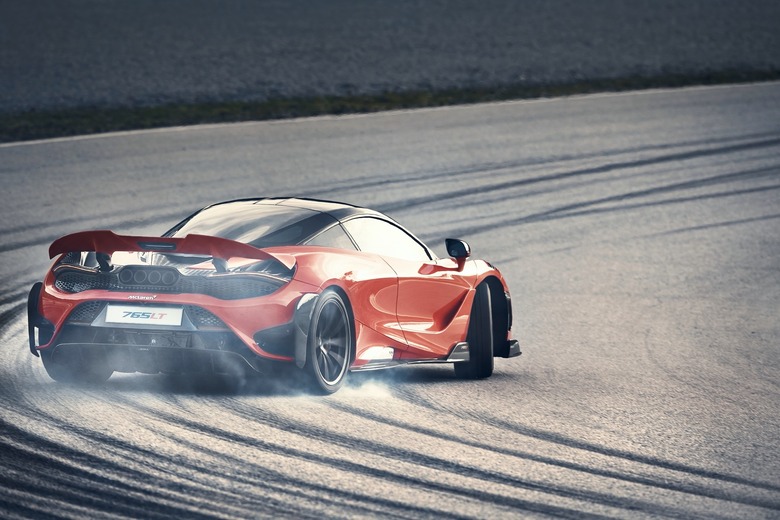 Even by those standards, though, the 765LT distinguishes itself from the rest of its breed. McLaren's most potent LT-badged car yet, it weighs in with a hefty 755 horsepower and 590 lb-ft of torque from its tuned 4.0-liter twin-turbo V8.
0-60 mph, McLaren says, comes in 2.7 seconds. 0-124 arrives in only 7.2 seconds. Top speed is 205 mph.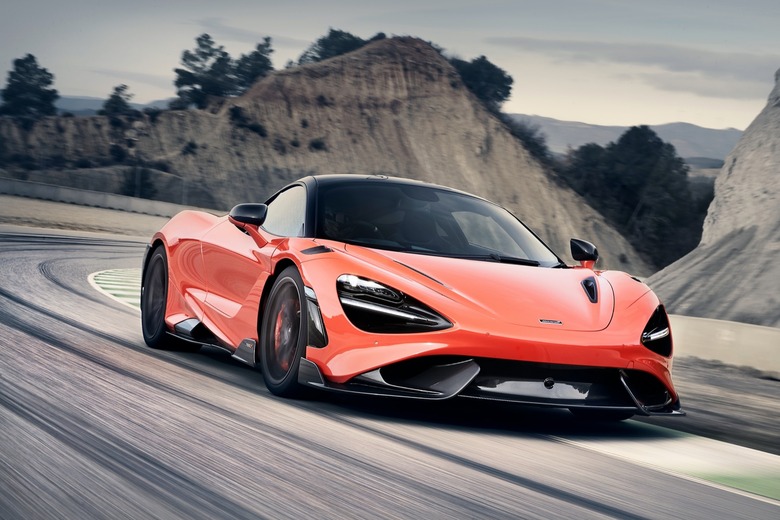 The V8 is paired with a 7-speed SSG transmission, with Comfort, Sport, and Track modes. New on the 765LT is a "limit downshift" feature which allows drivers to manually shift down, over-rev the engine, and allow it to bounce entertainingly off the rev limiter.
When maximum speed is a priority, the SSG shifts gears up to 15-percent faster than the 720S. You should feel that sense of speed, too. McLaren has used stiffer engine mounts which not only help with performance but also channel more of the V8's low-frequency sounds in through the seats.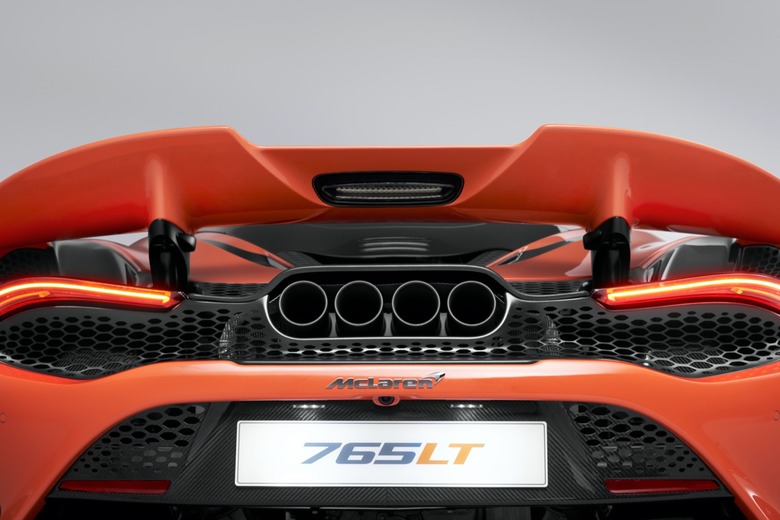 Soundtrack shouldn't be lacking, thanks to a quartet of centrally-mounted tailpipes. McLaren says it specially sized them to make for a combined engine note that's suitably high-pitched for the high-revving engine. Some markets will get a dual-valve system which can put the exhausts into a quieter mode, which is likely to be popular with owners' neighbors.
176 pounds have been shed from the 720S, McLaren's engineers using lashings of carbon fiber among other changes to trim from the curb weight. The elongated front splitter, new front bumper, front floor, side skirts, rear bumper, rear wing, and lengthened rear diffuser are made from the lightweight material; even the license plate holder is carbon fiber. As standard the hood, front fenders, doors, and rear fenders are aluminum, but carbon fiber is an option. A double-glazed engine panel – revealing the V8 both outside and in the car – is optional.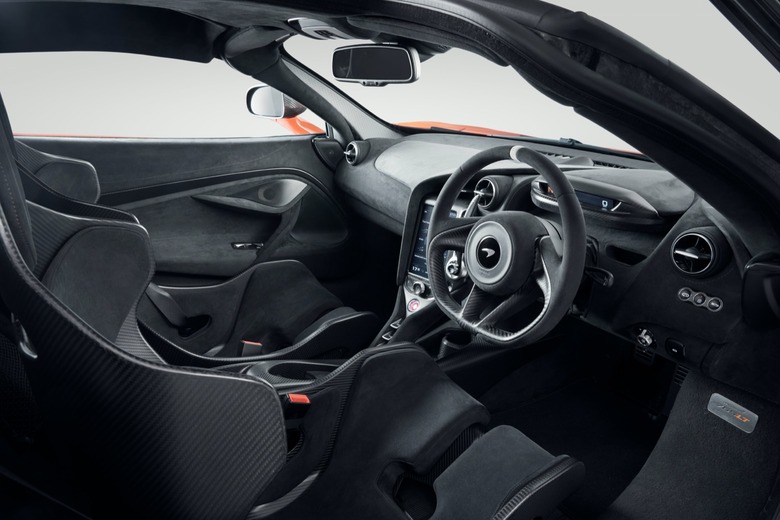 Inside there are lighter sports seats as standard, while the lightweight central tunnel is of carbon composite material and has a panel thickness of 0.8mm. Many of the trim parts and panels use carbon fiber too, with McLaren offering even more options as part of its MSO bespoke division. By default you don't get air conditioning or an audio system – both are no-cost options if you don't mind their weight – and nor do you get power steering column adjustment, carpet on the floors, or any more cabin storage than simple nets.
McLaren's diet has been relentless. The windshield and side glass are thinner, and the automaker has used motorsport-style polycarbonate for most of what's transparent around the cockpit. The Senna's Super-Lightweight Carbon Fibre Racing Seats are available, saving over 26 pounds alone.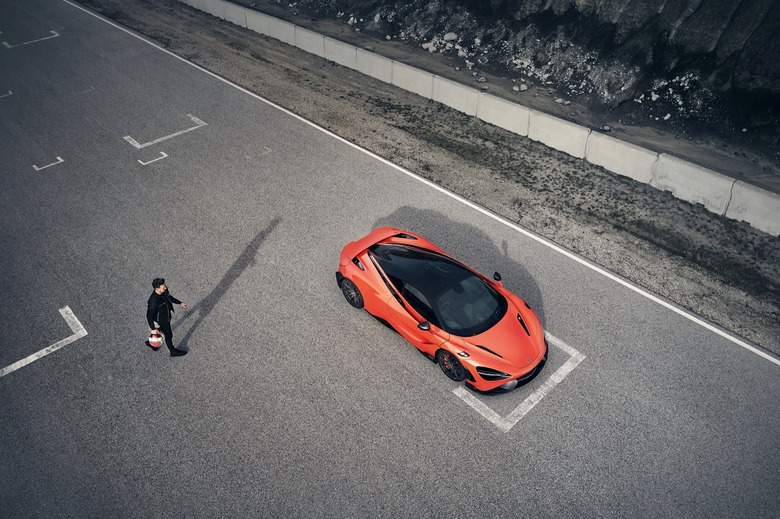 What's left behind looks sleeker, meaner, and generally more focused than the 720S. The 765LT is 57mm longer, mostly at the nose, and the front sits lower and wider. The wing is higher – and has three positions for downforce, straight-line speed, and high speed braking – but elsewhere bodywork has been carved away for reasons of lightweighting and aerodynamics. Distinctive vertical blades at the front help guide airflow around the front wheels, and there are Senna GTR-inspired side blades too.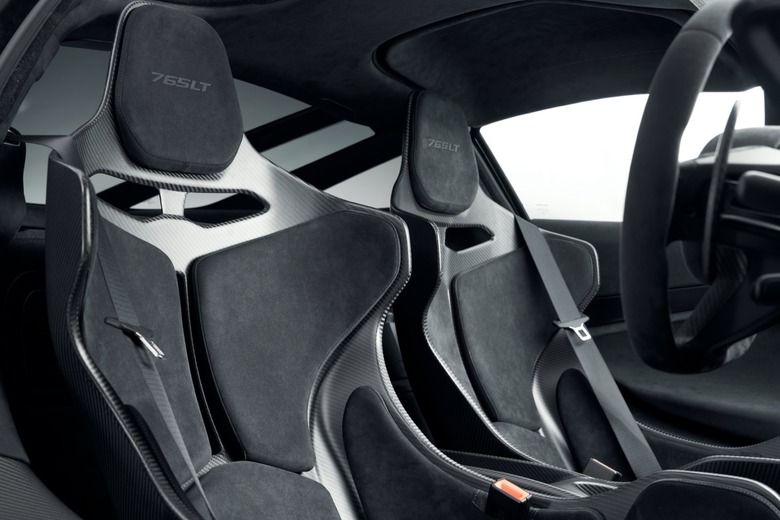 How you finish the 765LT depends on whether you want a track beast or something more usable. The 8-inch infotainment touchscreen and folding driver display are standard; a Bowers & Wilkins audio system is optional, as is a vehicle nose-lift system. You can also have a 360-degree camera, and a snorkel-style functional air scoop on the top of the coupe.
Two new colors have been added to the standard range, Nardo Orange and Smoked White. The Chicane Effect gray available on the 600LT is offered as well. Inside, there are various combinations of Alcantara and contrast stitching, as well as available leather. Each car gets a numbered LT plaque.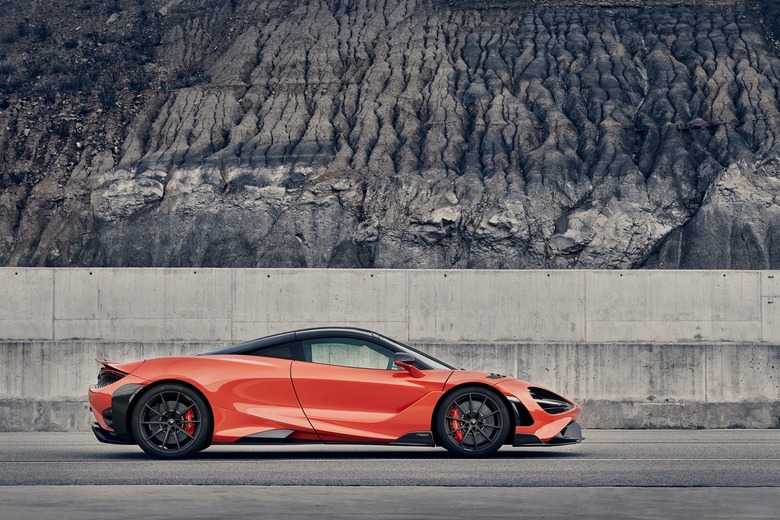 That's because McLaren says it will only be offering 765 of its latest Longtail. Reservations are being taken now, though pricing will be confirmed closer to the 765LT's production kicking off in September 2020.