MakerBot Replicator 2 headed to Microsoft stores for "MakerBot Experience"

This summer the folks at MakerBot are pushing for the public to see how simple it can be to work with a desktop 3D printer by dropping by Microsoft stores throughout the USA. This move will have the "MakerBot Experience" expand beyond the few and far-between chances the public has had to see and use a MakerBot Replicator 2 to 15 "additional" Microsoft Stores across the country.
This expansion will be taking place starting this week, the experience expanding with MakerBot Replicator 2 Desktop 3D Printers and MakerBot PLA Filament to Microsoft Retail Stores now numbered at 18.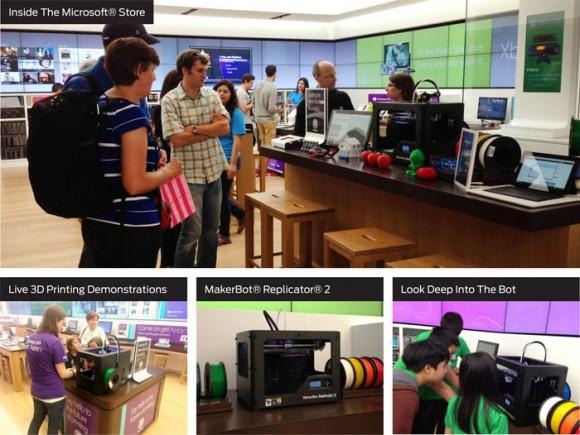 As we've seen relatively recently, MakerBot has been appearing at quite a few tech events not only in the United States, but abroad as well. We've seen the Replicator 2 working with Nokia to create custom-designed cases for the Nokia Lumia 820 as well as the Nokia Lumia 520. Have a peek at some up-close action here straight from Mobile World Congress 2013 from March of this year.
MakerBot also brought the Replicator 2 to the gaming universe this year for custom-made casings for the Android-toting OUYA. These cases were printed in PLA plastic as well as ABS plastic.
• Scottsdale, AZ – Fashion Square
• Costa Mesa, CA – South Coast Plaza
• Mission Viejo, CA – The Shops at Mission Viejo
• Palo Alto, CA – Stanford Shopping Center
• San Diego, CA – Fashion Valley
• San Francisco, CA – Westfield San Francisco Centre
• Lone Tree, CO – Park Meadows Mall
• Danbury, CT – Danbury Fair Mall
• Atlanta, GA – Lenox Square
• Oak Brook, IL – Oakbrook Center
• Schaumburg, IL – Woodfield Mall
• Bloomington, MN – Mall of America
• Salem, NH – The Mall at Rockingham Park
• Bridgewater, NJ – Bridgewater Commons
• White Plains, NY – The Westchester
• Houston, TX – Houston Galleria
• McLean, VA – Tysons Corner Center
• Bellevue, WA – Bellevue Square
At the Microsoft stores listed above, MakerBot will be bringing the Replicator 2 to play immediately if not soon. Let us know if you've stopped by one of these locations and found the experience to be exhilarating!